The Olympics are just around the corner – February 6, to be exact. Once the Olympics start, that'll be all anyone talks about. That's practically all you'll see on television, too.
If you're a fan of any of the sports, or the Olympics in general, you've probably already got your schedule planned out. If you're not a fan, though, you may be looking around for a place to hibernate for a couple weeks. Don't seek out that cave! Here's an easy primer for the most recognizable winter Olympic sports.
Snow Sports
There's more than just skiing. In fact, there's more than just skiing and snowboarding. Apparently there are quite a few things you can do on the snow once you've strapped something to your feet. Both men and women participate in these sports separately.
Alpine Skiing: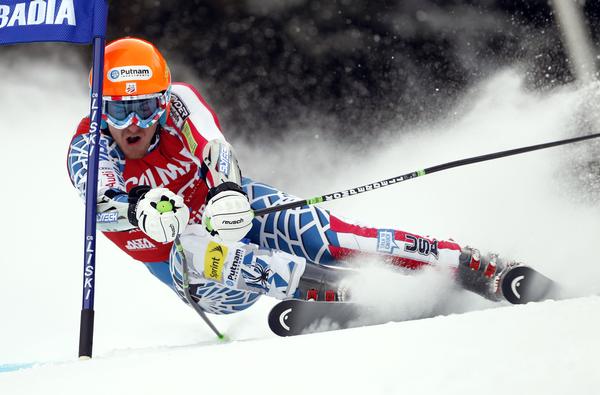 Alpine skiier and Olympic Gold Medalist Ted Ligety
This is the fancy Olympic name for downhill skiing. Alpine skiing gets broken down into five challenges:
Downhill: race against time
Slalom: weaving around flags
Giant slalom: bigger weaving around flags
Super G: the slalom to end all slaloms
Combined: putting it all together – downhill plus slaloms
Conversation starter for Alpine skiing: "How about that Herman Maier?" At the 1998 Winter Olympics Maier careened off the slope, flew through the air, cartwheeled full-speed for about 50 yards and landed in a heap in a snow drift. Everyone thought he was dead. Not only was he not dead, he competed the next day and dominated, taking home a clutch of gold medals. He even managed to joke about his crash. So, "How about that Herman Maier?"
Ski Jumping: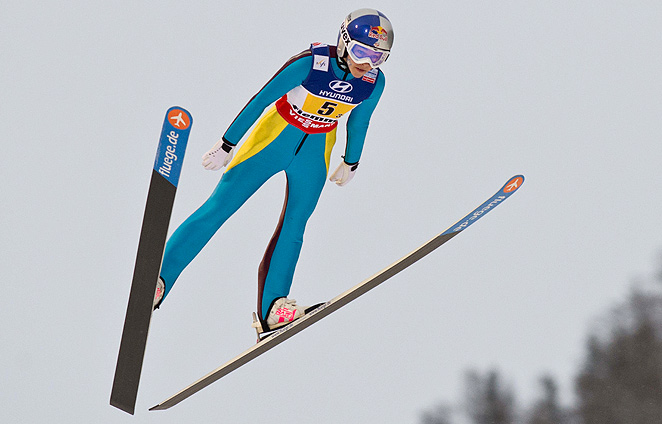 Ski Jumper Sarah Hendrickson
This one's pretty simple – skiers ski down a slope with a concave jump at the end. They launch themselves off this, winning points for who jumps the farthest. Ski jumpers compete individually on both a "normal" hill and a large hill and as a team on the large hill.
Freestyle Skiing: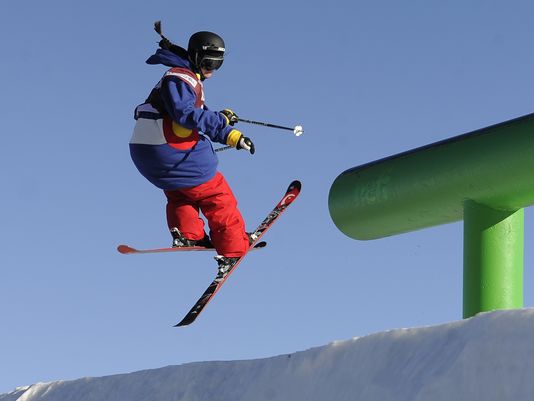 Keri Herman
Freestyle skiing is for the fliers and artists. This popular sport started with the Gen-X (and X-Games) crowd and got accepted into the Olympics in 1988. Freestyle includes two disciplines:
Aerial: Look at the sky to see what twists and somersaults the competitors are going to execute.
Mogul: Skiers maneuver lower bodies to navigate bumps while keeping their shoulders parallel, adding creative jumps along the way.
Snowboarding: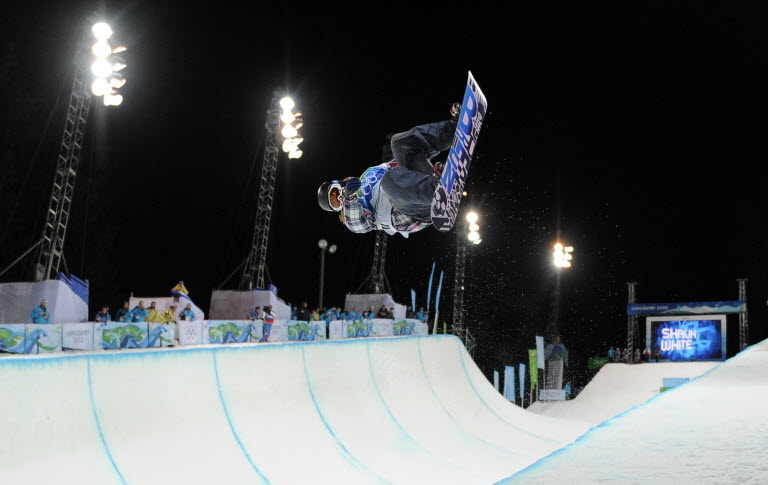 Gold Medalist Shaun White
Gen-Xers got a win on this event, too, getting it into the Olympics. Rather than strap on two skis, snowboarders strap themselves to one snowboard, which is essentially a surfboard for snow.  Snowboarders compete in three events:
Halfpipe: This looks like skateboarding, with snowboarders performing tricks while moving from one side to the other of an enormous, snow-covered ditch.
Parallel Giant Slalom: Like giant slalom skiing, except on a snowboard.
Snowboard Cross: Snowboarders navigate a course made up of whoops (bumps), waves, snow banks and other obstacles meant to challenge their ability to maintain control.
Cross Country Skiing: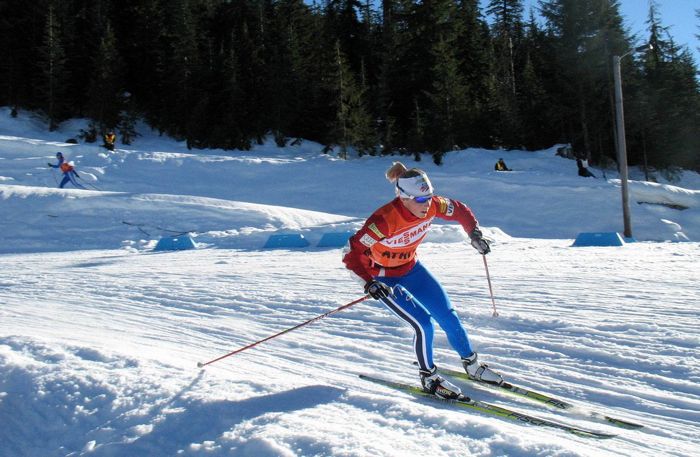 Kikkan Randall
This event tests Olympians' ability to channel their inner Vikings, the first to strap wood to their feet in an attempt to navigate snow. Cross Country Skiing encompasses two styles:
Classical: Holy ski-exercise machine, these guys and gals have to keep their skis parallel while striding within predetermined tracks. Fastest time, with appropriate style, wins.
Freestyle: These Olympians are built for speed. They push off with their skis to speed across the flat snow.
Way to show off about cross country skiing: "How about that Bjorn Daehlie?" Bjorn's the winningest Winter Olympian – heck, he has more medals than swimmer Mark Spitz (the guy with the webbed toes).  Nobody's heard of him, though, because Americans aren't as passionate about cross country skiing as they are about, say, snowboarding. (Respect, Shaun White.)
Ice Sports
What else do you get besides snow in the winter? Ice. Turns out people like to strap knives to their feet and do things on ice.
You probably know about the two big ice-based sports: hockey and figure skating. They may seem radically different. Let's look at just how different:
| | |
| --- | --- |
| Ice Hockey | Figure Skating |
| Male-dominated sport (There are women hockey teams at the Olympics) | Female-dominated sport (Men participate in this sport.) |
| Team sport | Individual or couples sport, added team dimension to 2014 Olympics |
| Participants wear padding, thermal pants (that look like shorts, but they call them pants), loose jerseys and helmets. | Participants wear costumes that would look appropriate on a ballet stage. |
| Objective: Score goals (by getting the puck past the goalie into the net) while preventing the other team from scoring goals (often by ramming bodies) | Objective: Perform beautiful routines that incorporate specific jumps, spins, lifts, turns and other moves |
| Skills – skating, turning, handling a puck with a stick, defense (including the ramming, called "checking"), "ice vision" (following an extremely fast-paced game while in the thick of it) | Skills – jumping, skating, turning and dancing on ice; graceful body and arm movements; concentration and memorization |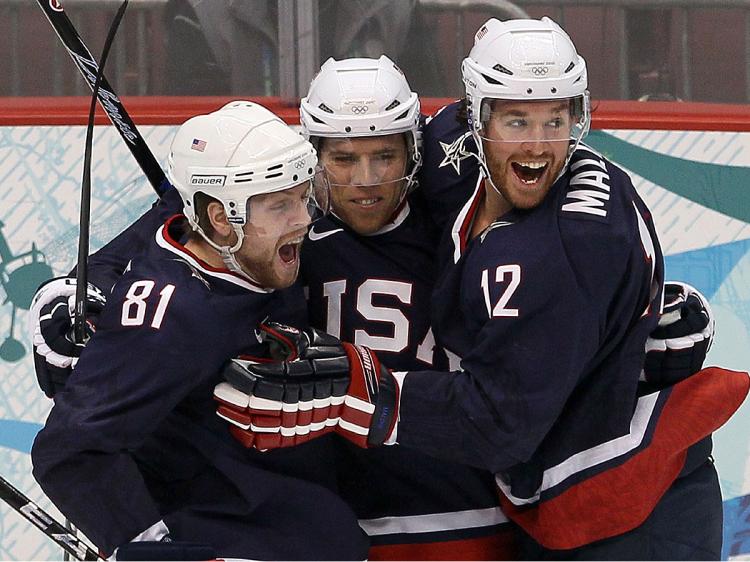 US Hockey Team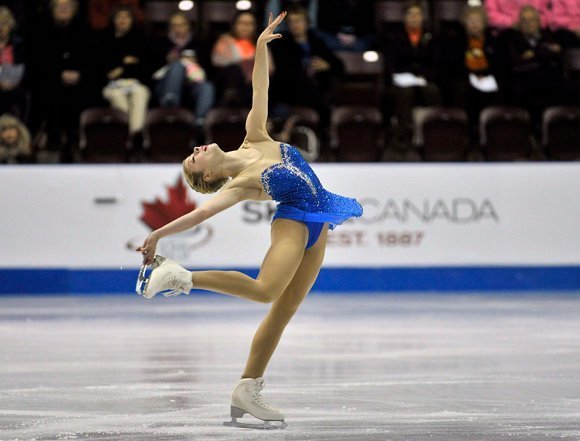 US Figure Skater Gracie Gold
Debate starter: "Hockey is more rigorous than figure skating" or "Figure skating is more rigorous than hockey." If people like one or the other, they will so have an opinion on the matter.
So, don't hide away during the Olympics. Throw a party!
Contributed by Nadia Archuleta