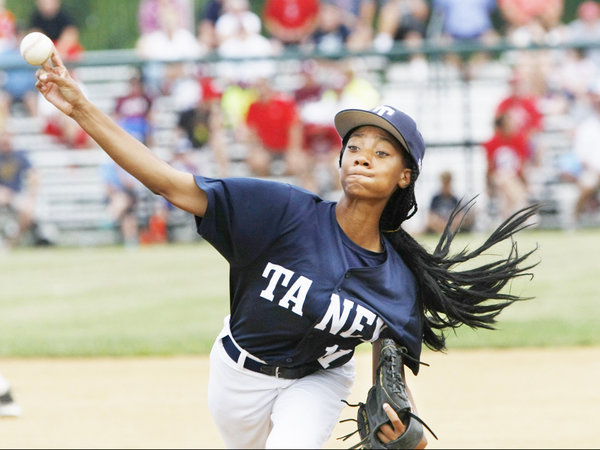 You know about the World Series, the playoffs of Major League Baseball, right? Did you know, though, that Little League Baseball also features a World Series – and that this year one talented young lady is dominating? Mo'Ne Davis, just 13 years old, is a current star of baseball and out #WCW (we know she's only 13 but go with it).
Little League World Series
This baseball tournament runs every year at the conclusion of the Little League season. Legions of baseball players aged 11 to 13 participate in this world-wide playoff series. Indeed, it's such a big deal that it's broadcast on ESPN.
During the summer, Little League teams play in their regular season games. During that time, they select players who will make up an All Star team to complete in regional tournaments. Those that advance go to Williamsport, Pennsylvania, to compete in the World Series.
Mo'Ne's Performance
Mo'Ne Davis plays for the Taney Youth Baseball Association of Philadelphia. She's quickly showing herself to be a phenom. On Friday, August 15, she pitched a shutout against South Nashville – a shutout means no one could score on her pitches. That's pretty impressive for any baseball player. Mo'Ne is the first female to pitch a shutout at the Little League World Series.
Mo'Ne plays smart baseball. She doesn't just pitch fastball after fastball – though she can. At her performance on Friday, though, she mixed her four-seam fastball with spilt-changes and curves. She varies her speed of pitch and the eye-level at which the ball whizzes past the batter.
About her fastball, though – it's 70 miles an hour. Quick-witted Mo'Ne has commented, "Throwing 70 miles an hour – that's throwing like a girl."
The Taney Dragons drew a record crowd on Sunday even though Mo'Ne wasn't slated to pitch. The Dragons nonetheless advanced and are scheduled to play again today, when Mo'Ne is scheduled to pitch.
More About Mo'Ne
Mo'Ne is an honor student. Interestingly, baseball isn't her primary sport – basketball is. In fact, her dream in life is to play for the Women's National Basketball Association.
Either way, she looks ready to handle the press – in fact, she's been handling it like a pro already. Philadelphia manager Alex Rice said of her that she's "unflappable." He added:
"All the attention, she's getting a little tired of the same questions and we're getting past that, but the attention and everything isn't getting to her. She's having a blast."
Mo'Ne said herself of the media attention that it's not bothering her, "It hasn't been too bad. And anyway, I can always say, 'No.' That's my secret weapon with the media." Like. A. Boss.
Nonetheless, Mo'Ne is a trailblazer. She's opening doors for young ladies to participate in baseball – not just softball.
Mo'Ne doesn't want it to be special, though. She wants more girls to join boys' teams. She thinks that so much attention shouldn't fall on just one or two girls – females in the Little League World Series should be "a tradition."
To be frank, females in the MLB World Series would be a welcome addition, too.
Contributed by Nadia Archuleta