The whole world's going to be watching the Super Bowl.  Maybe you're even going to a party. You might have your requisite T-shirt, maybe even a fanicure. But do you know what the real match-ups are? Never mind who walks away with the win, which team is really worth watching? Time to let the hotties on both teams throw down.
Quarterbacks
Even if you're not much of a football fan, you can always spot the quarterback – he's the guy throwing the ball. When two teams play each other, they always talk about the matchup between the quarterbacks. Never mind throwing yards and pass completion percentage – let's see how these two guys match up in cuteness.
Denver Broncos: Peyton Manning #18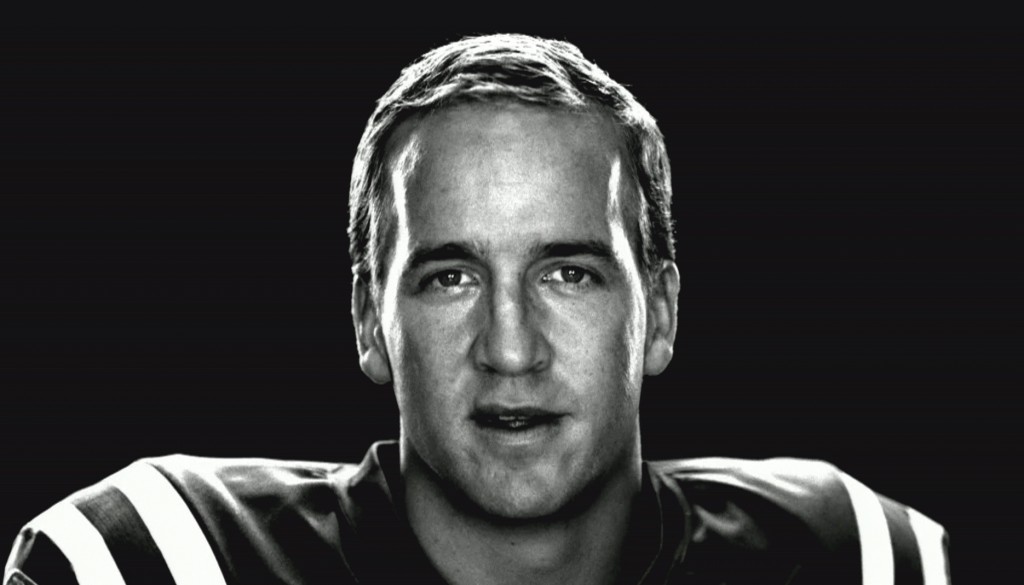 Peyton's been around the block a few times. He looks like a regular guy, the type you might have a beer with. Like all pro athletes, he's built. On the cuteness scale, though, he's only about middling.
Peyton's got it in the personality, though. He's been on Saturday Night Live and The Simpsons and starred in loads of TV commercials. Maybe that's where the Manning histrionics come from. He's going to be the fun guy to watch on the field because before every snap he goes through an elaborate ritual of moving and gesturing. He also calls out random words at top volume, things like "Omaha," "Dice Right" and "Jose." Highly amusing!
Seattle Seahawks: Russell Wilson #3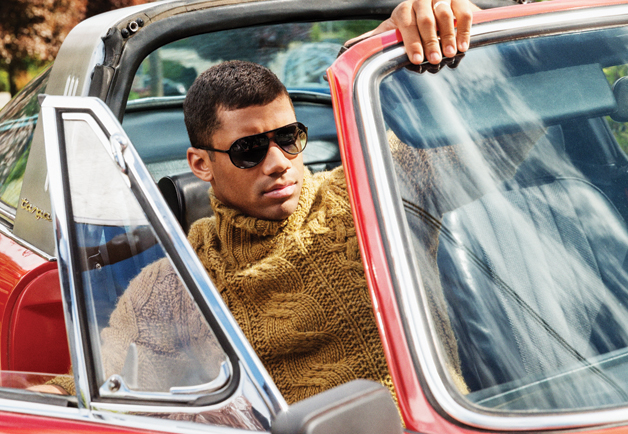 No question, Russel's got Peyton beat on the hotness scale. Russel's not the guy you see at your corner bar – he's the one you see in your dreams! He's not just fit like all athletes are – this guy's cut like a model. He smiles. He frowns. Heck, he pouts, and you can't help but watch.
On the field, though, with that big old helmet covering his features and those pads obscuring his figure, he doesn't have any of the entertainment value of Peyton.  So, when it comes to watching the guys on the sidelines with their helmets off, Russell's the one to watch for. When play's in action, though, keep an eye out for what wacky antics Peyton comes up with next!
Advantage: Seahawks, by a narrow margin
Offense-Defense
The big story for this Super Bowl is the Broncos' explosive offense pitted against the Seahawks' "Legion of Boom," a defense so crushing it has its own title.
Denver Broncos: Wes Welker, wide receiver #83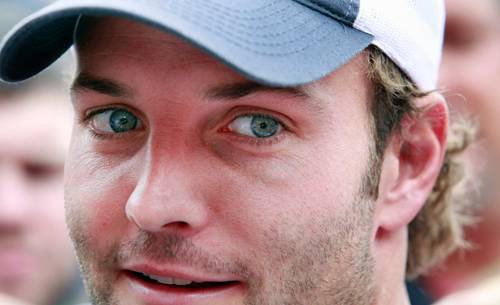 Holy blue eyes, Batman. Try to see past that helmet because those are some beautiful baby blues. This guy's totally leading man material – we're talking, he could be the next Superman, with those baby blues and sharp features. Fitting, this all-American boy is from Oklahoma City, where he started a foundation to help at-risk youth. (Wouldn't it make more sense if Peyton yelled "Okie!" then? Wild!) He just joined the Broncos this season. I'm sure that had to do with his abilities as a "return specialist," but it makes for nice Super Bowl viewing just the same!
Seattle Seahawks: Richard Sherman, cornerback #25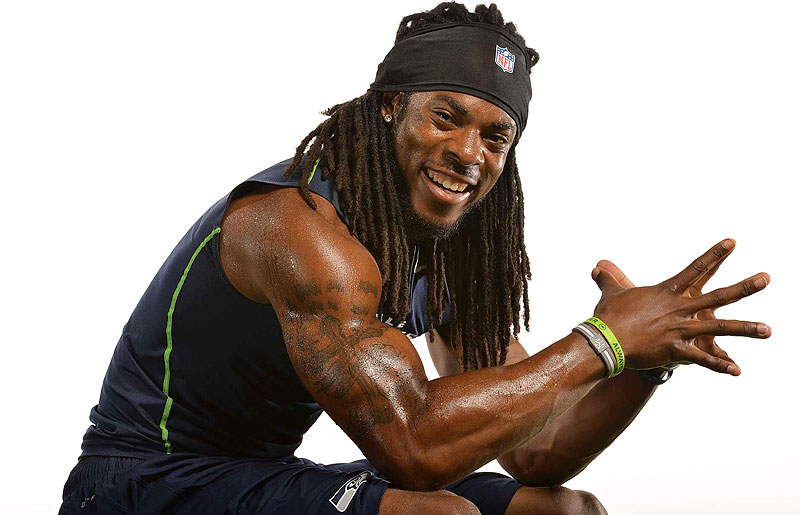 The only thing more distracting than Wes's baby blues is Richard's deep, dark eyes. And wild Medusa locks – dreds seem to be the look in football these days, and Richard wears his well. He's got a bigger-than-life personality, and a smile to match. Sure, as part of the Legion of Boom he must be a tough-guy on the field, but look at that grin. This is clearly a guy who knows how to laugh and have fun!
Since Wes is offense and Richard is defense, they'll be on the field at the same time. Lucky us, ladies!
Advantage: tie
Leading Men
These two guys already got highlighted as hotties for the championship games. Let's look at how they stack up against each other.
Eric Decker, wide receiver #87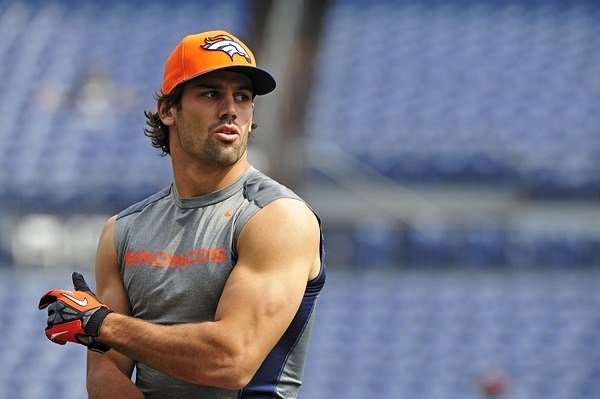 He of the cowboy good looks… or model good looks… or Hollywood good looks… Aw, heck, he's just good-looking. If Wes Welker doesn't want to take the part of Superman, Eric can pick it up, brown eyes notwithstanding. What a hunk!
Kam Chancellor, strong safety #31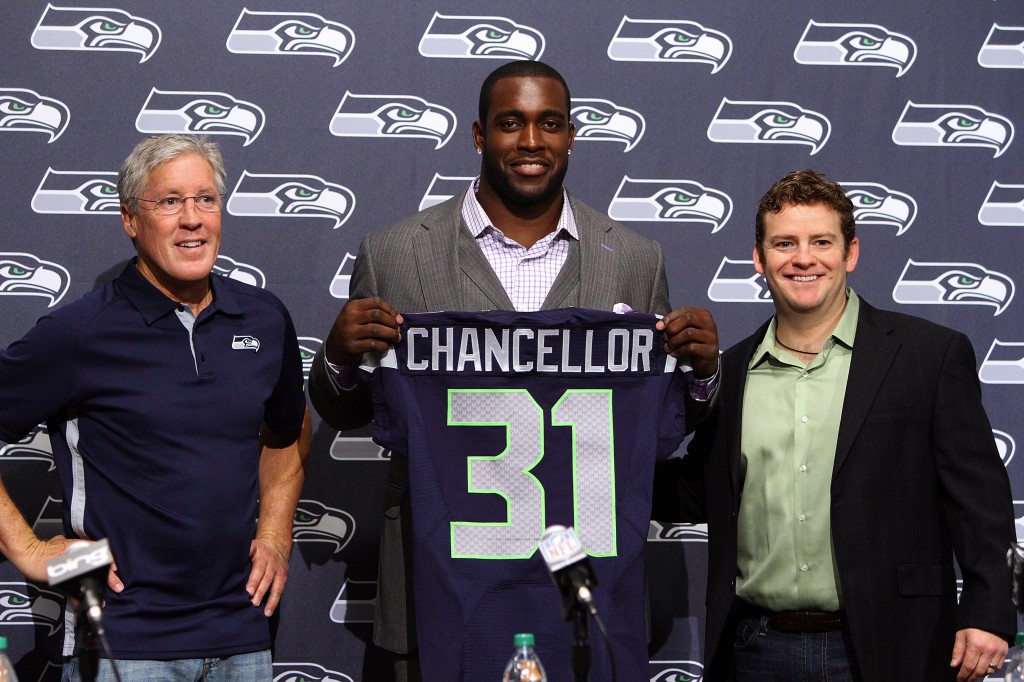 Kam's still a cutie. He may be part of the Legion of Boom, too, but those soulful brown eyes remind us he's got a heart of gold. He's the kind of guy you don't mind introducing to Mom. But for hottie factor… Well, sorry, Kam, but Eric's got that whole Hollywood-cowboy-model thing going on.
Advantage: Broncos
So, ladies, this is going to be a good matchup for the Super Bowl. You've got wild personalities, Hollywood leading men, and even a couple softies. Suddenly it can't be Super Bowl Sunday fast enough, right?
Contributed by Nadia Archuleta