TGIF! And to celebrate this long weekend, I'm sharing one of my favorite new sports products.  I'm sure you've all seen eye black…some football players still use the simple black line under their eyes, while other paint their entire cheeks.  Well Jenn Holt of We Are Warpaint, has created colorful and fun "warpaint" to express your inner warrior in a new way.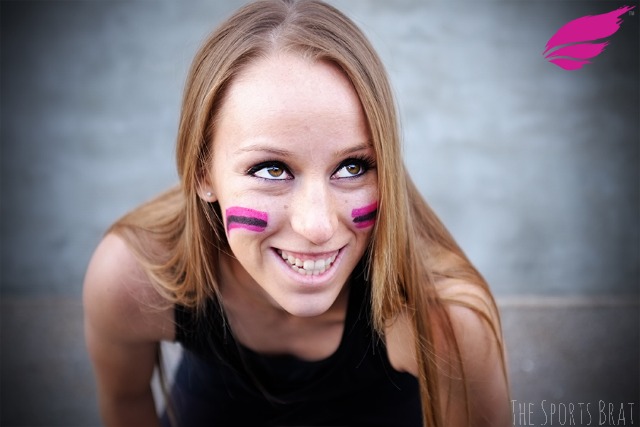 I was lucky enough to get to chat with Jenn about We Are Warpaint, sports and more!
The Sports Brat:  How did you come up with the concept of We Are Warpaint?
Jenn Holt:  I was an assistant coach for Mt. San Antonio Community College aka Mt. SAC, in 2012 and the girls on that team were taking standard eye black, smearing it on their faces and then putting loose glitter on top of it to match the school colors.   My initial goal was to find a way to phase out the glitter, because it was a mess! On the other hand, I was impressed how creative the girls were on trying to achieve colored eye black. Understanding their purpose, I went online and searched for eye black in different colors and was shocked when eye black only came in… black. Being a softball coach, I understood the basic function of eye black, but it was still surprising to find that eye black had not evolved beyond function to achieve the form of expression the present day athlete was seeking.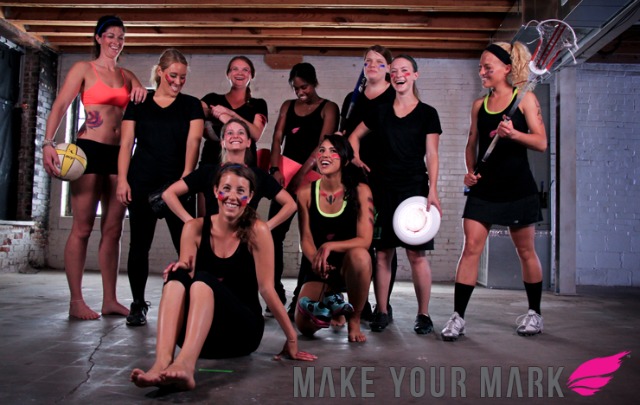 TSB:  What's your sports background? Do you still play sports?
JH:  I come from a very active & athletic family and sports have always been a part of my life in one form or another. I played just about every sport you can imagine and have fond memories of trying to balance games and tournaments that usually required me changing jerseys in the car as we raced from one sporting event to another.
I was athletic enough to play basketball, volleyball & softball in high school, but my true passions were soccer & softball.   Eventually, these sports would become direct competitors of my time and I had to choose which one to focus on full time and softball won. I had the immense pleasure to compete with the same group of young women from the age of 12-18, where all of us obtained athletic scholarships to various schools. I received an athletic scholarship to Cal State Fullerton, where I would continually compete against former teammates that had a large part in shaping the young woman I was at that time. I was also a catcher; so a little friendly trash talk amongst old friends was always a highlight in my collegiate career.
Currently, my husband and I enjoy tennis and I absolutely love golf. I'm not very good at either of them, because my softball swing gets in the way of both skill sets.
TSB:  How can we use Warpaint to show team support on game day?
JH:  As I was developing the idea of Warpaint it was imperative that the individual defined the product. I had the opportunity to do a photo/video shoot with an array of athletes from Wilmington, North Carolina that represented every sport from volleyball, softball to gymnastics. The one thing I told them was to be authentic to their sport and to themselves and make Warpaint their own. When we were ready to do the shoot, I was astonished to see how each athlete interpreted the product and it was truly exciting to see how the athlete utilized Warpaint to define themselves and their sport.
If I can convey anything, it's that there is no right or wrong way to wear Warpaint, because making your mark is a personal expression and I hope to continue to see the product evolve with athletes, fans & competitors – especially on game day.
TSB:  What are the current color options available?
JH:  Red, athletic gold, neon pink, blue, black & shimmer. We're slated to go into production with 3 more colors next month and develop orange, purple & green.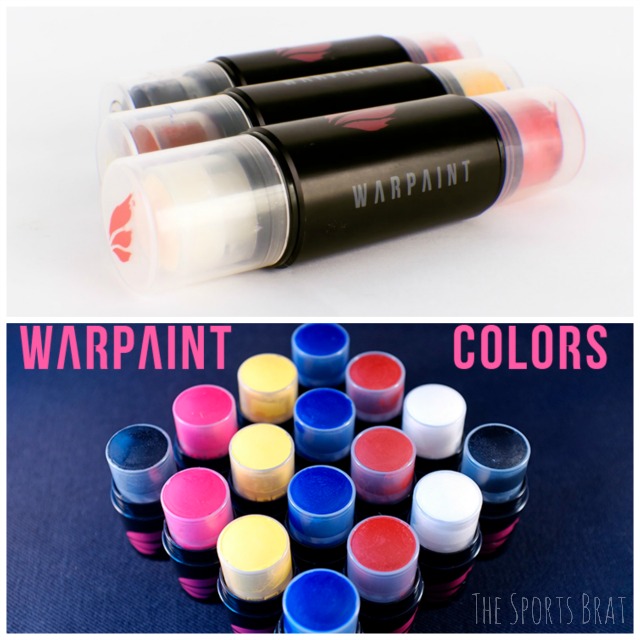 TSB:  Who do you root for? Favorite team or athlete?
JH:  I'm from Sacramento, so it's in my DNA to be a Giants fan. I was a catcher in college, so I'm partial to Buster Posey.
I also have had the pleasure to sponsor athletes from the National Pro Fastpitch league and root for Ashley Carter of the Pennsylvania Rebellion and the league as a whole. It's truly incredible to see these young women compete and impact future generations of softball players.
TSB:  What's your perfect game day outfit?
JH:  It's the sweet combination of casual and cute: Skinny jeans with the right amount of wear & tear on them, comfortable, fun printed shirt tucked in loosely in the front, a belt, ankle boots or converse, long necklace, hat (Goorin Bros. & Brixton are my favorite brands).
Thank you Jenn! For more, please go check out We Are Warpaint!