We've all heard the song, a little boy singing about wanting his two front teeth for Christmas. Well, of course, the tyke's adult teeth are going to grow in, and he'll be just fine.
What if you're talking about a modern-day gladiator, though? No longer a little boy but a man in the prime – and I do mean prime – of his life whose job just happens to be the fast-paced sport of hockey. While there's grace in hockey – just watch a fast skater on a breakaway or a primo puckhandler – as well as beauty (hot goalies, anyone?), it's still a sport characterized by big men with sticks chasing a speedy frozen puck on the ice. Read: accidents happen.
Can a guy still be cute when he's had a couple teeth knocked out? Well, maybe not right after (except in the case of Pascal Dupuis), but sometimes the hockey smile sports a handsome frame.
So, if the following guys have been good this year – and I think they have – they should expect Santa Claus to come help them out with their teeth sitch. Here's Santa's journey – he needs a little extra time on the East coast.
West Coast
Dustin Penner, Anaheim Ducks left wing
Speaking of gladiators, Dustin has a total Russell Crowe "Gladiator" vibe going on. The dark, wavy hair. The twinkling blue eyes. The chiseled features. The missing tooth…
He's also got a bit of the Hollywood to him. Check out his interviewing skills. Turns out if his "day job" of NHL hockey doesn't work out, he could have a future in TV!
Mid-West
Erik Johnson, Colorado Avalanche defenseman
Part of a hockey defenseman's job is to stand in front of the opposing goalie to "screen," or hide a teammate's shots. Well, turns out at least one of Erik's teammates has a wicked hard shot. During practice this blonde cutie caught the puck in the kisser. And Santa's going to need to bring an extra 'cuz he lost three, not two.
Actually, he kind of looks like a little kid sans teeth, all tousled hair, blue eyes  — and gapped smile!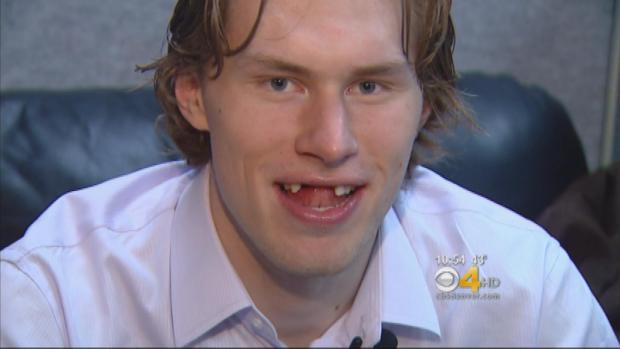 Paul Stastny, Colorado Avalanche center
So, you know that contact sport they call baseball? Of course not! When you think of baseball, you think of apple pie. It's hockey that goes with "missing teeth."
Not for this particular hockey player. American-born Paul Stastny lost his playing the all-American game of baseball in seventh grade. Maybe this corn-fed cutie decided to play hockey at that point since he already had the hockey smile!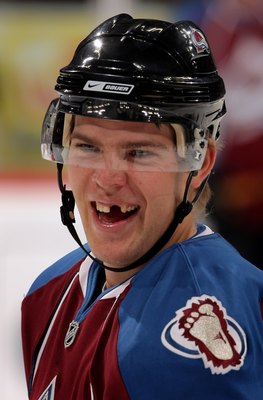 Canada
Alexandre Burrows, Vancouver Canucks right wing
Tom Cruise in Top Gun – that's Vancouver's Alex Burrows. He's got the aquiline features and dark gaze of Tom Cruise.
Of course, if Tom Cruise ever got smacked in the face with a puck, he'd be at the plastic surgeon's office stat, and hiding for months. Alex just skated to the dressing room. He even talked at a post-game press conference. Hey, flyboys need a little ruggedness, too, right?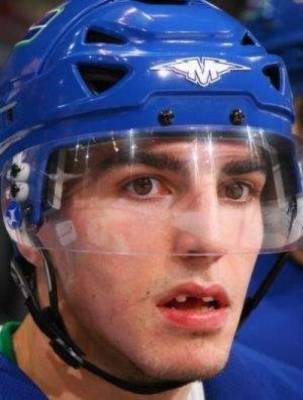 Carey Price, Montreal Canadiens goalie
It's not too often that hockey goalies lose teeth. Even though they actually stand in front of pucks speeding at, literally, 100 MPH, they're protected by large masks. (Which is why many of them are still hotties!)
However, during a playoff game, a skate somehow made it past Carey's grill — yikes! Like a true gladiator, this dark-eyed hunk skated to the bench, handed the "chiclet" to the trainer, and calmly resumed goal tending. Kinda macho-hot! And also kinda the hockey way. (See Tavares and Dupuis.)
East Coast
Alex Ovechkin, Washington Capitals winger
Speaking of macho, Russian-born Alex has a little caveman appeal. Come on, there is something about that whole "I-can-wrestle-saber-toothed-tigers" look that speaks to the primal. Ironically, on ice, he's actually one of those graceful skater-puckhandler types I mentioned.
I'd still like to see him with the tiger, though – it'd be a good match-up.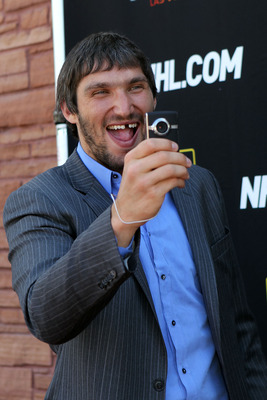 John Tavares, New York Islanders center
On the other end of the spectrum from Ovie's caveman, we have John Tavares who looks like an 80s wingman — you know, the cute best friend of the leading hunk. The sensitive guy you kind of wish would get the girl.
Yet watch him calmly removing his tooth and handing it to a trainer after taking one of those terrible pucks in the mouth. You'd never see John Cusack doing that!
Pascal Dupuis, Pittsburgh Penguins left wing
Pascal (I so love the French Canadians and their accents!) went to the same tough guy school of dentistry as Carey Price and John Tavares. Yet he's got one of those handsome smile frames I was talking about: symmetrical features, sparkly hazel eyes and manly black eyebrows – not to mention the rest of his teeth are toothpaste commercial white. Watching him perform his tough guy dentistry is a little like watching the hero in a movie fight. You wince, but right after you're happy he's ok.
I mean, seriously, Pascal could star in the French remake of "The Gladiator." He's a natch!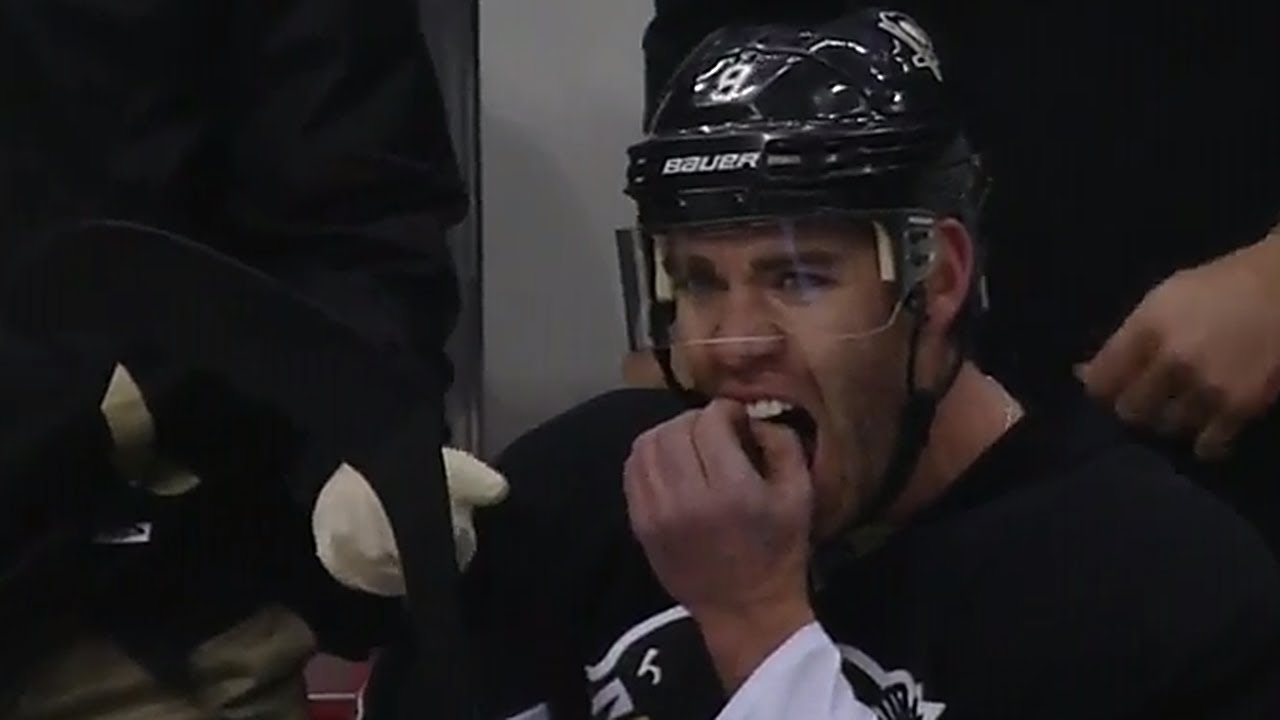 So, as the song says, these guys wish you a Merry Christmas. They just might whistle a bit as they do it.  And we'll leave you with our own little highlight reel…
Contributed by Nadia Archuleta