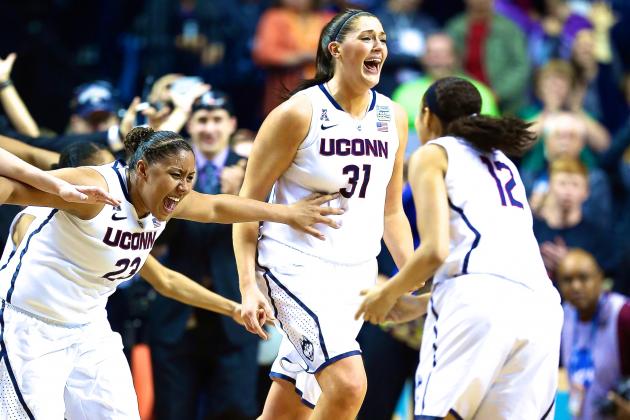 Some very tall, very skilled ladies would like your attention. Actually, they're not asking – they're demanding your attention. The University of Connecticut Huskies trounced the Notre Dame Irish 79-58 to win the NCAA championship for women's basketball.
Yes, the UConn men's basketball team did it the night before. Yes, the ladies' team is led by an award-winning coach, Geno Auriemma. But Tuesday night's matchup was all about the ladies.
UConn-Notre Dame Rivalry
Rivalries make the world of sports go round. And the matchup that saw the UConn Huskies take on the Notre Dame Irish is one monster of a rivalry.
And it's a girl rivalry, so you know it's fierce.
The ladies who play for those two NCAA teams do not like each other. They get up, eat breakfast and practice not liking each other. By the time they get to the actual game, there's some serious hate going on.
Normally the two teams get to meet during the regular season. In fact, in the previous three seasons, they faced each other 12 times. Yet the current season saw no games between the two college programs.
There was no chance of "out of sight, out of mind." These are women, and women don't forget, as many a harried mate can attest. The lack of meetings between UConn and Notre Dame in the regular season just meant the women were fizzing with excitement the whole week leading up to the championship tournament. And by excitement, I mean hate.
The UConn Amazons
Yes, it's cliché, but it's also apropos. Basketball players are tall, but 6-foot-4 or 6-foot-5 is reasonable even for a male basketball player.
Two of UConn's female basketball players grew to that height. Breanna Stewart, at 6-foot-four, looks up to her sister-player, Stefanie Dolson, the 6-foot-5 one. Those are some tall women.
They're not just beanpoles, though. These are some talented ladies. Stewart, who earned national player of the year honors, contributed nine rebounds, four assists and a total of 21 points. Dolson added her 17 points, 16 rebounds and seven assists to the mix.
Unfortunately, Notre Dame had to make do without a key player, post player Natalie Achonwa, who tore a ligament during the Elite Eight games. At 6-foot-3, she was a mite short anyway.
With their size and skill, the UConn players dominated the entire game. Just 10 minutes in, they had a 24-10 lead over the Irish. They never relinquished that lead. Notre Dame drew to within five points, but never overtook the Huskies.
Championship Spirit
Some teams know how to win, but can't execute. Some teams seem to win in spite of themselves.
UConn is neither of those. They know how to win, and they execute flawlessly.
The Huskies are all about movement, keeping the ball on the attack. They screen, and they pass so crisply you can practically hear the snap. Their defense is super-annoying, too, like those yippy dogs that bite at your heels. Except the UConn ladies are the Huskies – and you can't really ignore huskies. They're practically wolves.
Actually, the ladies really are all but wolves. Stefanie Dolson said in a post-game press conference that she and her teammates knew right away the championship game was theirs for the taking:
"Right at the beginning, that opening tap – our team had such confidence when we came out for this game. We went into it so excited, so pumped."
So fierce. These ladies know how to harness their championship spirit and win.