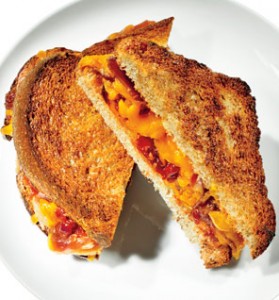 It may be Labor Day weekend, but football season is upon us and it's time to start coming up with yummy recipes to nibble on during the game.  Famed chef, Graham Elliot inspired this tailgate treat.
Tomato-Prosciutto Grilled Cheese
Ingredients:
½ canned San Marzano tomato, diced
⅛ cup chopped red onion
½ garlic clove, minced
1 tbsp. red wine vinegar
½ tsp. honey
8 pieces whole-grain bread
2 cups shredded low-fat cheddar, divided
8 slices prosciutto
4 tbsp. olive oil, divided
Instructions:
Heat oven to 350 degrees.
In a small pot over medium heat, cook tomato, onion and garlic for about 15 minutes until tomato breaks down and resembles jam.
Add vinegar and honey to the pot and cook another 15 minutes until it thickens.
Remove from heat and season with salt and black pepper.
On a cookie sheet, arrange 4 slices of bread and top with ¼ cup of cheese and 1 slice of prosciutto.
Bake 3 minutes until the cheese melts.
Add the tomato jam evenly among the 4 sandwich halves, and then top with remaining 4 bread slices.
In a medium skillet, heat 1 tbsp. of oil.
Place one sandwich in the skillet and cook over medium heat for approximately 3 minutes per side.
Slice diagonally and serve.
Nutritional Info:  488 calories per sandwich, 23 g fat (5 g saturated fat), 42 g carbs, 4 g fiber, 32 g protein.