The holidays are certain to bring about snow, yummy treats, holiday parties and of course the inevitable over imbibing.  And you have to be able to bounce back for game day.  So now is the time to rely on old faithful to help you recover from a night of over indulging so that you can actually make it to the tailgate.  That's right, we're talking about the Bloody Mary…part hair of the dog, part nutritious breakfast; it is certain to help not only cure your hang over but it will have you leading team cheers in no time.  Here is our recipe for the original Bloody.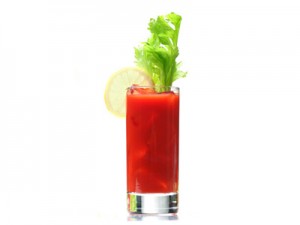 Ingredients:
1 46-ounce container of tomato juice (about 6 cups)
6 ounces vodka
1/3 cup fresh lemon juice, plus 6 lemon wedges for garnishing
1/4 cup Worcestershire sauce
1 tbsp. black pepper
2 tsp. cayenne
1/2 tsp. celery salt
5 dashes Tabasco sauce
6 celery sticks or pickle spears
Ice
Preparation:
1)    In a large pitcher, stir together tomato juice, vodka, lemon juice, Worcestershire sauce, black pepper, cayenne, celery salt and Tabasco sauce.
2)   Pour over ice into 6 glasses.
3)   Garnish with lemon wedge and either a celery stick or pickle spear.
4)   Enjoy!