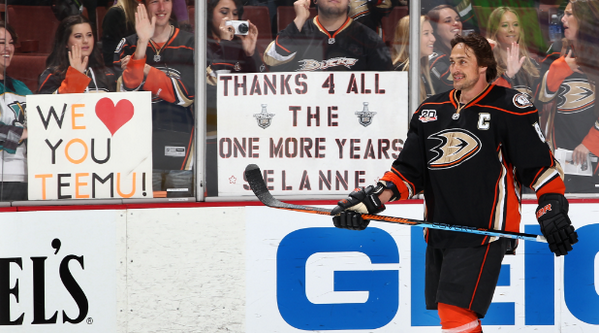 The 43-year-old Teemu Selanne had a cute way of announcing he was coming back for one more season last summer. He put out a video.
In the video he's playing golf, badly. He mumbles to himself in his native Finnish as he screws up again and again. Finally in a fit many golfers can relate to, he throws his golf clubs into a water hazard. Chagrined, he has to go swimming after them to retrieve his phone. Why? He needs to call Anaheim Ducks general manager Bob Murray to say he is coming back for one more season.
Like I said, pretty cute. Unfortunately, the way his season – and thus his career – ended was not as cute. The Anaheim Ducks got eliminated from the second round of the Stanley Cup Playoffs in an embarrassing rout by the Los Angeles Kings.
Watch Teemu afterwards, and it's clear he's distraught. However, he handled the situation with the class and respect that he exhibited throughout his entire career:
"I knew it was either going to be an unbelievable party or disappointment. This time it wasn't the party. It's very disappointing. It's going to be a lot of happiness later, but it's sad now. Class and respect — that's what this game's all about."
In fact, the final image from that game is of Teemu heading down the chute to the locker room, pausing just long enough to high-five a young fan.
The Finnish Flash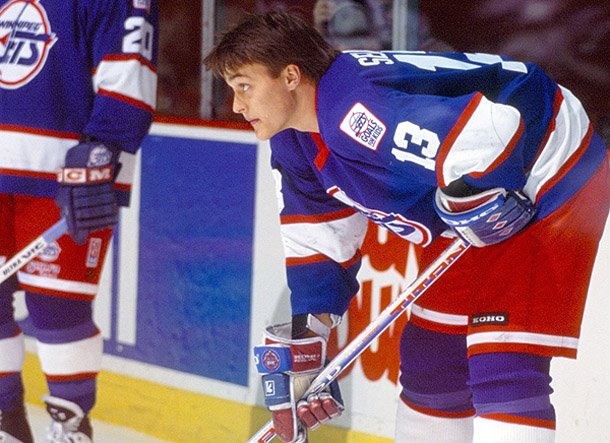 Teemu Selanne had a good run as a hockey player. In fact running – or skating – fast is one thing for which he's best known.
Teemu got the nickname "Finnish Flash" because he's greased lightning on skates. He earned that moniker early – already as a rookie in Winnipeg, the press labeled him as the Finnish Flash.
Of course, that was a rookie year that saw him earn an incredible 76 goals. To put that into perspective, the leading goal scorer of this year, Alex Ovechkin, got 51 goals, and he's no rookie. The top rookie from this year, Nathan MacKinnon, earned 24 – and everyone has labeled him the wonder-kid.
So, getting 76 goals in a season is ridiculously fantastic. 76 goals as a rookie – it just doesn't happen anymore.  But that was Teemu – he has always been that fast and that talented.
Teemu's International Greatness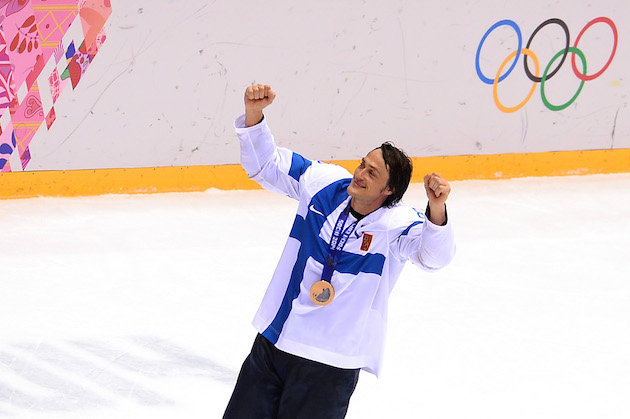 Sports aren't like the great fictions stories – just because someone deserves something doesn't mean they get it.
You'd be hard-pressed to say Teemu Selanne didn't earn honors. He has two World Championship medals and four Olympic medals with Finland. None of them are gold, though. He did help Team Finland earn silver at the 2006 Olympics in Turin, Italy, but no gold.
The Finns didn't even get a chance to play in the Gold Medal game at this year's Olympics thanks to the Swedish Horde – the rival Team Sweden. However, Teemu reacted with class and respect for the game to his disappointment. He rallied his troops in the locker room and led them against the disheartened Team USA. With grace and class Team Finland won the bronze medal.
That was Teemu's last time representing his country. He said of the experience:
"I played for my first national team 26 years ago, and I've been carrying this jersey with a lot of pride and love, and knowing this was going to be my last game, I couldn't really ask for more than this.  It's a dream come true."
NHL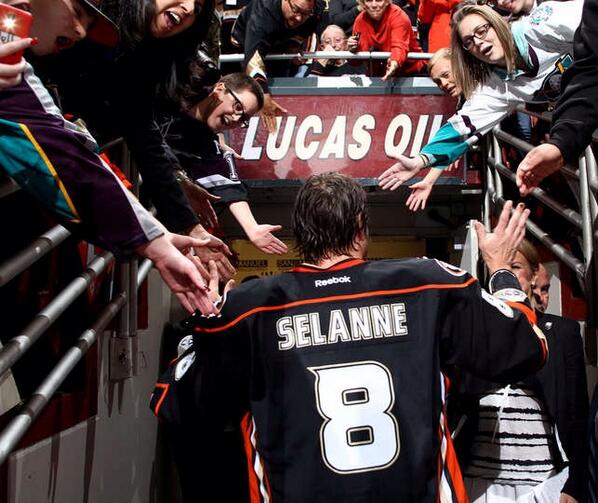 Players and sports analysts often judge careers based on playoff success, though. Here, perhaps, Teemu's greatness didn't shine through as much. In 130 Stanley Cup Playoff games, only one run resulted in a Stanley Cup ring.
Except I shouldn't write "only one" – lots of Hall of Fame careers ended without that honor. Teemu has been immortalized on the international stage. And his name will forever grace the Stanley Cup.
Notice I said "players and sports analysts" judge by playoff success. Fans do not. So, the Ducks got embarrassed on home ice, losing 6-2 and ending their season. That didn't stop the Anaheim fans from crying openly while they saluted the Finnish Flash one last time.
Turns out fellow players and sports analysts aren't feeling judgy about Teemu either. Teemu's teammates saluted him. The opposing Kings saluted him. And you'd be hard-pressed to find a sports writer churning out anything negative about Teemu right now.
Teemu Selanne conducted his entire career with dignity and elegance. Just because it's hockey doesn't mean it can't be classy – and Teemu showed us how.
Parting words from Temmu Selanne: "I want to look at the big picture and enjoy this game, my teammates, the fans and the organization. Not even in my wildest dreams did I expect to have a career like this. I'm very thankful."
Enjoy your retirement Temmu!
Contributed by Nadia Archuleta