I remember working for a large music television company (that shall remain nameless) in Times Square when I got a call from my friend that she had an extra US Open ticket.  News like this is both awesome and terrifying.  That summer day I happened to be in black pants, a silk blouse and heels.  I was also in this "less is more" make up phase so needless to say I needed to make some adjustments to my look.
Thankfully, Times Square is abundant with shops so I ran to Sephora first to secure my make up situation and then to Forever 21 to figure out how to spruce up my look.  I have to say, I did my best.  I had 30 minutes and I was able to navigate Times Square and the stores for the perfect lip gloss, blush and mascara but my outfit came up short.  I was stuck in my office look for the fabulous tennis event.  Oh well.
If you don't have advanced notice it can be tough to make adjustments but if you happen to know you're heading to a game after work, here's a look that will carry you easily from office to courtside!
I recommend these fantastic Rag&Bone jeans.  I just picked up a pair and they're incredible.  If you can't wear jeans to work, bring a pair in your bag to change into.  A classic white tee can be dressed up by tucking it in with a cute belt.  I love my Current Elliott tee.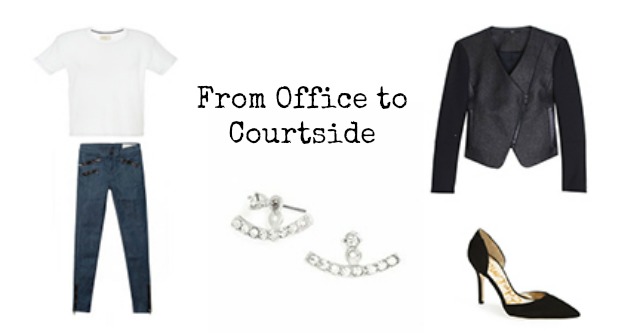 Add a cute jacket or blazer like the Tibi one pictured above. You can shed the layer if you get warm at a basketball game or you may want to keep it on if you're heading to see hockey (see my post on this issue here.)  Finish with a classic black heel and you're set.  I know heels sound odd for a sporting event, but trust me, they're totally ok for hockey and basketball.  I love these Sam Edelman ones.
Ok here's where it gets interesting.  You may not think about jewelry when you think about sports but I have been totally into adding a little bling to my game-day look.  Since you'll be at the office before hand, the bling is totally appropriate.  The
statement necklace
is always a win BUT I have been dying over the recent earring trends.  These new
Bauble Bar
sparklers are so perfect.  They add just the right amount of sparkle.