If you regularly read the blog you know it's fall and football season. If you're a human in the north-western hemisphere you also know this. SO it was only a matter of time before I shared my new favorite chili recipe courtesy of my friend Amanda at CanIEatNow.com. If you're still not sold: there's beer in it. Done and done.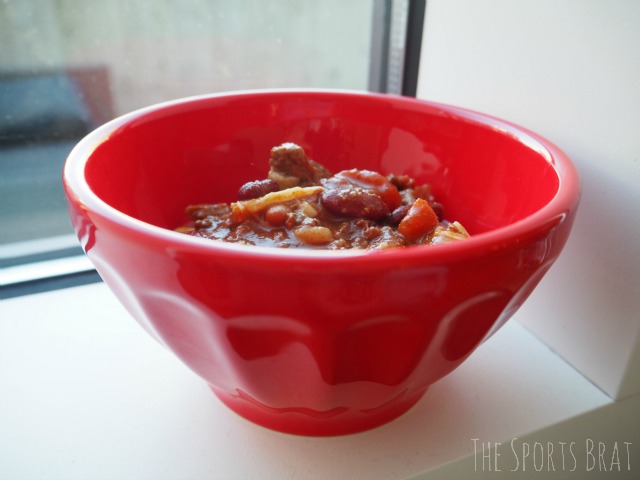 INGREDIENTS:
1 1/2 lb stew meat, cut into cubes approximately 1 1/2 inch.
1 1/2 lb ground beef (85%)
1 1/2 cup Sierra Nevada Pale Ale
2 (16 oz.) cans Bush's chili beans (do not drain)
1 (16 oz.) can red kidney beans, drained and rinsed
1 (28 oz.) can petite diced tomatoes (do not drain)
2 1/2 TBSP chili powder
1 TBSP ground cumin
1 tsp onion powder
1 /2 tsp paprika
1 tsp dried parsley
1 tsp cayenne pepper
3 TBSP masa
Salt & Pepper (for seasoning the meat)
INSTRUCTIONS:
Remove your meats from the fridge and let them get to room temperature.
Season your stew meat well with salt and pepper.
Place a large pan (stay away from the non stick kind if possible),  and turn the stove on med/high. Wait until the pan is nice and hot.
Add about 1/2 of your meat to the pan. After 3-4 minutes begin to flip each piece of meat over. The meat should be nicely seared. Cook for an additional 3 minutes on the other side. Add to crock pot.
Repeat steps 3 & 4 with second batch of meat.
Add your ground meat to the same large pan and brown. Add to crock pot.
Pour your ale into the pan. Using a large wooden spoon scrape up the bits on the bottom of the pan. There is a ton of flavor packed in there and we want to use it all! Once completed, add the ale to the crock pot.
Add all remaining ingredients (chili beans through masa) to crock pot. Stir to combine.
Cook on low for 8 hours.
Top your chili with your favorite toppings! Sour cream, pickled jalapeno slices, fresh cilantro, jack cheese & red onion, etc.. Enjoy!