On this special #tbt (that's throw back Thursday for those of you living under a rock), I am SO excited to share my Q&A with US Women's National Team member, Olympic Gold medalist, Stanford alum, the list could go on and on…but perhaps my favorite, MY former Surf soccer teammate, Rachel Van Hollebeke.  You may remember her by her maiden name, Buehler or for her nickname "Buehldozer."  Rachel is one heck of a soccer player and we're lucky enough to hear about her recent move to Japan, what it's like to be an Olympian and much more!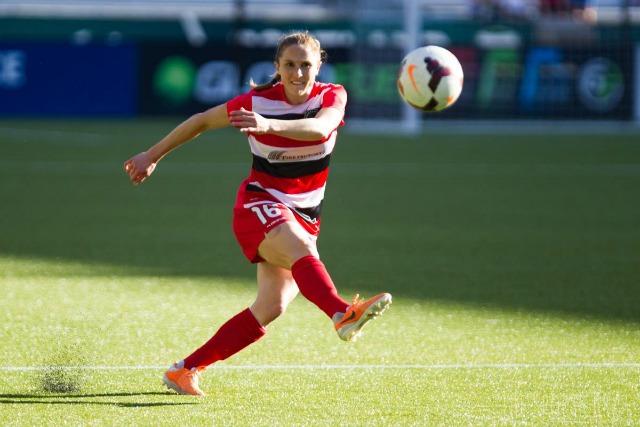 The Sports Brat:  You play a lot of soccer and now you're playing in Japan! Do you have a favorite sport to watch besides soccer?
Rachel Van Hollebeke:  I don't necessarily have a favorite sport to watch beyond soccer, but I really like supporting my home teams. Now that I am living in Portland I am a huge Timbers fan. I also have become more interested in basketball and love watching the Blazers. And it goes without saying that I will always be a San Diego Chargers and Padres fan.
TSB:  What's been the biggest change from playing in Portland to playing in Japan?
RVH:  Wow, there are so many differences. In my day to day life, everything in Japan is an adventure. Driving on the opposite side of the road, integrating into a new culture, communicating with my coaches and teammates…it is all challenging and a lot of fun. On the field, the style of soccer in Japan is very different. The game here is incredibly technical and possession oriented. In America, we are more aggressive and more direct. It has been fun blending the styles and I think the combination makes for some really good soccer.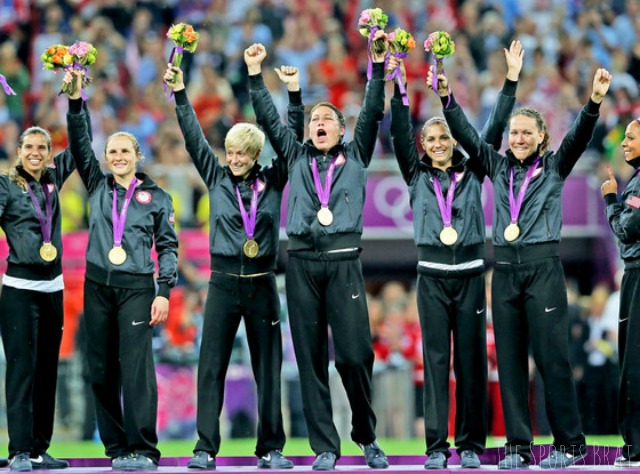 TSB:  You took home a gold medal in the 2012 London Olympics, can you describe what that moment was like?
RVH:  Winning gold at the 2012 Olympics has been the highlight of my professional soccer career. I will never forget the feeling of standing on the podium, gold medal hanging around my neck and singing the national anthem with all my heart. I remember standing there, reflecting on my soccer career…. the countless hours of practice, the challenges and successes, and all the people who helped me get to that point. I felt so proud, grateful, and overcome with happiness.
TSB:  Switching gears a little, what's your go-to style for off days?
RVH:  On a day off I try to actually get out of soccer clothes…. Although sometimes that can be a bit of a challenge. I am a comfy, casual dresser and usually just wear jeans and a t-shirt or cute sweater. I'm a sucker for pretty scarves and earrings and often add those to my outfits.
TSB:  Training for soccer keeps you in incredible shape, do you have any fitness secrets you can share?
RVH:  I really like efficient and functional work outs. For cardio I do a lot of interval training. I vary the time and intensity of the intervals depending on the purpose of the work out. If I'm building an endurance base, I'll do five minutes of hard running followed by three minutes of recovery jogging and then repeat that five times. For more of a speed focused work out I'll do sets of 10-20 second sprints with a short recovery time. I find interval training to be very challenging, efficient, and realistic to soccer. I also do functional strength training to help prevent injuries and enhance my soccer performance. I do exercises that focus on balance, flexibility, core strength, and power.
TSB:  What's on your pre-game playlist?
RVH:  I like all kinds of music from many different genres and generations. My teammates always laugh when I get a hold of the speakers. Basically, my pregame playlist consists of songs that make me happy and get me singing. That might include artists like Aretha Franklin, The Rolling Stones, Michael Jackson, The Black Eyed Peas, Pink, and even a Disney song or two. It is an eclectic mix.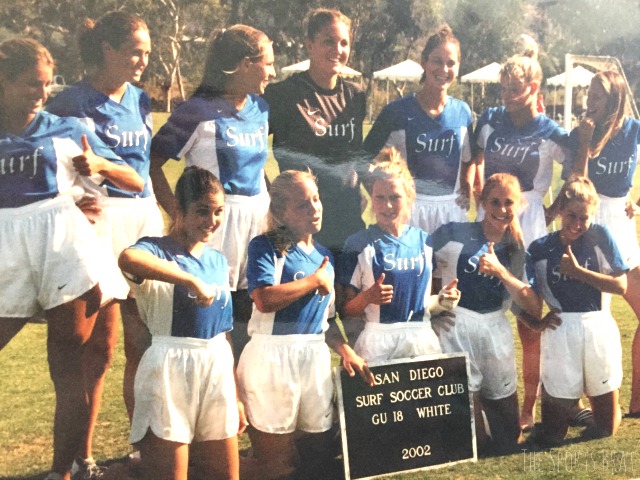 That's our U-18 team…we'd been together since we were 12 and decided to make our last team pic a funny one…that's Rachel on the bottom row, second from the right.  And that's your's truly on the bottom row, far left.  Those were the days.
Thank you Rachel! We're excited to continue to watch your career!!