For some sports towns (ok just a couple) fall is far from arriving.  So take advantage of those final warm game days by whipping up this delightful Peach-Berry Sangria.  It will have you feeling like you're somewhere summery and breezy in no time!  Not to mention at only 115 cals per drink, you won't have to feel guilty eating the tailgate food.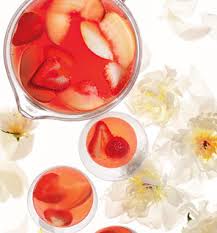 Ingredients:
⅓ cup superfine sugar
½cup peach nectar
1 bottle rose
¾ cup peach vodka
1 pint strawberries, sliced
3 peaches, sliced
3 cups club soda
Preparation:
1)   In a pitcher, mix sugar with peach nectar until dissolved.
2)   Stir in rose, vodka, strawberries and peaches.
3)   Add club soda and enjoy!