If you haven't seen Orange is the New Black, you should hop on Netflix tonight and do yourself a favor, however, that's not what I'm referring to here.  What I want to point out is that while Orange is an incredibly difficult color to pull off without looking washed out or like a Halloween treat, it is apparently indicative of a solid football team right now.
First up, Clemson.  Quarterback Tajh Boyd has led this Southern school back into the Division I college football spotlight.  They're currently ranked #4 and you can check them out this weekend when they take on #5 Florida State Seminoles Saturday at 8PM EST on ABC.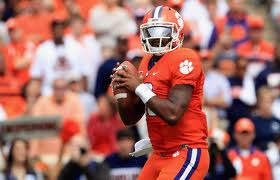 Clemson QB Tajh Boyd
Second, the Denver Broncos.  QB Peyton Manning, along with an overall very talented team, has risen again to the top of the NFL this season.  And as of right now, there's really no sign of stopping them anytime soon.  You can watch Peyton return to Indianapolis (his former team) when they take on the Colts this Sunday at 8:30PM EST on NBC.  Oh and in case you've been living under a rock, please take a look at super hot wide receiver Eric Decker rockin that Orange.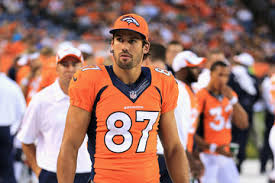 Denver Wide Receiver Eric Decker
Lastly, the Cincinnati Bengals, who have really not been exciting since Chad Ochocinco left, are back and apparently relevant again.  No team has allowed fewer touchdowns with four or fewer rushers than the Bengals, who have won 4 of their last 5 games.  They head to Motor City to take on the Detroit Lions Sunday at 1PM EST on CBS.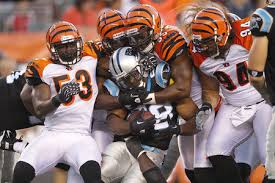 Cincinnati Defense
It's a little early to make the case for the NBA and NHL but if the trend decides to move past football and into other sports then we should be excited to see NY Knicks and Phoenix Suns on the court and the Philadelphia Flyers, NY Islanders and Edmonton Oilers on the ice.  Let me just say that I would not make any bets on these teams based on uniform colors but it would be pretty cool if we could outsmart the boys by relying on our innate sense of fashion.  Just don't hold your breath.