Hockey is almost back…our Contributor, Nadia Archuleta gives us and inside look at training camp for the Colorado Avalanche!
Have you ever participated in one of those "boot camps" at a gym? You spend a week or two working out with trainers most days, lifting weights, running, doing other cardio – and lamenting every slice of pizza or ice cream cone you indulged in.
Well, hockey training camps make those look tame. Professional hockey players don't come to camp what we would consider "out of shape." In fact, Colorado Avalanche star center Matt Duchene explains the hockey off-season:
"You take some time off after the season, but as soon as you start training, it's hammer down. It's a marathon and a sprint at the same time towards camp. It's a 12-month job."
So, what happens at these training camps? I attended the Avalanche training camp this year (as a spectator, obviously), and here's what it looked like.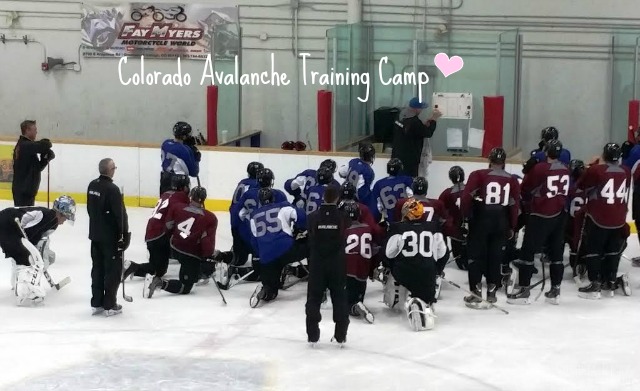 Rookie Camp
The Avalanche rookie camp consisted of 37 young men hoping to skate, puck-handle, hit and even fight their way onto the team. Rookies, by the way, are players with fewer than 25 games of NHL experience.
Camp started at 9:45 am, but the goalies hit the ice early to warm up. (If you've never watched goalies stretch, you're missing out – let's just say they're bendier than your best yogi.) Once the skaters came out onto the ice, they started shooting drills – or saving drills, if you're a goalie. A little later, they moved on to working in the corners and even some defensive plays.
After the on-ice drills, with sweat pouring off them, the rookies went back to the training room to ride the exercise bike so that they don't get cramps in their legs. And then they worked out for a couple hours.
Fitness Testing and Media Day
Before the main training camp starts, the veterans report for fitness testing. Fitness testing – and the camp coming up – is the reason players like Matt go "hammer time" during the summer.
Under the watchful eyes of the coaches, the trainers put the players through their paces. The goal is to evaluate how each player's fitness is in relation to last season's. Trainers test for speed, power, endurance and stamina – all necessary aspects of a hockey game.
Some of the tests look downright medieval. For instance, during the VO2max test, players cycle at increasing resistance while their oxygen utilization is tested by way of a mask over their nose and mouth. During the Wingate test, players cycle as hard as they can for 30 seconds at a resistance of nine percent of their body mass.
Players are also weighed and measured – and the trainers use calipers to check their body fat percentage. To give you a hint of the kind of shape that these players are in, the Avalanche's prize rookie from last year, Nathan MacKinnon, measured in at nine percent body fat – and he gained 15 pounds over the summer. That's a testimony to his off-season workouts.
Main Training Camp
Players participate in two to three days of training camp, depending on the team. The Avalanche scheduled two days of camp followed by a full-team scrimmage called the Burgundy and White game.
The main training camp is very similar to the rookie camp in many ways. The players participate in numerous drills followed or preceded by a workout. However, because so many players are participating in the camp – all the rookies, all the players coming back from the previous season and players trying out for the team – they're broken up into four groups. Two groups work out then drill, while the other two do the opposite.  Check out Jarome Iginla doing some drills.
The intensity at the main camp is a lot higher. Returning players are trying to get their skating legs, and both the rookies and prospects are attempting to show they belong there. At an NHL-level training camp, niceties go by the wayside.
This is especially true during the scrimmages. Each day, the drills culminate in a scrimmage, in the Avalanche's case, burgundy vs blue then gray vs. black. These scrimmages are run similarly to seasonal games. Remember, many of the young men are fighting for position on the team – and all of them are trying to prove they're ready for the up-coming season.
For instance, during the scrimmage, the Avalanche's cornerstone defenseman Erik Johnson checked veteran Jarome Iginla into the boards with bone-crunching intensity. Yet in just a couple days, he'll be delivering such hits to protect Iginla.
Another Avalanche defenseman, Nate Guenin, explains this mentality:
"It's just getting back into game mode. During the summer you play all that summer hockey, pond hockey, where there's no hitting or banging, and now we're getting a little more battling in."
They need that grit. While hockey is a highly-skilled, sometimes graceful game, there's no denying that "hitting and banging" is a part of it. And that's in evidence at training camp.