First thing's first – yes, even though there are barbecues and baseball and beach days going on, hockey is still in action. Just for a little while longer, though, so get in on the excitement before it's all over.
Second thing's second – yes, the NHL Finals are always East vs. West, Eastern Conference vs. Western Conference, to be specific. This year, though, we're being treated to a real coastal rivalry, a battle between the two largest cities that just happen to be on opposite coasts of the U.S.. We're talking New York and Los Angeles are finally duking it out.
We all knew this day was bound to happen eventually, right?
L.A.'s Kicking New York's Butt
I'm not sure if that's a surprise or not – Rodeo Drive is taking supremacy over 5th Avenue.
Ok, it's not going down like that at all. The gritty, come-from-behind LA Kings are up 3-0 in the best-of-seven series against the speedy New York Rangers. And it's all about the cockroaches.
After the Kings beat the reigning Stanley Cup champs, the Chicago Blackhawks, to get to the Finals, LA defenseman Alec Martinez remarked, "We've been compared to a bunch cockroaches – we just never give up."
Ew, but his allusion is apt in the sense that the Kings have been counted down and out several times during the 2014 playoffs. They were one of only four teams in history to come back from a 3-0 series deficit to win in the first round. Most of their games they've had to battle back from being one, two or even three goals behind. (In hockey, that's pretty hard.) In fact, during the first two games of the Rangers series, the Kings never took the lead – they just won in overtime after pushing to tie the game.
To be honest, the Rangers probably are thinking the Kings are like cockroaches – and that they'd really like to squash them as such.
New York isn't out yet, though. Game 4 gets played in Madison Square Garden – one of the most historic, if not the most historic — hockey buildings. That's the Rangers' home crowd, and those New Yorkers are raucous – they can make a difference in close games.
Plus, the Rangers still have four speedy lines, some talented defensemen, and one of the best goalies in the league, Henrik Lundqvist. There's still some hockey to be played.
So, for however many games are left, you could see if the cockroaches are going to overrun the speed devils (again, ew), or you could watch for a couple hotties squaring off against each other.
East Coast Sophistication vs. West Coast Relaxation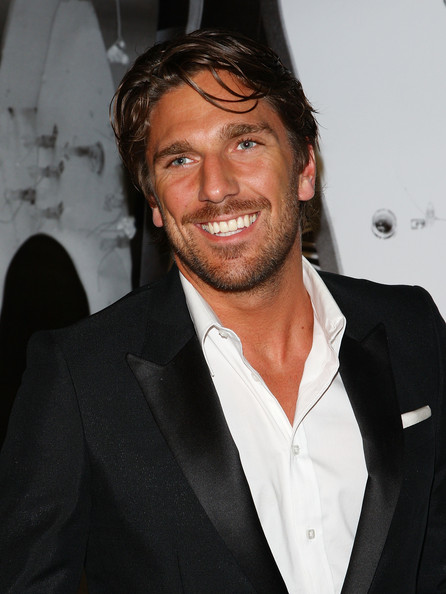 So, Henrik Lundqvist, he's not just a world-class goalie, he's a Swedish model. No joke, he actually models in his spare time (and he's from Sweden). He's been featured in fashion spreads for the British men's magazine FHM, Gotham Magazine and New York Magazine. Oh, and he's recently started modeling underwear for the Swedish brand Bread & Boxers. That's right, I said underwear.
Henrik's flowy hair – doesn't he look like McDreamy from Grey's Anatomy? – and sparkling blue eyes… Never mind, you're stuck on the underwear thing. Let's move on to Jeff Carter.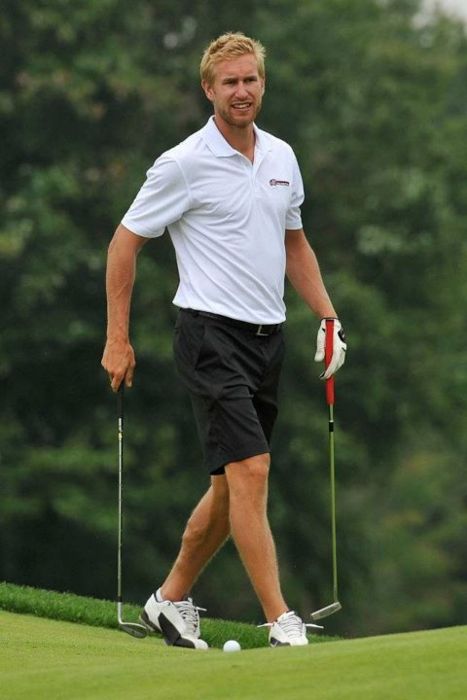 Now, I know it's hard to resist a guy in a suit. But… guys like Henrik can be high maintenance. Their grooming routine can outmatch yours. Sometimes it's nice to consider a guy who's just casual.
Well, if that's your flavor, California blonde Jeff Carter's your guy. Technically he's from Canada, but even playing golf he kind of looks like he should be on the beach, right? No carefully-executed stubble for him, Jeff's a guy who rolls out of bed, throws on some clothes and is ready for his day. Just the kind of guy you'd want to kick back with. Plus, check him with his little pug dog – isn't that the cutest?
You really don't want to miss the remainder of the Stanley Cup Finals now, right?
Contributed by Nadia Archuleta