First there was Facebook, then came twitter.  Now Instagram is all the rage.  You have to be on linkedin as a business professional and you aren't anyone until you're the mayor on foursquare.
The list could really go on and on.  With so many ways to follow your friends and favorite celebs, athletes, etc., it can become a bit overwhelming.  Not to mention, it becomes a full-time job trying to check and update all these different platforms.  That's where Sqor comes in.  They've been in the sports game for 2 years with their Sqor app (download it here).  You can sign up through email or Facebook.  The app let's you talk smack and make wagers against your friends and other fans for college football games (they plan to open it up to other leagues and sports in the future).  And to top it all off, if you win, you can post to Facebook and let everyone know just how on-point you were.  It's a really cool way to get involved in the game without actually wagering money (not to mention earning major street cred with you man).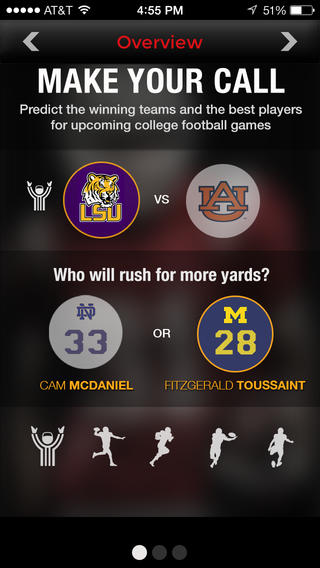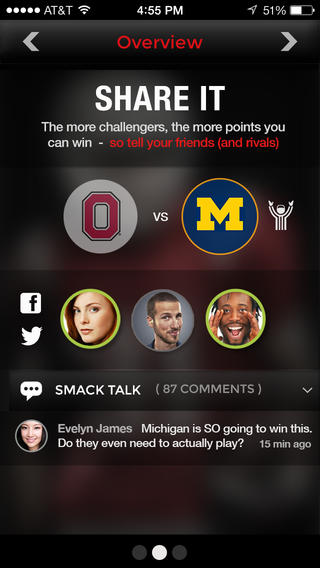 Now Sqor hasn't stopped there.  They're about to take social media it to a whole new level for athletes and their fans.  They've created a groundbreaking new digital platform for professional athletes (they already have over 1,600 on board) to combine all their social pages as well as sports news sites like Sporting News and ESPN.  The platform supports video, photo and original athlete-produced content.  It essentially becomes a one-stop-shop for the athletes and sports news.  This way the fan only needs to keep up with the athlete's sqor page and not the endless other forms of social expression.
By taking social media platforms head on, Sqor has set out to challenge the status quo for how fans interact with athletes.  Sqor is the only company that puts a cross-platform publishing tool directly in the hands of the biggest names in sports.
It becomes a way for fans to actually connect.  And further, it becomes a way for the athletes to communicate directly with fans rather than blasting different outlets and being limited to, uh um, 140 characters.  Sqor already has an impressive roster and they're only continuing to add to it.  Here is a small sample of the athletes you can connect with on Sqor.
NFL
| | |
| --- | --- |
| Brett Favre* | Future Hall of Famer |
| Chris Culliver | San Francisco 49ers |
| Larry Fitzgerald | Arizona Cardinals |
| Michael Turner | 2-time All Pro |
| Mo Claiborne | Dallas Cowboys |
| Navarro Bowman | San Francisco 49ers |
| Ndamukong Suh | Detroit Lions |
| Shaun Phillips | San Diego Chargers |
| Chris Canty* | Baltimore Ravens |
| Marcedes Lewis | Jacksonville Jaguars |
|   | |
*Super Bowl Champion
MLB
| | |
| --- | --- |
| Matt Cain** | San Francisco Giants |
| Mike Leake | Cincinnati Reds |
| Tim Lincecum** | San Francisco Giants |
| Colby Rasmus | Toronto Blue Jays |
| Hunter Pence** | San Francisco Giants |
**World Series Champion
NBA
Stephen Curry                          Golden State Warriors
Greg Oden                                 2007 No. 1 Draft Pick
Danny Green                             San Antonio Spurs
Sebastian Telfair                     Toronto Raptors
CJ Watson                                 Brooklyn Nets
WNBA
| | |
| --- | --- |
| Brittney Griner | Phoenix Mercury |
| Skylar Diggins | Tulsa Shock |
More Sqor All-Stars
Christie Rampone                    3x Olympic soccer gold medalist
John "Bones" Jones                 UFC Light Heavyweight Champion
Ben Henderson                         UFC Lightweight Champion
Carlos Condit                            UFC Welterweight contender
Steve Elkington                         PGA Champion
David Toms                               PGA Champion
Ladies, Sqor is literally opening the door for you to try and get more involved in the game, from smack talking and rooting for your alma matre, to getting closer to your favorite athletes, Sqor has the solution for you.  So go and check them out ASAP here.