I could not be more honored than to have been the recent subject for Kristin Kirby, a graduate student at the prestigious Walter Cronkite School of Journalism at Arizona State University.  While she may be pursing a career on camera, she's not half bad at this writing thing!!  I mean the title alone is amazing!!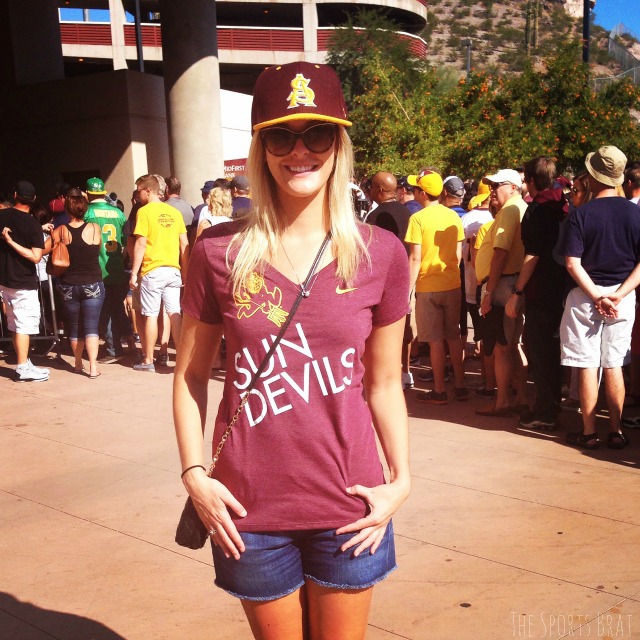 New Female Blogger is Sporty, Spice, and Everything Nice
By: Kristin Kirby
PHOENIX, AZ — She played soccer for the University of Colorado, her dad was a two-time All-American middle linebacker at Stanford University, played two seasons for the San Francisco 49ers, and her grandfather played for the Toronto Maple Leafs.   Needless to say, the girl was born into some sporty genes.
­­­Jess Ceresino, 29, is the creator and editor of her blog website, TheSportsBrat.com, which she officially launched in August 2013. She is the latest example of women under 30 who have continued to gain success branding themselves as bloggers through social media.
According to Ceresino's website, "TheSportsBrat.com is the girl's guide to game day. From tailgating to outfit selections, it's more than just a game at TheSportsBrat.com. Whether you hate sports, you love them, or don't care either way; The Sports Brat offers guidance and entertainment for game day."
Recently, Ceresino has started a new social media feature she calls #gameoftheweek. She attends various games in different cities throughout the month, sometimes week, and posts pictures live from the event. Her posts often range from game day fashion picks to photos taken with team fans she meets along the way.
With this new site feature and her ties to the PAC-12 conference, it was a no-brainer for Ceresino to come out to Arizona for the Notre Dame versus Arizona State football game on November 8 at Sun Devil Stadium in Tempe.
"Notre Dame is a big team to watch every year, and ASU has been doing so well this year in the PAC-12," said Ceresino. "I wanted to check out their stadium and was amazed at the student section."
Ceresino first came up with her blog idea when she was working as a production assistant at ESPN.
"A lot of their content was very male focused and packaged toward a male, active and engaged sports fan," said Ceresino.
In an effort to come up with something for the casual sports fun, she geared towards focusing on an easier way for people, especially females, to consume sports. It was not until Ceresino was getting her MBA in Sports Management that she really gave it serious thought.
"It was there in business school at San Diego State that I thought, 'this could actually be something that I could create,'" said Ceresino.
Being the girl's girl that she is, Ceresino looked no further than her inner circle when deciding on a catchy site name.
"I felt like my tone was going to be kind of sassy, bratty, fun like you're talking to your best friend kind of vibe," said Ceresino, "and I came up with brat from that."
Ceresino first launched the blog on August 28, 2013, and recalls it being a slow start. She says she looked at successful sites like shopbop.com and gilt.com for inspiration but fell into becoming too focused on the content she was producing.
She said a meeting in August with publicist, Ali Grant, director of San Diego-based PR firm, Be Social PR, really got her to think differently and creatively about how to reach her audience.
"I was so content focused and wasn't even thinking about the blogger perspective," said Ceresino.
In the last three months since that meeting and hiring Be Social PR, TheSportsBrat has reached 15,000 Twitter followers, 7,100 Instagram followers, and currently gets about 10,000 page views a month.
In addition to helping bloggers like Ceresino with their publicity, Grant says her firm helps brands and businesses on the PR side by helping them work with bloggers. She says they see it as a good platform for promoting their products.
"The majority of the bloggers we work with are female between 20 and 30 years old," said Grant, "and 90% of our clients want to work with online news sites and bloggers."
When Ceresino first got into this business, people asked her how she was going to make money from her blog, and even then, she didn't have an answer.
"Now that I am actually blogging and in it, I see now that this is an actual industry," said Ceresino.
Ceresino looks to other bloggers who have had great success as motivation as she continues to build her site going forward.
"I love The Skinny Confidential," said Ceresino. "I think she has done an amazing job."
Coincidentally enough, The Skinny Confidential is a health, fitness, fashion and lifestyle blog started by 28-year-old Lauryn Evarts, a graduate from the same high school Ceresino attended in San Diego.
At just 28, Evarts has already published The Skinny Confidential book, has 99,000 Instagram followers and 220,000 followers on Facebook.
While young, female bloggers seem to be taking the digital world by storm, Ceresino still has a unique brand praised by those who have worked with her.
Victor Black, a 26-year-old relief pitcher for the New York Mets, was introduced to Ceresino in September 2013. A mutual friend at CAA Sports, where Black is represented, asked Black if he would be interested in doing a phone interview with a girl who was starting a sports blog.
"I was just starting up my career at the time, so I thought it was a great opportunity to get my name out there as well and help somebody out," said Black.
Black said unfortunately there can be a stereotype when you see women in sports reporting but thinks Ceresino has the knowledge to help her succeed.
"Jess gets it," said Black, "and there's something to be said for people who have the background."
With over a year under her belt in the blogging world, and a 30th birthday coming this January, Ceresino looks forward to tackling her next decade growing her blog and her brand for everyone to enjoy.
No doubt, Kristin has a heck of a career ahead of her.  You can keep an eye as her star rises by following her on Twitter (@kirbyka485), Instagram (@kirbyka485) and Facebook (Kristin Kirby) or you can contact her on Linked In for business inquires (Kristin Kirby).