Typhoon Haiyan hit the Philippines last week in what has been reported as the most devastating storm in history. Bigger and badder than Katrina herself, Typhoon Haiyan, with its record breaking 200 mph winds, has left 2 million people in need of food aid and more than 580,000 people displaced in its aftermath. The death toll is in the thousands already and countless people are reported missing.
And now, it's time for everyone to pitch in and help. About thirty nations and government groups have already sent aid to the Philippines. The United Nations has donated $25 million, the European Union has pledge $4 million, Britain has donated $16 million, and the United Arab Emirates has given $10 million.
The NBA and NBA Players Association will be donating $250,000 to the US's UNICEF emergency relief efforts, too. Erik Spoelstra, Miami Heat's head coach, will be speaking in a public service announcement issued by UNICEF to try to raise more funds for the people of the Philippines. Spoelstra's mother is from the Philippines and he has made several trips there to host basketball clinics and promote education to underprivileged youths.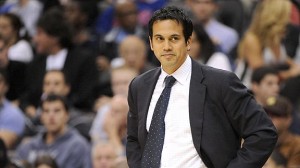 Find more information about how you can help donate to children and those in need in the Philippines here:
https://secure.unicefusa.org/site/Donation2?df_id=16500&16500.donation=form1
Contributed by Allison Cohn