Yeah I know, it's been a crazy month in sports.  I can barely keep up with the World Cup, Wimbledon, golf, the Stanley Cup, etc.  Now it may seem that the NBA draft just flew under the radar but don't fret, we have the important details you'll need to know to keep up with the water cooler talk.
First, the Boston Celtics really had a killer draft.  They landed a combo guard in Marcus Smart (Oklahoma State) that could replace Rajon Rondo if need be.  They also snagged James Young (Kentucky), who can score right now, which is crucial.
Next, the Lakers also did well at the draft.  They nabbed Julius Randle (Kentucky).  He's super strong down low and fearless.  He will play well with Kobe.
Super start standout Andrew Wiggins (Kansas) went as the number 1 overall draft pick to the Cleveland Cavaliers.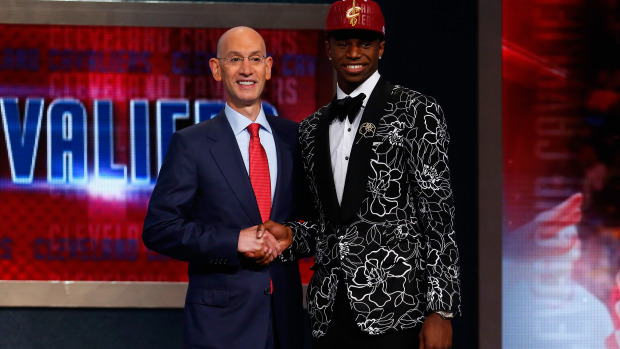 He'll be playing with Kyrie Irving…you remember him right? He dressed up as an old guy and schooled kids on the local court for a Pepsi commercial a couple of years ago?  Check it out:
Now for my favorite moment of the night…Adam Silver selecting Isaiah Austin (Baylor).  Are you confused?  Yeah Adam Silver is the new NBA Commissioner and he selected a player? For what?  Well draft hopeful Austin found out he had Mafan Syndrome a week before the draft.  This diagnosis ended his playing career but Silver wanted to give him the opportunity to walk across the stage and hear his name by ceremoniously selecting him in the draft.  Of course he won't be joining an NBA roster but what a cool move by Silver for this heartbroken athlete.