It's starting to get super chilly out, so your tailgate treats are going to need to take on a warmer vibe (unless you're in the So Cal, AZ or Miami markets).  Chicken pot pies are an all-time favorite comfort food and we've found a way to make them personal-sized so you can easily serve them up at the next game or party.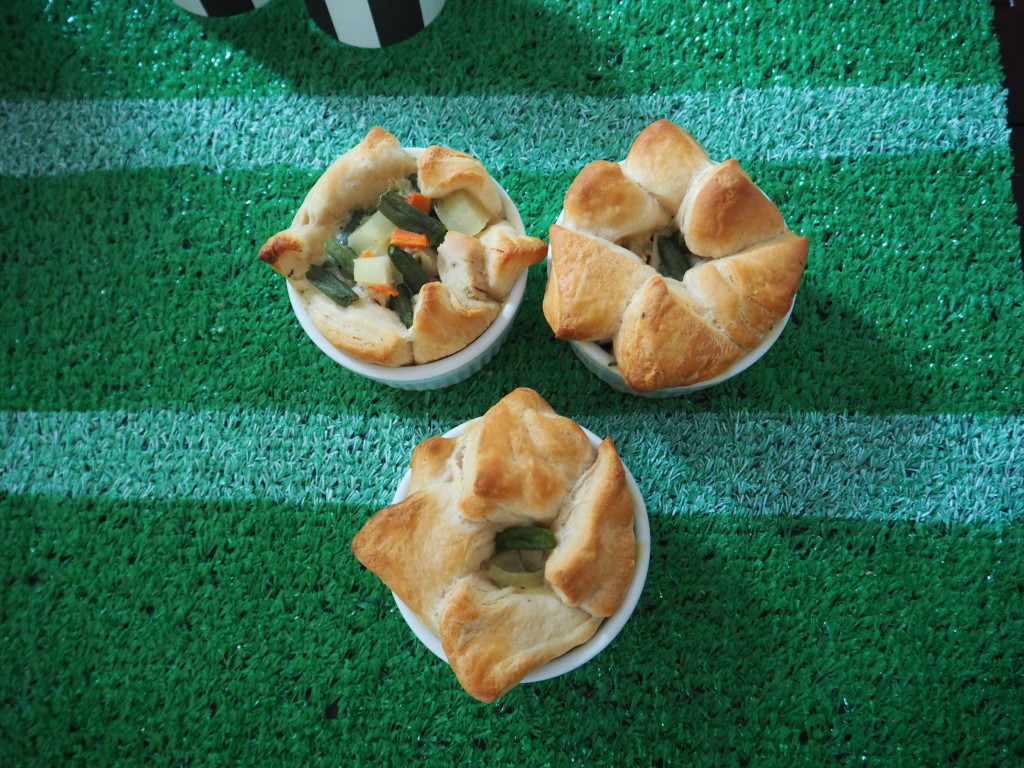 Ingredients:
1 tbsp. butter or margarine
1 cup chopped onions (2 medium)
¼ cup all-purpose flour
2 tsp. chicken bouillon granules
1 tsp. dried thyme leaves
¼ tsp. pepper
2 cups Progresso chicken broth (from 32-oz carton)
1cup milk
2 large baking potatoes, peeled, cubed (about 3 cups)
1cup julienne (matchstick-cut) carrots
1 bag (12 oz) Green Giant Valley Fresh Steamers frozen cut green beans
1 can (16.3 oz) Pillsbury Grands Flaky Layers refrigerated buttermilk or original biscuits
2 ½ cups cubed cooked chicken
Preparation:
1)Heat oven to 350°F. I
2) In a 4-quart saucepan, melt butter over medium-high heat.
3) Add onions; cook 2 to 3 minutes, stirring frequently, until tender.
4) Stir in flour, bouillon, thyme and pepper until well blended.
5) Gradually stir in broth and milk, cooking and stirring until bubbly and slightly thickened.
6) Stir in potatoes, carrots and green beans. Heat to boiling, stirring occasionally.
7) Cook 8 to 10 minutes, stirring frequently, until vegetables are crisp-tender.
8) Meanwhile, separate dough into 8 biscuits. Using rolling pin, roll each biscuit into a 4-inch round.
9) Cut each round into 6 equal wedges; set aside.
10) Stir chicken into vegetable mixture; return to boiling. Remove from heat.
11) Spoon about 1 cup mixture into each of 8 ungreased 10-oz custard cups or ramekins.
12) Place 6 biscuit wedges around edge of each, overlapping slightly and leaving hole in center for steam to escape.
13) Bake 20 to 25 minutes or until vegetables are tender and biscuits are golden brown. Let stand 5 minutes before serving.
14) Enjoy!