It may be St. Patrick's day but keep your green beer in check because you have a lot of college hoops to consume in the next few weeks.  It all tips off tomorrow with the first round (kind of).  You see there are 8 teams that have to play each other to see which 4 teams will be the last ones into the NCAA tourney.  This year the match ups are as follows for round 1:
March 18th:
(16) Albany vs. (16) St. Mary's
(12) N.C. State vs. (12) Xavier
March 19th:
(16) Cal Poly vs. (16) Texas Southern
(11) Iowa vs. (11) Tennessee
After the winners of round 1 are determined the NCAA tourney is officially underway on Thursday, March 20th.  The first game is at 12:40PM EST between (11) Dayton and (6) Ohio State.  Then from there, it's literally madness.  You can see the full schedule here.  And here is a look at the full bracket: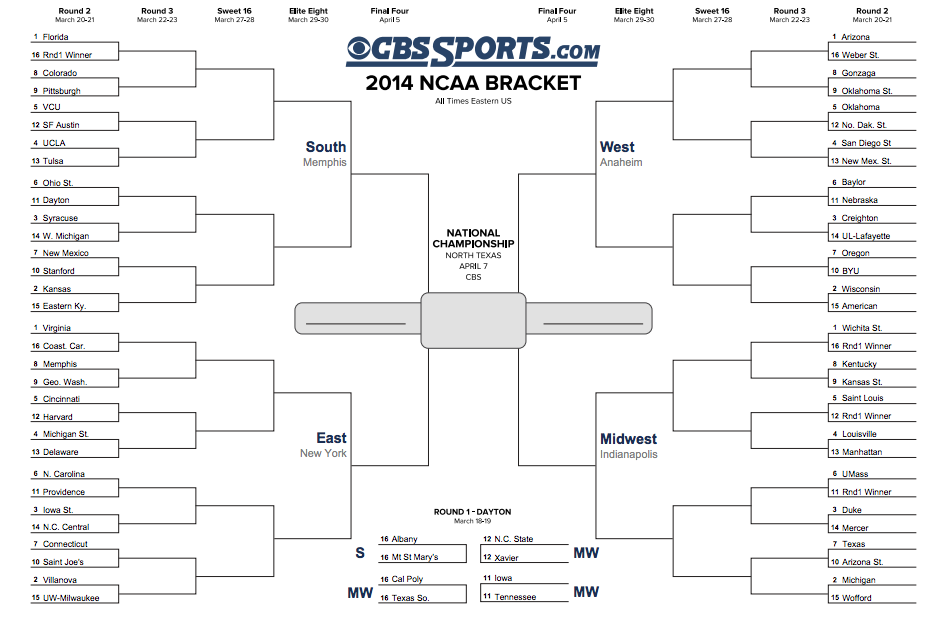 Now you must be sure to fill out a bracket.  The best way is to join a group or create your own on ESPN, Yahoo or CBSsports. If you don't want to join a group, you can always fill out your own on these same sites or just for fun!  But remember Warren Buffett is offering $1 billion (that's billion with a B) for the perfect bracket.  That means you have to fill one out on these sites, and you have to correctly select the winner  for every single game of the entire tournament.  But hey it's worth a go, what do you have to lose?
Just imagine your bragging rights if you not only nailed the perfect bracket but won $1 billion from Mr. Buffett…no one would ever question your sports knowledge again!  Good luck!