Calling all ladies and fellow sports brats…billionaire, Warren Buffet, is offering quite the reward for a perfect March Madness bracket.  Yes, we know it's still January and we haven't even gotten through the Super Bowl, but this is perfect, now you have time to get your research in and fill out that March Madness bracket.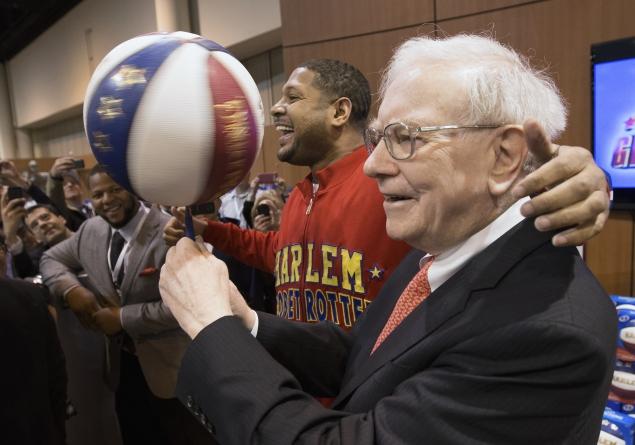 March Madness is arguably one of the best annual sporting events.  The 64 best teams in college basketball battle it out to see who's number one.  Here's the catch, with 6 rounds to be crowned and 64 teams, upsets are bound to happen.  So it' really hard to predict who will win, let alone who will win every game.  Forbes lists the odds of winning to be one in 4,294,967,296.
The 83-year-old Omaha-native's company, Berkshire Hathaway, is teaming up with Quicken Loans' Dan Gilbert, owner of the Cleveland Cavaliers, to offer a cool billion to anyone who can successfully fill out the perfect bracket for this year's NCAA Men's basketball tournament. The payments will be given in 40 annual installments of $25 million.  Or if you don't want to wait around that long, you can claim a lump sum payment of just half: $500 million.
And it gets even better; Quicken will still award a whopping $100,000 each to the 20 most accurate "imperfect" brackets for use in buying, refinancing or remodeling a home.
There's nothing to it to enter. No fee. In fact, it's so simple, joked Buffett, throwing in a reference to a Geico commercial, "To quote a commercial from one of my companies, I'd dare say it's so easy to enter that even a caveman can do it."
You can enter the contest at any time beginning Monday, March 3rd, 2014 through Wednesday, March 19th, 2014. Brackets will be made available on Selection Sunday, March 16, 2014, and will initially be limited to 10 million entrants, but only one per household. For more information, you can check out the Quicken Loans page on Facebook.