What's Thanksgiving without a little football?
You've had your turkey and stuffing and plenty o'pie. Maybe you've even had your turkey-induced nap. Now what? Brave the pre-Black Friday crowds at the shops? No way! Chances are someone in the fam wants to watch football. Pull up a recliner and check out these cuties.
Midwest Mash-Up : Green Bay Packers vs. Detroit Lions 12:30 EST on Fox
No, we're not talking about a song medley here. The big NFL rivalry for Thanksgiving has always been the Detroit Lions against the Green Bay Packers.  It gets awful cold in those parts, but these guys are awful hot.
Reggie Bush, Detroit Lions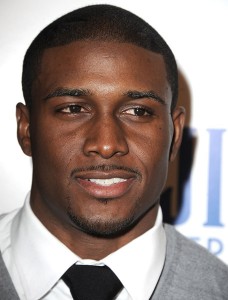 This running back appeared in the cutest Subway commercial during which he tells a frustrated kid that he can, indeed, play football if he just stays hungry. He then hands the kid a Subway sandwich. When the kid points out he won't stay hungry after eating the sub, he and Reggie both give a perplexed look at the camera. Aww.
On a hotter note, check out Reggie's September 2007 cover of Men's Fitness. A shirtless Reggie promotes his new workout called Fre Flo Do. Not gonna try it, but I'm a fan of the results!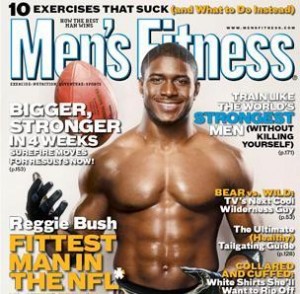 Clay Matthews, Green Bay Packers
As all linebackers are, Clay Matthews is one big boy – 6-foot-3 and a massive 255 pounds. Just like linebacker Brooks Reed (you know that name from an earlier Sports Brat report) of the Houston Texans, Clay Matthews looks to be trying out for Norse god. He's all long, blonde locks and bulging muscles.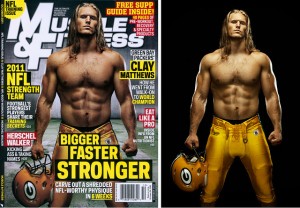 You know what I've always gotten a kick out of? Watching a linebacker make a touchdown.  Clay made a great play like that his rookie season. He just ripped that football out of his opponent's hands and sprinted down the field for a touchdown. Normally linebackers look like they're huffing it, but Clay was light on his feet like a deer. Wow!
Pittsburgh Steelers vs. Baltimore Ravens 8:30 EST on NBC
These two teams are bitter AFC North rivals. Never mind that, though – there's some eye candy going on.
Ray Rice, Baltimore Ravens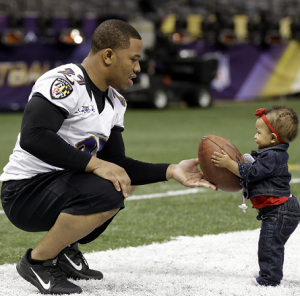 This tatted up boy's got a heart of gold. You should see the Ravens running back teaching his tiny daughter football. We're talking the ball's almost bigger than she is, but daddy Ray's right there to steady her. No wonder he's got a smile to light up a whole stadium!
Troy Polamalu, Pittsburgh Steelers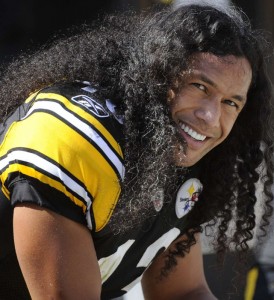 I'm gonna admit that I'm just a wee bit jealous of Troy's hair. His legendary locks have been insured for $1 million. The strong safety, known for being a soft-spoken family man, recently had a few curls shorn in honor of veterans of foreign wars. He's still got plenty, though!
Oakland Raiders vs. Dallas Cowboys 4:30 EST on CBS
Two old-school teams duke it out on Thanksgiving. The Raiders and the Cowboys – you either love them or hate them. When it comes to Tony and Nick, gotta love 'em!
Tony Romo, Dallas Cowboys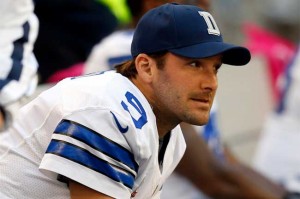 What's not to love in an all-American quarterback? He's all about helping out, too, participating in events to support the United Way, the Make-A-Wish Foundation and even the Society for the Prevention of Cruelty to Animals. Way to go, Romo!
Nick Kasa, Oakland Raiders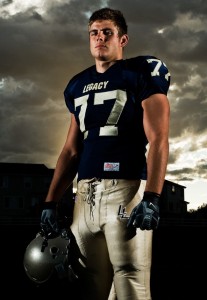 The tight end is as bubbly as you're expect a rookie to be, gushing about the "awesome" experiences he's having and how "amazing" the Raiders are. No question what thanks Nick's giving this year.
Now I think we can all agree that we're staying in and watching the man candy this Thanksgiving, right? Way better than standing in line… unless you can get the game on your smartphone that is.
Contributed by Nadia Archuleta