Man Candy Throw Down: Football's Tom Brady vs. Hockey's Mike Green
Don't you think it's time for a throw down between the two manliest sports, football and hockey? I don't mean fighting. I mean, who's hotter – a football quarterback or a hockey defenseman?
Two men regularly make ladies' "hottest" list for their sports: Tom Brady, quarterback for the New England Patriots, and Mike Green, defenseman for the Washington Capitals. So, between these two East Coast manly men, who's got more sex appeal?
Stats
36-year-old Tom Brady is 6-foot 4 and weighs 225 pounds – all muscle, naturally. (Well, some of it might be his lion's mane hairdo.) Are quarterbacks always such giants? You'd need to be one bold defenseman to attempt sacking him!
28-year-old Mike Green is a bit slighter, weighing in at 207 pounds on a 6-foot 1 frame.  That's a bit small for a defenseman – plenty of forwards are his size or bigger.
Advantage: Size isn't everything (wink), but Tom gets the win on this one.
Personal Life
California boy Tom Brady is looking to repopulate the world beautifully. He has a son with lovely lady actress Bridget Moynahan. And he's currently married to the incomparable Giselle Bündchen. The two have a pair of kids together – beautiful ones, natch.
Canadian-born Mike Green is looking to make the world a better place. He co-founded a charity called So Kids Can, which benefits youth-based charities, building playgrounds and providing prosthetics for kids in need. Mike also raises money for the Children's National Medical Center. Then, every year, Mike buys seven Caps' season tickets and donates them to Most Valuable Kids, which benefits underprivileged children.
Advantage: Let's face it, giving back is sexy. Major advantage goes to Mike.
In Uniform
Football players wear those great pants that seem designed to accentuate their, ahem, derrieres. With tight-fitting jerseys over shoulder pads, Tom Brady looks like Buff Man personified. Add that blackening under his eyes and laser-blue stare, and Tom looks like a warrior on the field.
Hockey players are stuck wearing those funny thermal shorts and loose jerseys. We don't get much of a sense of what Mike's figure looks like beyond "boxy." And any black under his eyes is bruising. Add to that the plastic visor that masks his dark stare, and it can be hard to distinguish Mike Green from the other Capitals without looking at his number.
Advantage: Even though both players sport patriotic uniforms, Tom just looks better in his.
In Pictures
Tom Brady looks good in pics both on and off the field. Check him in his uniform, helmet off, looking ready to deliver a stern lecture.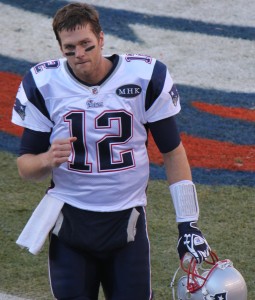 So cute on a bike, though. Look at that smile!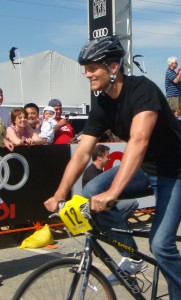 Mike Green is no slouch in photos either. On ice, helmet off, he also looks ready to deliver a stern "lecture." Right, that's what the dark stare is saying!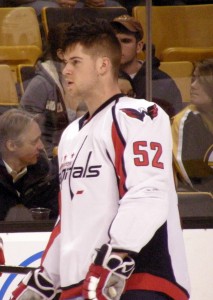 Off ice with those slick shades, Mike looks like the quintessential bad boy. Love the faux 'hawk! (The boy's got tats, too, though you can't see them here.)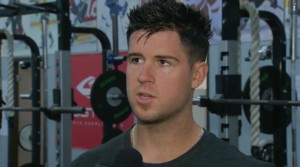 Advantage: That's a personal preference – are you into blondes on bikes or brooding brunettes? Tie.
Well, on the face of it, Tom Brady looks to be the big winner. I think we've got to give extra points to Mike Green, though, for his acrobatic flip into his own bench in a game against the Edmonton Oilers. He comes up looking a little confused but ready to head back out onto the ice!
So, what do you say? Who's hotter, Tom or Mike?
Wait, who said we had to choose – they're both smokin'!
By Nadia Archuleta