If you're using any of our low-cal snacks, try pairing them with a Low-Cal Ginger Mule, an excellent (and delicious) alternative to beer. You'll find we have swapped out the trendy favorite for a lower-calorie option which replaces ginger beer and simple syrup with ginger ale and fresh ginger. All of these fresh ingredients and vibrant flavors are guaranteed to impress guests and leave your belly satisfied, without being uncomfortably full and sluggish.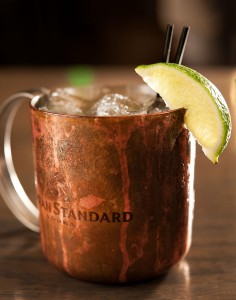 Low-Cal Ginger Mule:
Ingredients:
1 ½ oz vodka
3 oz diet ginger ale
¼ oz fresh lime juice
3-4 mint leaves
¼ oz freshly grated ginger
3-4 mint leaves
1 lime wedge for garnish
Preparation:
1) Muddle together the booze, lime juice, mint leaves, and simple syrup.
2) Add ginger beer- which has no alcohol in it, it's merely ginger flavored soda- and ice.
3) Garnish with lime.
These drinks are traditionally served in copper mugs, but taste just as good in a rocks glass. Check out these on Overstock.com if you're looking to be authentic!
You will save yourself about 50 calories if you replace the ginger beer and simple syrup with diet ginger ale and fresh ginger. Remember with ginger- less is more! You don't want to overdo it, or the flavor will cancel out the lime and mint. Low cal or not, the Mules are an infinitely better option than a can of PBR.