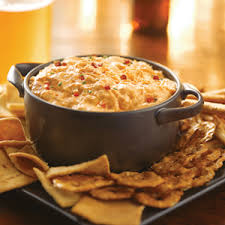 Food is an integral part of the sports day and a fool-proof way for you to score major brownie points with your dude and your friends.  Now I cannot promise that these are calorie-free, low-carb, gluten-free, vegan or in compliance with any juice cleanse but I can assure they will be super delish!  And I mean c'mon, guys love a girl who will actually eat.
I have to give credit where credit is due and my first inspiration came from my girl-crush, the ultimate guy's girl, Sam Steele Ponder.  Sam posted this dish on her instagram and I had to share it.  Too yummy!
"Long Horn Dip" courtesy of Sam Steele Ponder
 Ingredients:
16 oz. Cream Cheese
12 oz. Hot Wing Sauce
2 Chicken breasts
2 cups of shredded cheddar cheese or 1 cup of blue cheese
Preheat oven to 400 degrees
Cook and shred chicken breasts
Melt cream cheese and hot wing sauce in a pan
Add the shredded chicken to the pan
Pour mixture into oven-safe dish and bake for 10 minutes
Remove from oven and sprinkle with 2 cups of shredded cheddar or 1 cup of crumbled blue cheese
Bake for 10 more minutes then ENJOY!