Italian food generally equals carbs, carbs, carbs and some seriously garlic breath.  Well if you're looking to curb your Italian craving for your next tailgate party, try this "lightened-up" twist on Chicken Parm.  Not only is it lower-calorie but it's also far more casual than the original.  Trust us, your man will never know you cut his game-day calories!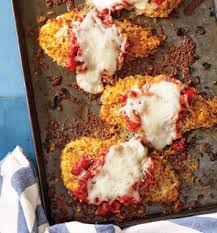 Ingredients:
4 boneless, skinless chicken breasts (4oz each)
Garlic salt
Vegetable oil cooking spray
¼ cup all-purpose flour
1 egg plus 1 egg white
4 cups cornflakes, finely crushed
1 tsp. Italian seasoning
1 cup homemade or jarred marinara
4 tbsp. grated Parmesan
1 cup shredded part-skim mozzarella
Preparation:
1)   Pre-heat oven to 375 degrees.
2)   Place chicken breasts between two sheets of plastic wrap and pound until ¼ inch thick.
3)   Unwrap and lightly season with garlic salt.
4)   Coat a baking sheet with cooking spray.
5)   In a bowl, place flour.
6)   In a second bowl place egg and egg white and beat lightly.
7)   In a third bowl, combine cornflakes and Italian seasoning.
8)   Working one at a time, dredge chicken breasts in flour, and then dip into egg mixture.
9)   Press both sides of the chicken into cornflake mixture to coat evenly.
10) Place chicken on baking sheet and bake for 8 minutes.
11)  Top each chicken breast with ¼ cup marinara, 1 tbsp. Parmesan and ¼ cup mozzarella.
12)  Continue baking until cheese is bubbly (approximately 5 minutes).
13)  Enjoy!
430 calories per serving, 13 g fat (6 g saturated), 36 g carbs, 2 g fiber, 39 g protein