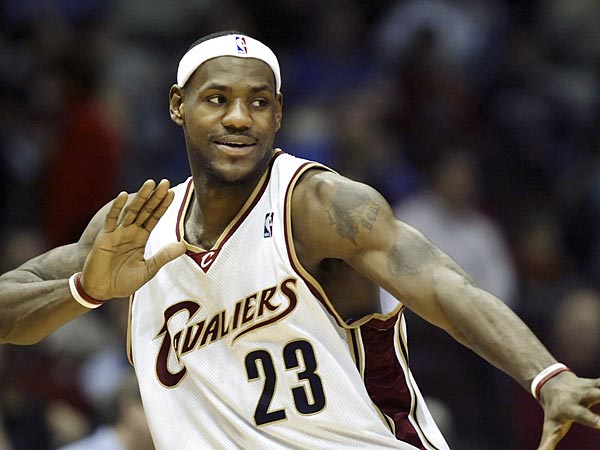 Basketball fans have been on tenterhooks wondering where the 29-year-old forward would land now that he was a free agent. Would LeBron James stay with the powerhouse Miami Heat? Would he sniff out more money somewhere else?
Or would he go back to where it all started, his hometown of Cleveland, Ohio, and the Cleveland Cavaliers?
Tough Decision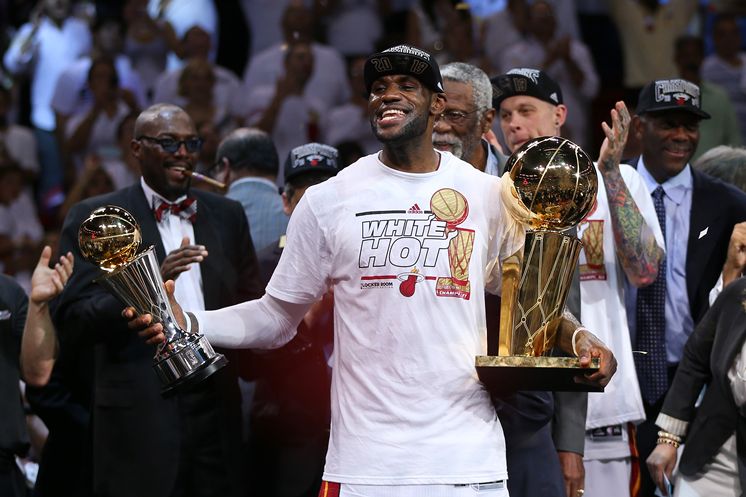 The Miami Heat were good to James. He made a lot of money by being a star on a famous team — a lot of money. He also got a lot of fame being a star on a renowned team — again, a lot of fame.
See, even non-fans might at least know who won a championship in a given sport. James won two NBA Championships with the Miami Heat — two in just four years with the team. His other two seasons with the Heat weren't shabby either. The Heat made the Finals both times, losing out to Texas teams, Dallas and San Antonio.
While he made loads of money in endorsements with the Cleveland Cavaliers, it wasn't until he joined the Heat that his money-making got serious. James partnered his marketing firm – yes, this pro athlete has a marketing firm – with the Boston-based Fenway Sports Management group, earning millions. He also invested in a soccer club in Liverpool, England. He even got into Chinese internet services.
Yes, the Miami Heat were very good to James.
Cavaliers Make it Tougher
On the flip side, Cleveland Cavaliers fans and ownership were bad to James.
They weren't bad to James when he was a Cavalier himself. On the contrary, they worshipped him.  Indeed, as a Cavalier he earned the nicknames "King James" and "The Chosen One." He was greatly revered in his hometown.
You know how they say the flip side of love is hate? Yeah, Cavalier fans felt their Chosen One had betrayed them. He signed with the Miami Heat just to win championships, and they let him know how they felt about that every chance they got. They booed him. They lambasted him. They burned his jerseys – literally, LeBron James was burned in effigy in Cleveland.
Usually owners take the high road, acknowledging the reality of business decisions in sports. Not so for Cleveland Cavaliers owner Dan Gilbert. He typed up a letter mocking James' nicknames and calling him a coward. And Gilbert did what only an owner can do – he posted it on the team website and kept it there until last week.
James' Cute Announcement
So, James made an oops when he initially announced his defection – make no mistake, that's how it was perceived – from the Cavaliers to the Heat. See, James announced his decision to fans on national television, which made the news impersonal – everyone got it at the same time.  He let Gilbert know just five minutes prior in a phone call. People who own basketball teams don't like that kind of off-hand treatment.
Well, presumably James has had a convo with Gilbert that smoothes his return – it's not like Gilbert is going to say "no" to one of the best basketball players in the league.
As for informing the fans, he wrote a heart-felt letter posted on Sports Illustrated. In it he explains his thinking and outlines his goal – to bring the NBA Championship to Cleveland. We're talking, even jaded hockey players who go by the Twitter moniker "BizNasty" were touched by the letter.
And for those who weren't just lurking on Sports Illustrated waiting for James' decision, he released a photo on both Instagram and Twitter. The message is simple and clear – LeBron James in his Cleveland uniform with a small Cavaliers logo on the side and the sentiment, "I'm coming home."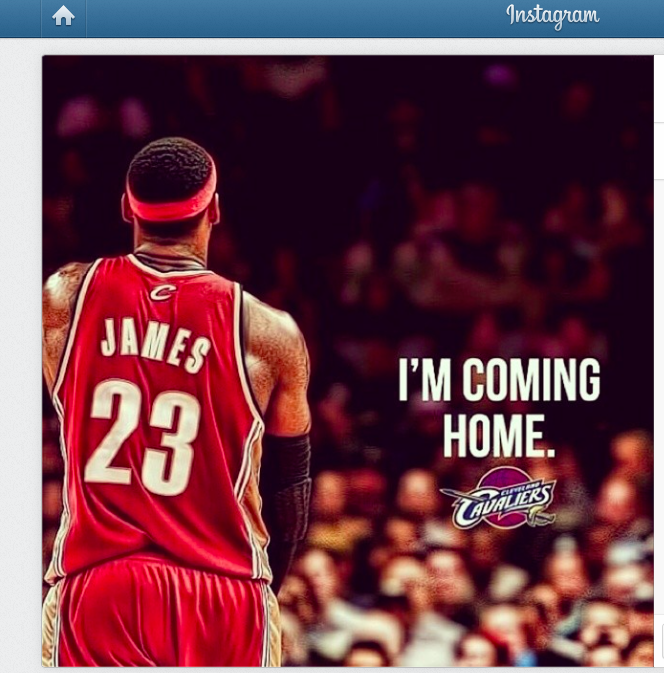 This time he ensured the most important people, his followers, got the news first.
Contribute by Nadia Archuleta