The Winter Olympics start February 6, heralding 16 days of festive atmosphere. Since everyone's going to be in the merry mood anyway, you might as well take the opportunity to join in on the festivities and host a party. You don't need to be following any particular sport to throw a fantastic, Olympic-themed party, though it's fun to tailor the activities to the competition.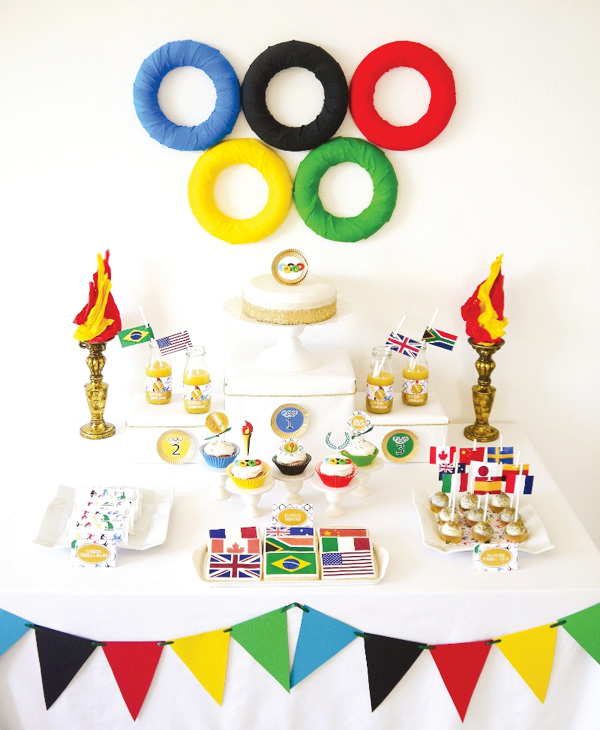 Friday Evening February 7th – Opening Ceremony
The opening ceremony gives you the best opportunity for throwing a gala-style party. You don't even need to provide any entertainment – the Russians have been planning something for months!
For decorations, consider going with an all-nations theme, even if you're going to support one country exclusively. Hang streamers with international flags attached to them – available at any party store. Buy balloons in Olympic rings colors. Fashion them into the rings and hang on your wall.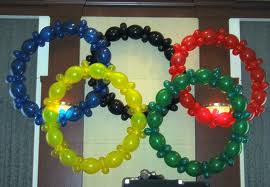 If you really feel crafty, create laurel wreaths out of greenery and twine as party favors. Otherwise, let the food and drinks take center stage:
Torches: Either fill ice cream cones with buttered popcorn or paper cones with Cheetos. Your guest can munch on these while watching the actual torch-bearer come light up Sochi.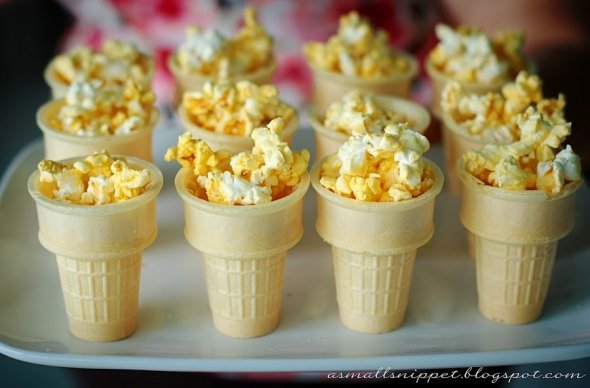 Olympics rings: Buy oodles of Lifesavers and plunk a few of these at the bottom of each drink, served in a clear glass, of course.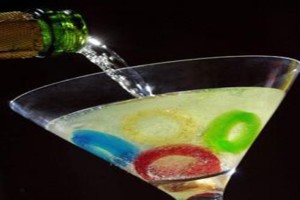 Event locale: Commemorate this year's Russian locale by serving Russian food. Have caviar, black bread, boiled potatoes and egg salad – plus borscht!
Dessert: Top cupcakes with international flag toothpicks and mix up a White Russian shake — vodka, Kahlua, Irish cream, half-n-half and vanilla ice cream.
 Saturday Afternoon Tailgate
Saturday afternoons generally see ski jumping, short track skating and skeleton. These types of competitions normally don't foster tailgate parties, so you have the chance to start a new trend!
For decorations, stick with the balloon Olympic rings and the international streamers. However, fashion a large table as the short track. Huddle the snacks in the center, and line the ice rink out of butcher paper. Super easy for clean-up, too! You can even buy little skater figurines as props.
Keep the tailgate theme alive with beer and finger foods. Serve international beers, though, and finger foods speared with international flags.
To commemorate the ski jumping and skeleton competitions, craft an ice track:
Purchase a large block of ice.
Carve a rut in the ice using a sharp chisel. The rut can be straight or curved. Scrape with long, even motions until the rut is about 1/2-inch deep.
Pour warm water down the rut to smooth the surface. Refrigerate until party time.
To set up, prop one side of the block on a brick. Place another brick in front of the track to prevent its sliding right off the table. Hide the bricks with a plastic tablecloth – preferably with Olympics rings on it.
Pour shots – of vodka, of course – down the rut. Voila – you and your guests are participating in the Olympics, sort of.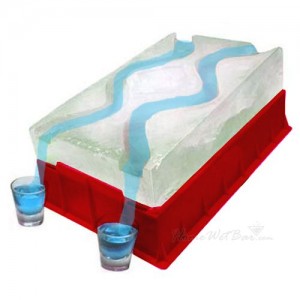 Hump Day Happy Hour
The Olympics run every day of the week, so why only celebrate on the weekends? Host a hump day happy hour and watch the main weekday event — ice hockey! There will be drinking games.
For this party, focus on a specific country to support. Many countries besides the United States have red, white and blue as their national colors: Russia, Czech Republic, Great Britain, Australia, Croatia, France, the Netherlands… Oodles. Another popular color combination is red, white and green. Buy liqueurs in your country's colors:
Red: After Shock, passion fruit liqueur, cherry liqueur
White: vodka, gin, Godiva White Chocolate liqueur
Blue: blueberry vodka, Blue Curacao, Hpnotiq
Green: Midori, absinthe (yikes!), green apple liqueur
As you're watching the hockey game, choose one aspect to focus on: goals, big hits or big saves. Every time one of those actions happen, take a shot!
Hockey's a fast-paced game, and you may be drinking a lot. Provide Gatorade, perhaps in lieu of one of the alcohols. Also serve munch-worthy snacks. Have donuts frosted in Olympics colors, and set out salty snacks in plastic bowls emulating the Olympic rings.
Contributed by Nadia Archuleta