I want to talk about Buffalo. Yep, Buffalo, NY. That town that gets a bad wrap for horrible winters and really is only known for Niagara Falls and wings. Well I paid a little visit to Buffalo this past weekend and I absolutely LOVED it. I loved the town, the vibe and especially the people.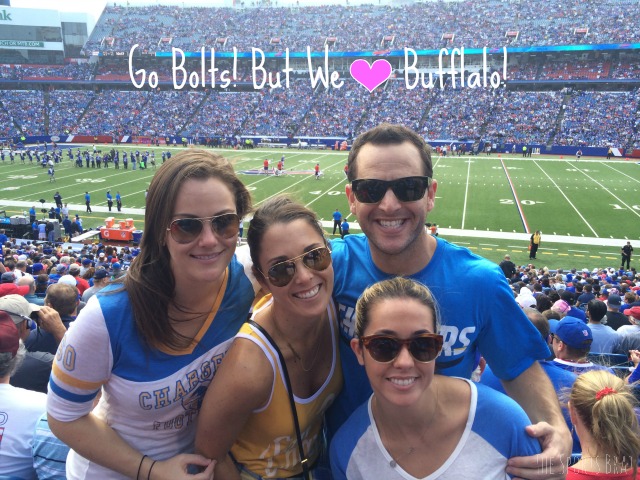 I went with group of friends from high school to cheer on the San Diego Chargers at their away game against the Bills. We, as a group, went in with low expectations all around. And, moment-by-moment, Buffalo just kept winning us over.
We were there for a matter of hours, 28 tops. Our first stop was Duffs, for their famous wings. Now you know I'm not a die-hard fan, but my group is…so they convinced me to wear Chargers gear out. Naturally we were heckled but it was unlike any place I've ever been. They would call us out as an icebreaker and then proceed into delightful conversation. We met so many incredible people, I completely understand why they call Buffalo the "city of friendly neighbors."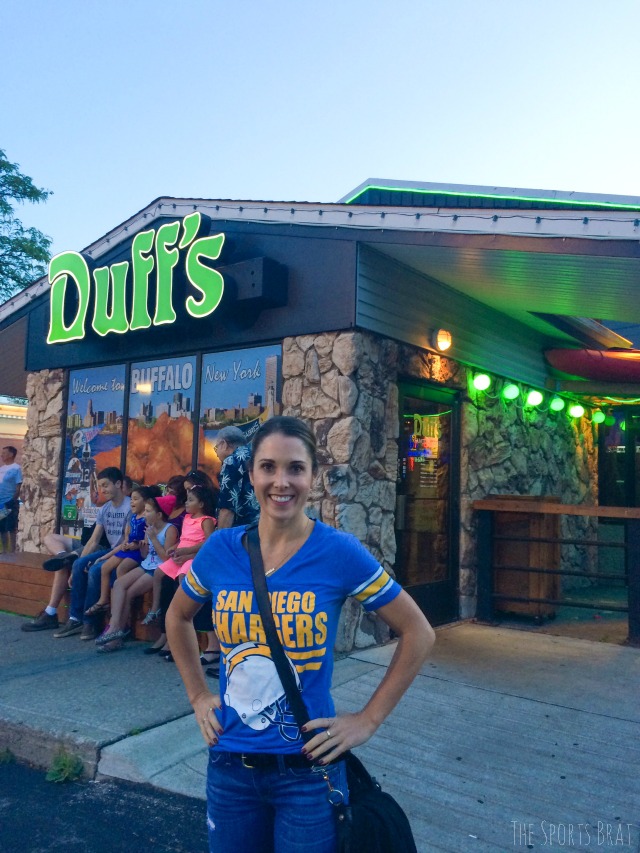 Next on the checklist was tailgating before the game. I've been to many tailgates in my 29 years, but this really blew me away. You see, tailgating at Ralph Wilson Stadium isn't like most NFL stadiums; it's more like an SEC tailgate. You park in people's yards (or in the case of the Hammer Lot, parking lots). Then you tailgate with your new friends.  I took out my new GoPro Hero 3 for the first time and snapped some awesome pics 🙂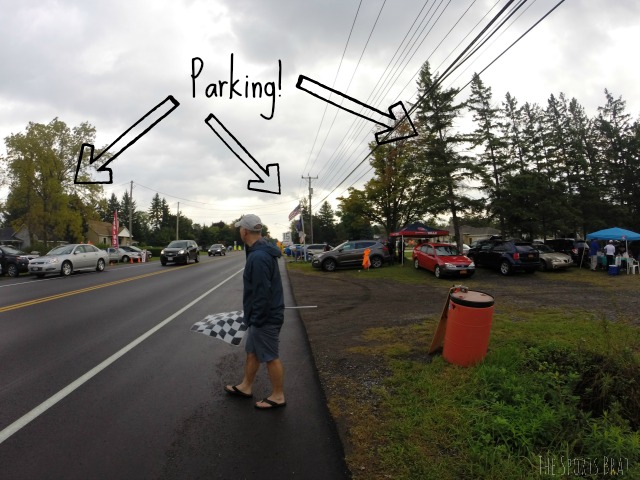 So let me tell you about the Hammer Lot. It was packed. There were die-hards everywhere. It was a blur of red, white and blue. We made our way through the crowd to a tiny "Bolt Pride" flag at the far end of the lot. Charger fans! They had a giant cutout of Philip Rivers (Charger QB) on their car!  They graciously took us in.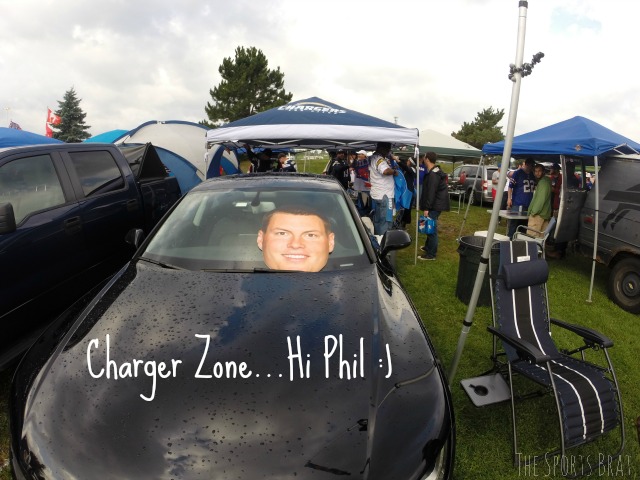 I went for a walk to see what I could find and I stumbled upon this woman rockin her team tights! I had forgotten that Team Tights creators, Sarah and Jordan, came up with the idea at this very tailgate! Sure enough, I looked around and team tights were everywhere!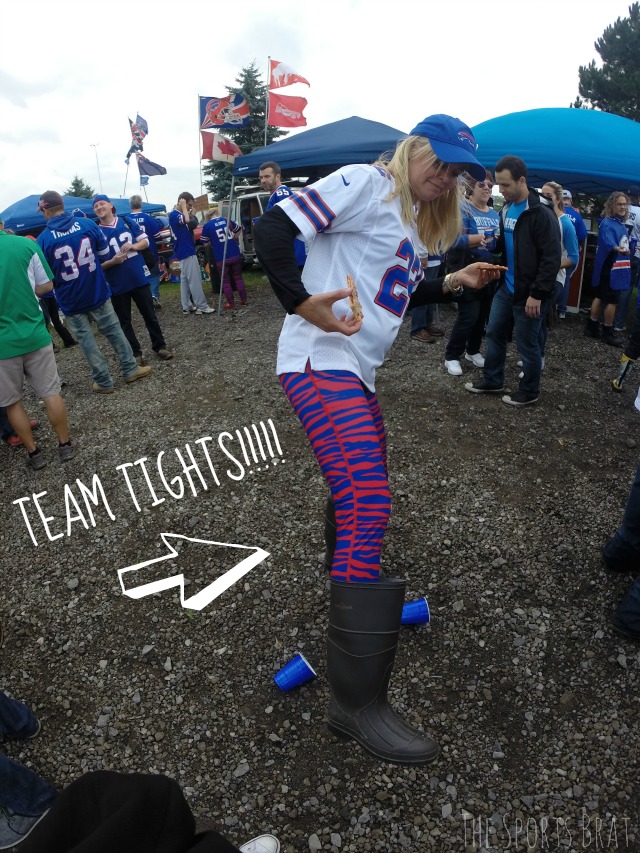 But more importantly, she introduced me to this guy, Pinto Ron. His name is Kenny, but some media outlet got it wrong and now he just can't shake it.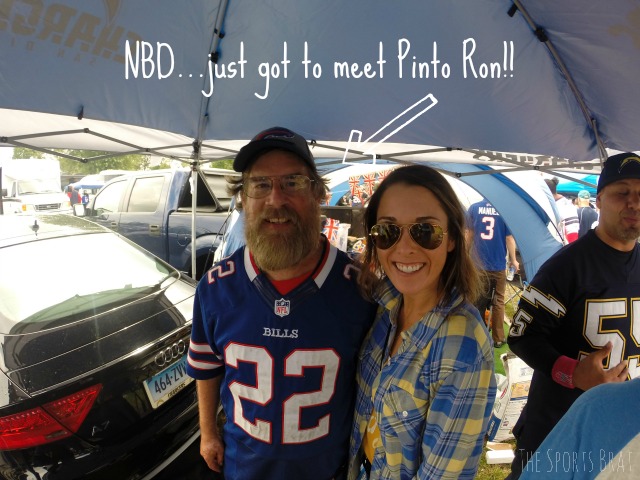 Pinto Ron hasn't missed a Bills game, at home or away, in 20 years. He was so kind to chat with us.  His best advice was given when we asked him how he does it…He simply said, "All you need is an above average income and an understanding wife." It's that simple folks. He's been on so many TV shows for his fandom, you can YouTube him and spend all day watching the clips!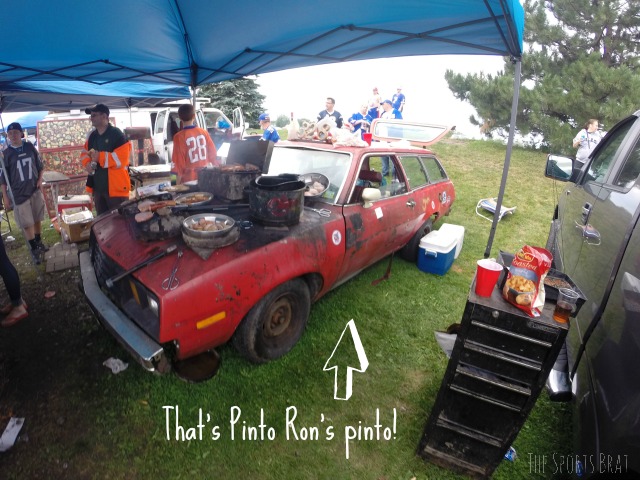 One of Pinto Ron's main traditions (aside from driving his famous red pinto to the tailgate) is this Ketchup ceremony. I'm not entirely sure of the origin but it's a staple at every game. Select tailgaters get to douse Pinto Ron in ketchup and Mustard. It's pretty epic!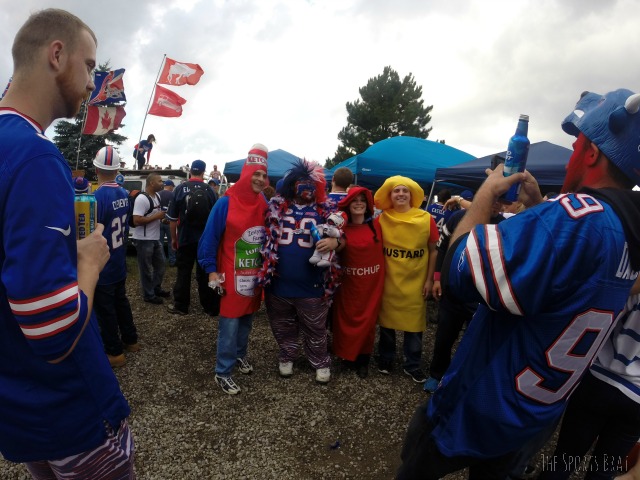 Finally it was time to enter the stadium. It was a wonderful facility, no bathroom lines, easy concessions and not a bad seat in the house. The Chargers ended up pulling out a win on the road, so that made our crew even happier. But honestly, the entire 28 hours in Buffalo were just delightful. Thank you so much to the town of Buffalo for being the best fans I've met in the NFL. You took us in, talked some smack (tastefully) and you absolutely won us over. I heart Buffalo.