It is still early into football season and those summer days are growing chillier, but we still have time for one of summer's favorite dips…GUACAMOLE! Ole!  This summer classic can definitely transition into a must-have dip all season.  There are approximately one million recipes out there but I challenge you to try something a little different, if even for one game.  I stumbled upon Grilled Avocado -Mango Guacamole that can literally change your life with those new flavors!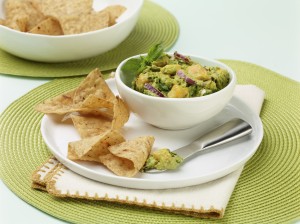 Ingredients:
¼ cup extra-virgin olive oil, plus more for drizzling
6 rips avocados
2 lemons, halved, for drizzling (reserve 1 tbsp. juice for the onion)
¾ tsp. coarse sea salt
¼ tsp. freshly ground black pepper
½ large red onion, diced or sliced
2 mangoes, peeled
2 tbsp. finely minced garlic
¾ cup fresh basil chiffonade
(about 30 leaves, sliced into thing ribbons)
½ cup sour cream or crème fraiche
½ cup freshly grated Parmesan
Preparation (serves 8-10):
1)   Turn a gas grill to high or ignite charcoal.  When the grill is hot, clean the rack.  Decrease temperature to medium-high (on a gas grill only), and carefully brush or wipe a little olive oil on the rack.
2)   Halve, peel, and pit the avocados.  As you peel each one, put the flesh in a bowl and squeeze lemon juice on top to keep it from oxidizing.  Drizzle avocado halves with about 1 tbsp. olive oil, and sprinkle with sea salt and pepper.
3)   Place onion in a small bowl, and pour the reserved lemon juice on top.  Toss and set aside.
4)   With tongs, place peeled avocados and mangoes on the rack.  Cook until you see grill marks (1-2 minutes), then turn them over and grill for another minute.  Take avocados and mangoes off the grill and set them aside to cool.
5)   Preheat a 10-inch sauté pan on the stove or a cast-iron pan on the grill.  Add ¼ cup olive oil to the pan, followed by the minced garlic, and sauté until garlic begins to show color.  Add basil and sauté until wilted.  Transfer garlic and basil to a large glass or ceramic bowl and allow to cool.
6)   With a fork, mash grilled avocado into the basil mixture.  Add sour cream or crème fraiche and stir.  Add Parmesan and stir.  Dice grilled mango after cutting away and discarding the pits.  Gently stir in mango and onion (with its lemon juice).  Taste and salt and pepper if needed.
7)   This is best served the day it is made.  If that's not possible, cover the bowl with plastic wrap and refrigerate until you're ready to serve.