The Heisman Trophy is awarded annually to the most outstanding player in college football,  whose performance best exhibits the pursuit of excellence with integrity. Winners epitomize great ability combined with diligence, perseverance, and hard work.  Marcus Mariota of the University of Oregon became the 80th player to win the award this past Saturday.
"This award belongs to my teammates. The amount of hard work and sacrifice that each of them has made has not gone unnoticed. Thank you to the offensive line and their ability to fight through adversity. Thank you to the skill guys, who constantly make my job a lot easier. Thank you to the defense, for making our team complete and bailing the offense out of bad situations. And to all my teammates, I love every single one of you, and I'm truly grateful for all the experiences. I hope each of you will take pride and understand that this is your trophy."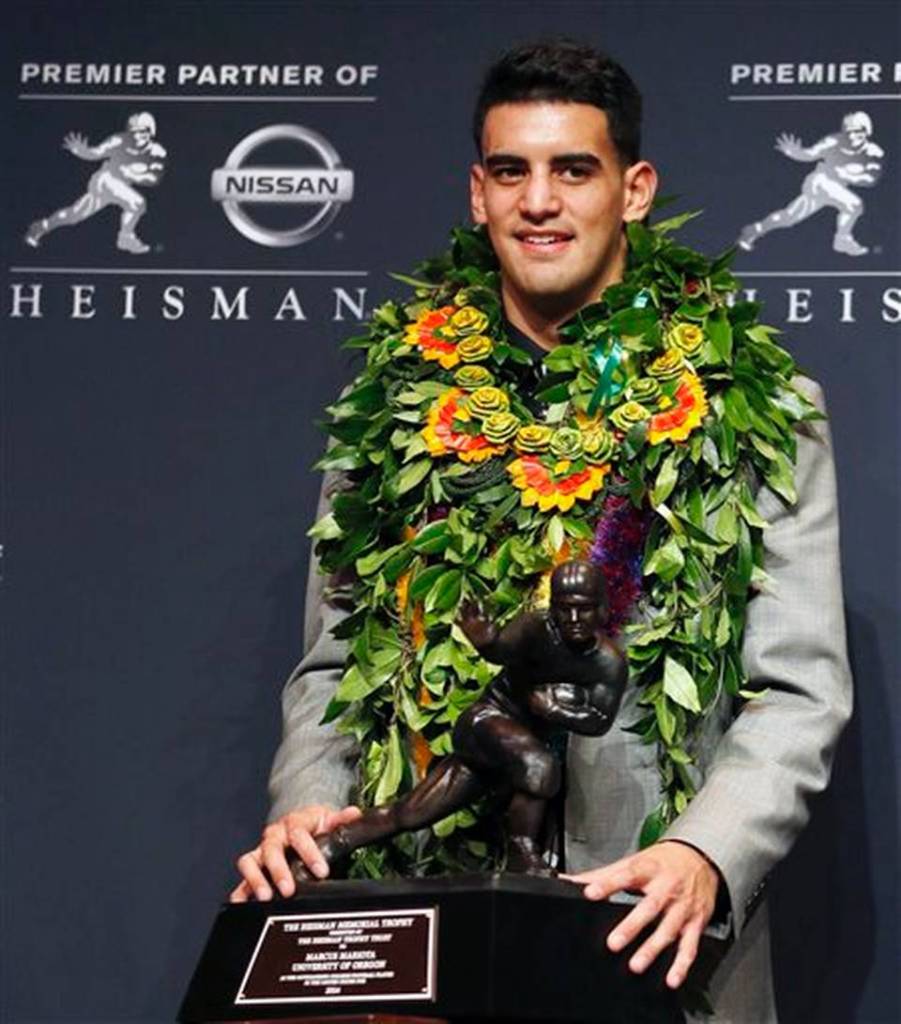 Mariota had a few people to thank this past Saturday as he accepted the Heisman trophy. The Redshirt Junior QB went on to thank his coaches and parents for their continued support in an emotional and heartwarming acceptance speech. Graciousness, however, is not new to Mariota, who has been known to be a well-rounded, intelligent and exceptional young man.
One would think that the most recent winner of the Heisman trophy had been a superstar since pee-wee football and that playing in college was a given. Mariota did not start a single varsity game until his senior year at St. Louis High School in Honolulu, Hawai'i. He made it count too, earning the title of the No. 6 recruiting prospect in the state and No. 12 overall quarterback in the nation. He threw 2,597 yards on 165 of 255 passing (64.7%), including 32 touchdowns against only 5 interceptions.
During his speech, Mariota mentioned his Samoan heritage and how proud he was of his ancestors. Lisa Uperesa, an Ethnic Studies Professor at the University of Hawai'i believes the Oregon Duck will be a role model for all youth. "I think it was really big because he acknowledged that it's part of his ancestry, that he's part of the community, and to have him use "Samoan" on the national stage like that I think was a big deal." Not only is Mariota proud of his heritage, he also takes pride in his schoolwork.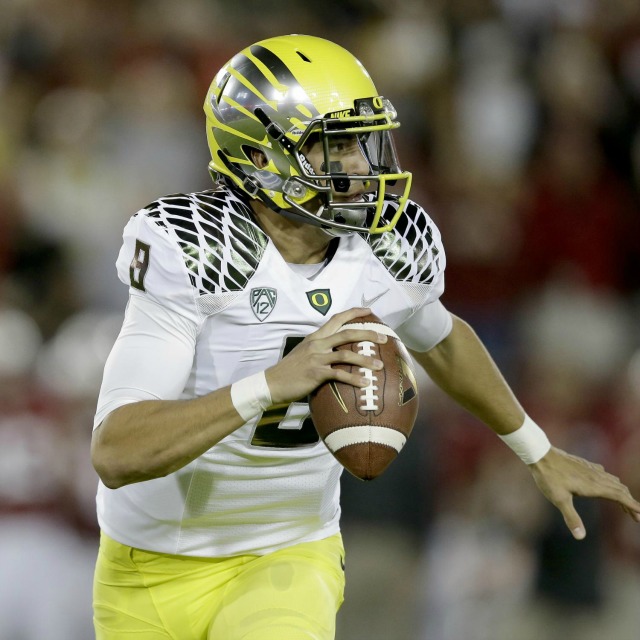 How many college QB's are typically known for their performance in the classroom? Mariota, having grown up in Honolulu, Hawai'i, maintained a 3.9 GPA and ended up in the top 15% of his class. Lulu Lulu, Mariota's AP biology teacher, says, "He did very well. He got straight A's. He breaks that mold of that typical jock. With Marcus, when you hear him teach the class, his knowledge is just—it comes out when he's talking or when he teaches the courses."
Usually, after winning such a prestigious award, the Oregon QB would've expected to gain a good number of followers on Twitter or Instagram. Mariota, still breaking the typical jock stereotype, does not have any personal social media accounts. "For me, I like to live kind of a low-key, private life, and to have no social media is kind of the way to do that," Mariota explains.
To the world, Marcus Mariota will be the 80th winner of the Heisman trophy. To his family and friends back in Honolulu, he will be that humble, hard-working, proud-Samoan student with big dreams.
Contributed by Leslie Dill