I just stumbled upon a new clothing company that cherishes all things girly, including a girl who loves her football.  Frites Forever (the name stems from the creators love for French fries and cute clothes) was born by the desire for "a comfy, but fashion-forward sweatshirt, a sweatshirt with one message, multiple meanings".
Founders Lisa and Jessica met in college and started their creations shortly thereafter.  They've obviously moved on from making customized tees just for them to serving the masses.  While the quality (and quantity) has increased significantly, the inspiration is still the same.  I recently placed my first order and this is how it came wrapped…with the most perfect little sayings!!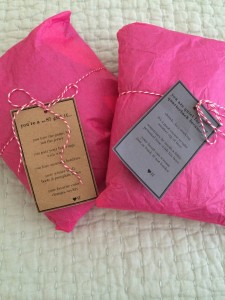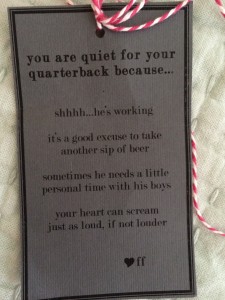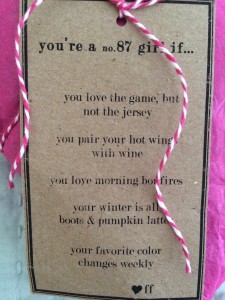 I'm absolutely obsessed with their stuff.  Check out their adorable 87 hoodie that I received just the other day.  *Note: It is even more perfect since arguably the hottest guy in the Super Bowl, Denver Bronco Eric Decker, wears 87.  Be still my heart.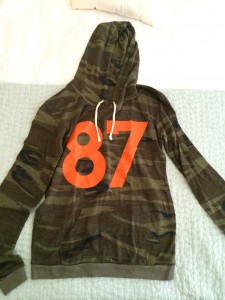 I also picked up their super cute "Quiet for our Quarterback" sweatshirt.  It's so incredibly soft, flattering and will surely make a statement at your next sporting event.  The heart on the sleeve pays omage to their message "you're a woman. you do A LOT. it's okay to wear your heart on your sleeve." (Each piece has a little heart on the cuff, it's so cute!)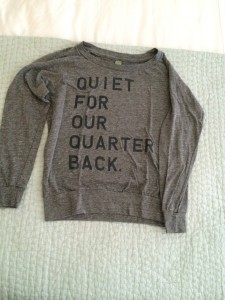 So I thought that it couldn't get better, but please take a closer look at the wrapping, they even include a little cupcake that, turns out, is a lip balm.  I die.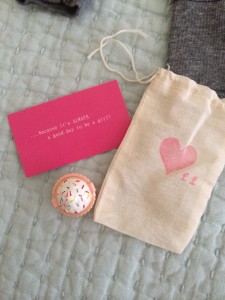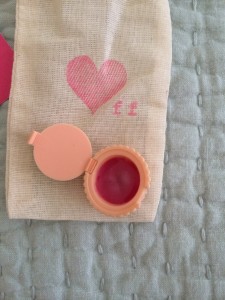 They are everything we are, girly, sporty and unique.  I can't wait to see what they come up with next!!  The gals list their goal to be "to create clothing that screams…WHERE DID YOU GET THAT?"  Well I'm happy to report that on day one of rockin my 87 hoddie, I was stopped numerous times.  Get in and place your order ladies, because after all, it's always a good day to be a girl!
www.FritesForever.com