Sure, figure skating is a sport. Figure skating takes determination, precise skill, great strength, impeccable timing, and most importantly, a flashy outfit. No matter how chiseled your back muscles are or how sharp your skates, you will not get far in the wild world of figure skating without a unique sense of style. Leotards, shoulder pads, sequins, fringe- whatever. No holds barred.
On this flashback or fashion friday, The Sports Brat has compiled a little list of the Best & Worst & Weirdest Dressed amongst the figure skaters at Sochi this year. Read on to see the Who's Who of The Sport Brat's most and least favored athletes.
Most Resembling A Member of a "Boy Band":  Evgeni Plushenko, Russia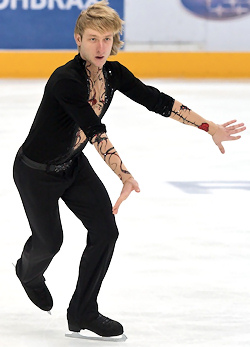 Plushenko has been skating since he was four years old and is one of the only male figure skaters to perform the Biellmann spin, which requires some serious flexibility and spinning power. His Sun-In colored coif and his ultra-deep (and strangely slanted) V-neck outfit won him the "Boy Bandiest" of the male figure skaters.
Most Childish Outfits:
Gregory Merriman and Danielle Obrien, Australia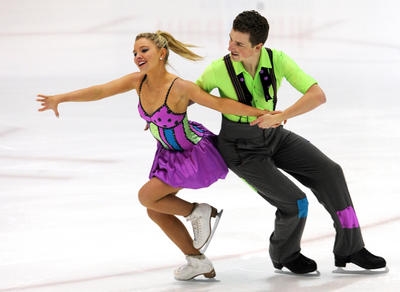 These two have been skating together since 1998 and were the first Australians to reach the free dance at a World Championships competition. But this year, they decided to dress like 8 year olds at their first recital- the neon and polka dots make the duo look like they snuck out while the babysitter wasn't looking. Do they deserve a place on the podium or a seat at the kids table? Hard to say.
Best Gloves: Yulia Lipnitskaya, Russia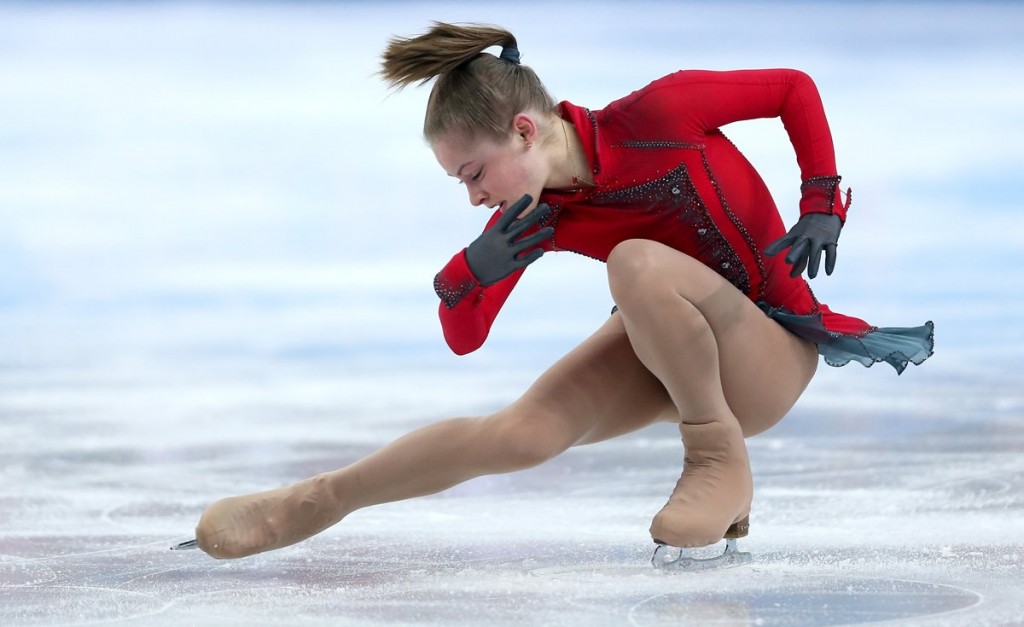 This little lady has already been awarded a slew of titles- and we can add "Best Gloves" to her repertoire. She is also the youngest Olympic gold medalist in team figure skating and she holds the record for the highest technical score in a free skate. The black gloves are a sharp and stylish accessory to her bright and bold outfit- plus they take the attention away from the weird tights-over-the-skates look.
Most Elegant: Akiko Suzuki, Japan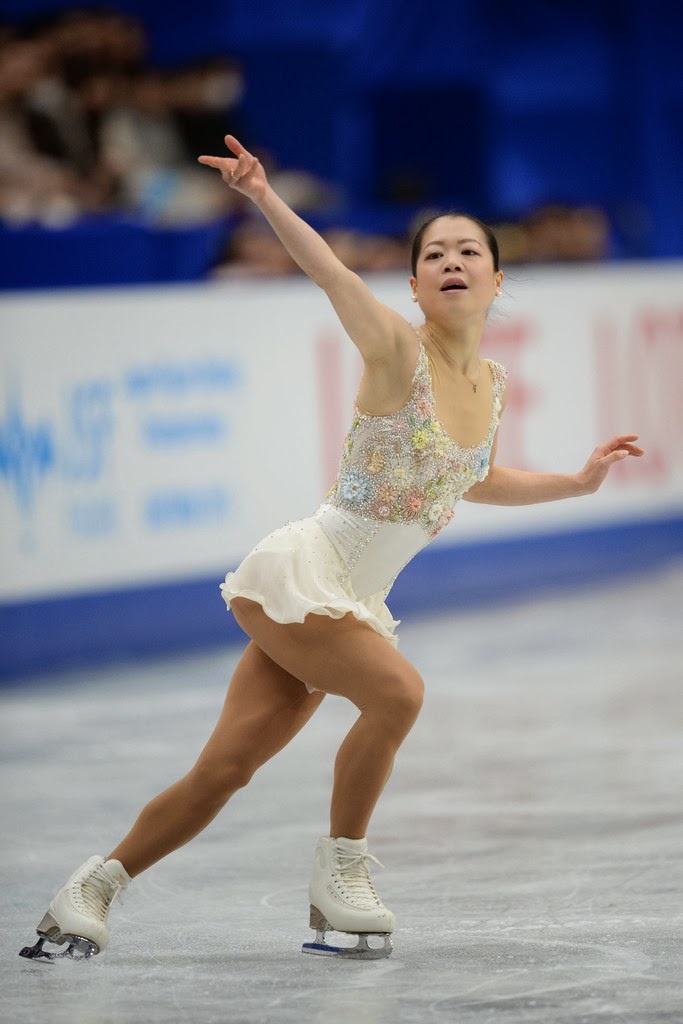 Suzuki has a heavy collection of brass and silver medals- she obviously has good taste, because sometimes gold just doesn't go. We voted her the most elegant, with her sheer fairy-like outfit that wasn't too bold, loud, or bejeweled. Her subtle floral top and breezy, white skirted leotard wasn't too distracting, allowing the viewers to focus on her impressive moves- which landed her in the top ten at the Sochi games.
Fiercest: Ashely Wagner, USA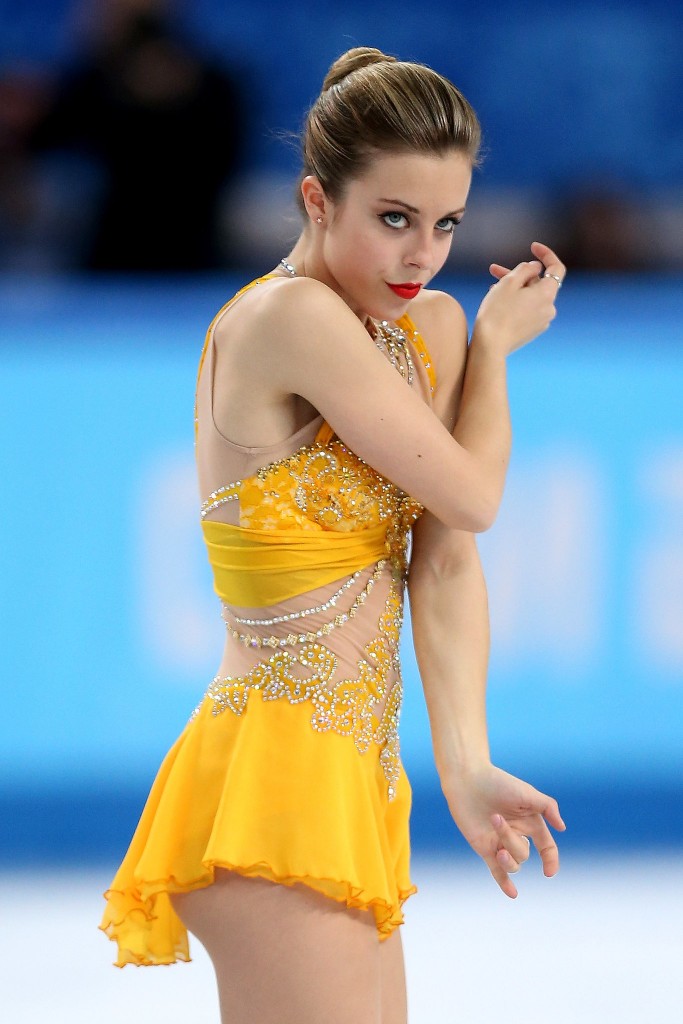 Wagner kicked off her skating career as a small child in Alaska. Perhaps it was the rugged nature of the great Alaskan outdoors that infused Wagner with a killer attitude. Her skating style is unique in the sense that, unlike most other figure skaters, she jumps and spins clockwise. She has also done routines to Led Zeppelin, Pink Floyd, and Duke Ellington. Her animated facial expressions and bright red lipstick have helped to land her in The Sports Brat's "Fiercest" category, despite her lack of placement in the Sochi games.
Creepiest Nude-Colored Feet & Hands: Adelina Sotnikova, Russia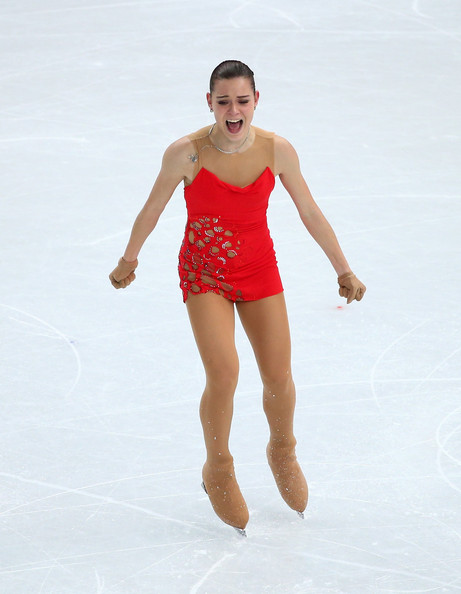 The Russians are so practical, what with their gloves and tights over their skates. Perhaps it's because they're used to the cold, they dress for the weather, or they don't want to break a nail. But it's still sort of creepy. Sotnikova's flesh colored gloves and feet take the cake for the most bizarre look of the Sochi games… for some reason, the mannequin-like appearance of the nude gloves creeps us out. But it certainly didn't stop her from winning the gold medal in the ladies' individual skating event. Whatever works.
Best Bedazzle: Vanessa James and Morgan Cipres, France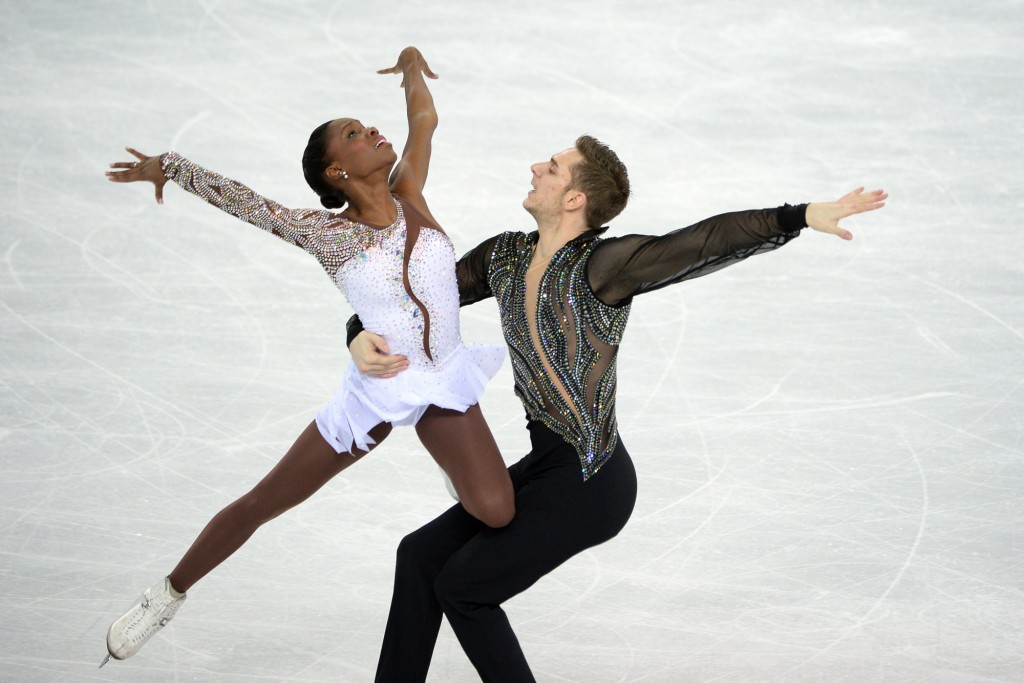 Since 2010, these two have won four international medals together.  Their matching glittery outfits certainly put a twinkle in the viewer's eye. They are shiny, yet elegant. Bejeweled, but graceful. It's easy to go over-the-top, but the French duo's matching outfits utilize sparkles without looking like they took style tips from a disco ball.
Classiest Couple: Tessa Virtue and Scott Moir, Canada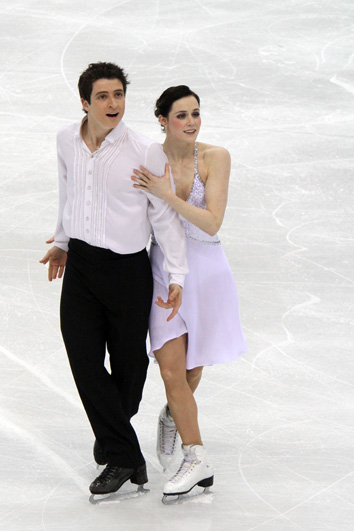 These 2010 Olympic Champions were the youngest couple ever to win an Olympic title. They've been skating together since 1997 and have a serious collection of medals. Between the golds, silvers, and (a few) bronzes, they still manage to have room in their closets for an array of classy skate-wear. Their simple black and white ensemble looks like it could be worn to an opera, a wedding, or James Bond themed party. His suspenders and bowtie are neat and tidy and her modest, yet sexy, black dress with the white skates is- well, a little black dress. One for every occasion.  
All Around Best Dressed: Elena Ilinykh and Nikita Katsalapov, Russia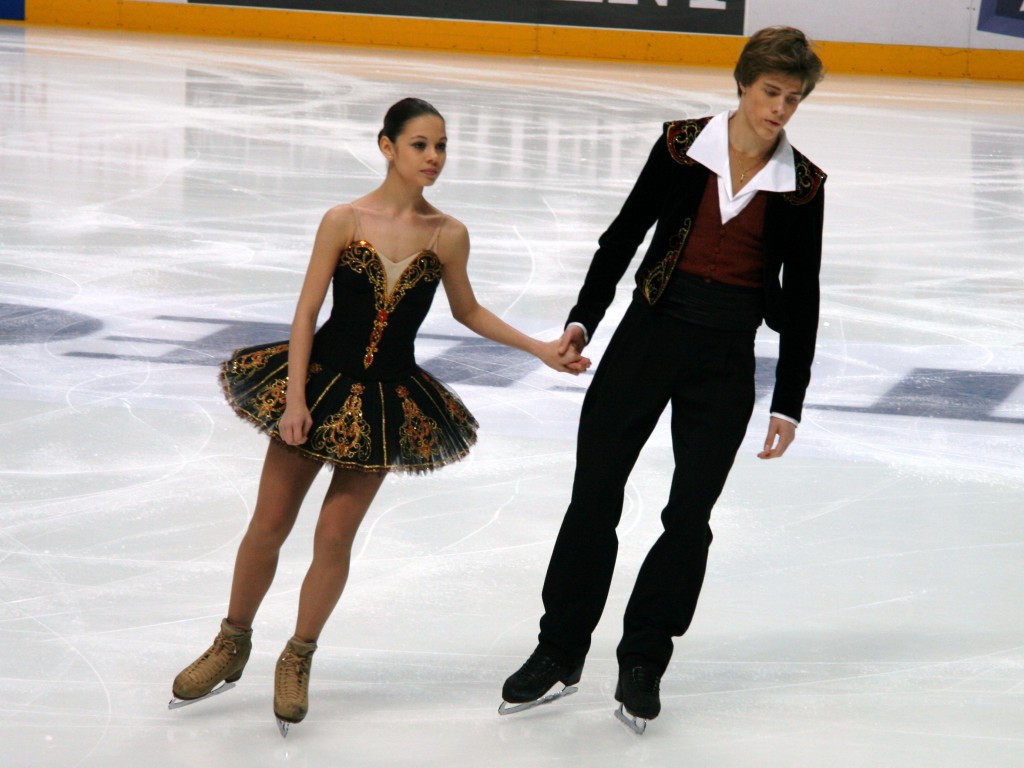 The team ice skating champions! What can't this couple win? They took the gold, and they'll take The Sports Brat's "Best Dressed" Award, too. Their classic black outfits will pair nicely with their gold medals.
Needless to say, they've come a long way from these 2009 outfits: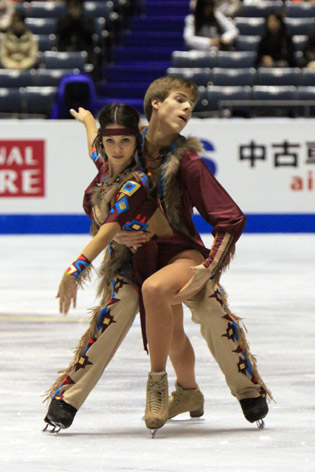 Most Resembling Disney Prince/Princess Characters: Meryl Davis and Charlie White, USA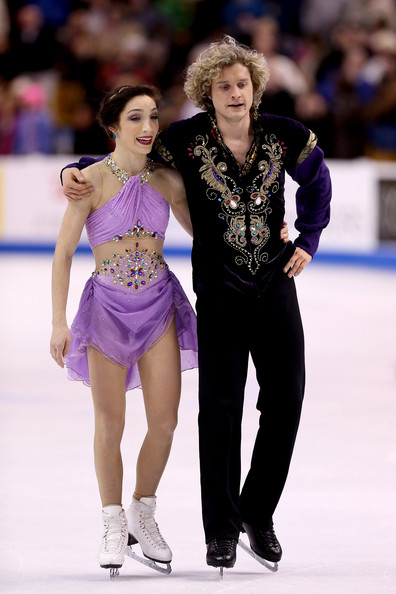 More gold winners- and it's like Walt Disney had his animators just whip up Team USA Ice Dancer Prince & Princess. His flowing golden locks and all-American boy grin and her ivory complexion and almond shaped eyes… she's practically Princess Jasmine and he's Prince Charming, straight out of a fairy tale. It almost doesn't matter what they're wearing, these two are still going to look like the heros. But her lilac, bejeweled halter top with the see-through beaded belly area and his sequined lapels and matching black skates certainly add to the magic.
Worst Dressed Couple: Aliona Savchenko and Robin Szolkowy, Germany 
Need we say more? Her Pepto pink and his Smurf blue… blech! And the fact that they both have their respective neon tights over their skates just solidifies their Worst Dressed Award.
WTF: Nelli Zhiganshina and Alexander Gazsi, Germany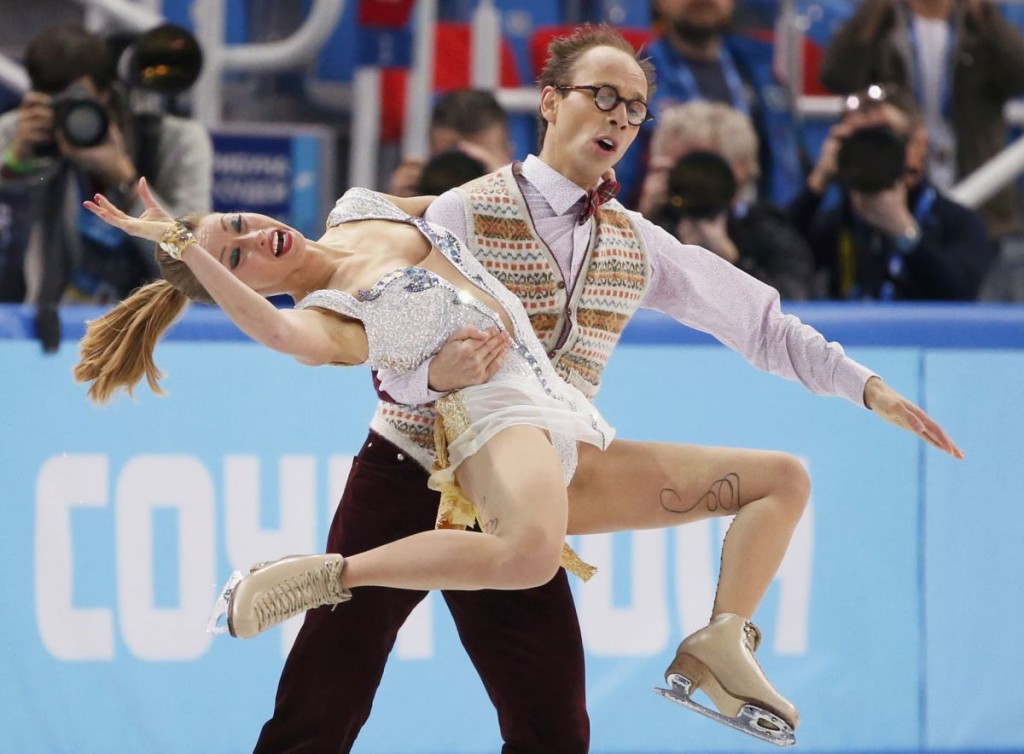 Ahem. This is just bizarre.
Biggest Diva: Johnny Weir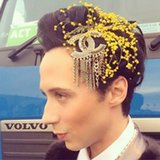 Weir claims to have brought, "eight suitcases the size of small cars, ten pounds of jewelry, 22 pairs of shoes, and four furs" to Sochi, where he stayed for about a month to participate in figure skating commentary with Tara Lipinski. The couple won the gold medal for figure skating in the 1998 games and were reunited in Sochi to show off their fashion flair and knowledge while critiquing this year's contestants. The menagerie of sequins, baubles, studs, and collar ornaments that Weir displayed throughout the past few weeks were like a little girl's imagination exploded in a designer boutique, leaving mountains of shrapnel and shiny debris in its wake. Tara was practically invisible next to Weir's outrageous accessories and flashy outfits.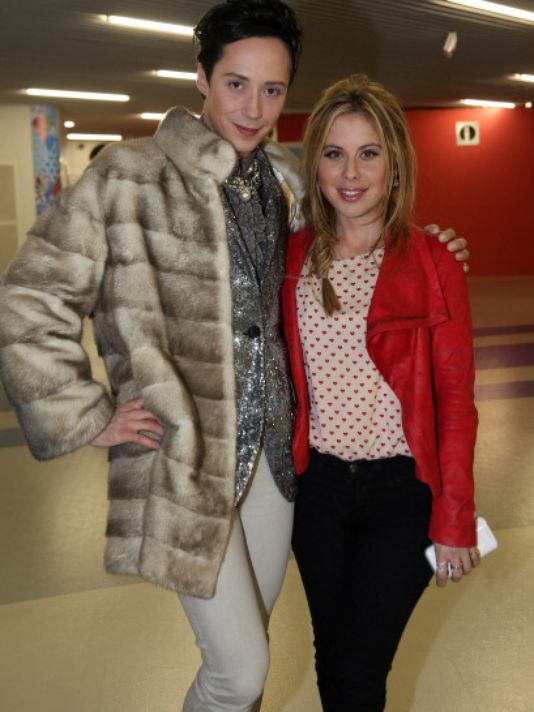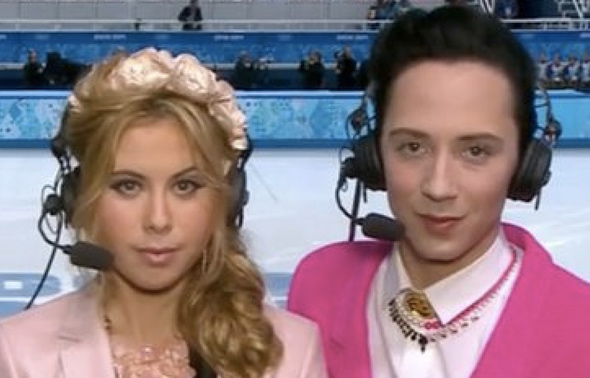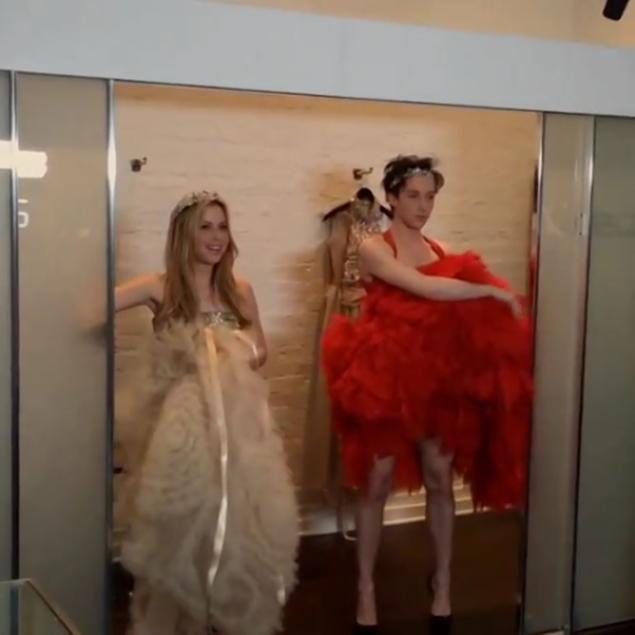 We hope this fills your Olympics and fashion friday fix!!
Contributed by Allison Cohn