Contributed by Nadia Archuleta
The ratio of male-to-female fans still favors men a smidge – less in football at 55:45 but still respectable in hockey at about 60:40.  And let's face it: Women probably make up for that at the fan shop.
Come on, when was the last time a guy cared that his socks didn't match his jersey? Heck, I've known plenty of guys who didn't care that their socks didn't match each other. Is that a guy who's going to feel possessed to own more than one team jersey, hat and, maybe, T-shirt? Probably not. And, frankly, the more fashion-conscious, metrosexual male probably won't own even one – he's the guy rooting for his team wearing a slick Calvin Klein jacket.
That leaves us, ladies. Because, let's face it, no matter how many Calvin Klein dresses, jackets and shoes we own, we're always on the lookout for another, right? And if we happen to already own a vintage T-shirt with our favorite sports team's logo, is that really going to stop us from buying the flattering cropped sweatshirt? Or the burn-out tank top? Or the yoga pants?!
More to the point,  it doesn't matter if we know a quarterback's pass completion rate to the decimal or get "quarterback" and "cornerback" confused. If we think an item of clothing is cute/hot/sexy/trendy/flattering, we'll buy it.
Luckily, even the roughest of sports have heard our credit cards rattling away in our purses.
Football
The NFL started the trend. They decided to cater to a previously untapped sector of the market: women. Used to be female football fans had to schlep around in the same jersey or T-shirt as the guys. While wearing a Wall Street button-down over a pencil skirt may be sexy, wearing a loose football jersey just adds bulk. No woman wants that. So, even for the die-hard fans, the one jersey was enough.
But we wanted more.
The NFL finally took notice and started marketing more of its fan apparel toward women. One woman in particular forwarded this trend – Tracey Bleckzinski, the VP of Consumer Products for the NFL. She came up with the idea of "pop-up style lounges" with feminine fan styles and even dressing rooms. She also furthered the push with an ad campaign, one that features Condi Rice in her Cleveland Browns jersey.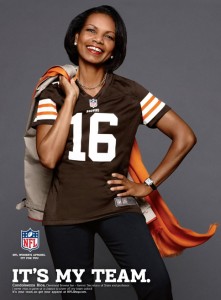 Now that was smart, featuring smart, beautiful women such as Condi in addition to the usual models: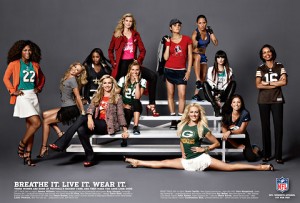 Those are some wicked cute ways to wear a sport tee – love it with a skirt and jacket!
Hockey
Let's look at the other rough-and-tumble sport: hockey. The NHL has been a little slower off the mark. To be fair, the ratio still favors men – in the US, anyway. In Canada, the fan ratio is almost dead even. Also to be fair, absolutely no one looks good in a hockey jersey, not even the most well-built of NHL players. I think the cut is officially known as "boxy."
However, that means the new trend of designing fan apparel that's female-friendly actually favors women. Guys' jerseys haven't been revamped – they still get the boxy cut. (If you want a player-specific jersey, it's still the same for us, but I guess that's fair.) Women's styles of team jerseys have evolved, though, to fit our form – and our taste. They've altered colors, added bling and cut them with flattering necklines.
Now, I have four hockey jerseys. I only ever wear them to games.  If they could offer a cute one like this, I'd wear that baby all the time – and promote my team regularly to boot.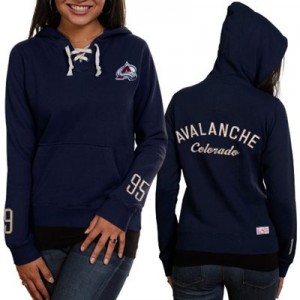 A little bling, a little shimmer, that flattering neckline – you could match that with jeans and boots, a skirt, even a blazer.
So, ladies, again, it doesn't matter what level of fan you are. This is cute stuff. Wear these pieces to a sports bar, on Casual Friday, to a weekend party. Or even to a game. Too cute!