There is nothing better than the combination of sports and holiday season festivities. This time of year, most football fans are in full indulgence mode when it comes to snacking and alcoholic beverages, and unfortunately that comes with unwanted weight. However, you don't have to throw your well-earned figure out the window because this year, we have the perfect holiday drink recipe to meet all your needs.  This Cranberry-Zinfandel punch is sure to be a guest favorite when you're hosting the game day party… and the best part is this tasty beverage is only 90 calories!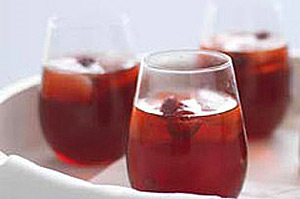 Ingredients:
1 bottle(s) (64-ounce) cranberry-juice cocktail, chilled
1 bottle(s) (750 ml) red Zinfandel wine, chilled
1/3 cup(s) bottled sweetened lime juice
1 bottle(s) (1-liter) seltzer
Chilled lime slices for garnish
Preparation:
1. Mix cranberry-juice cocktail, Zinfandel, and lime juice in large pitcher or punch bowl (about 5 quarts.
2. Refrigerate until ready to serve. Just before serving, stir in seltzer; garnish with lime slices.
3. Enjoy!
Be sure to enjoy this festive, guilt –free, drink while watching the big game with family and friends!  Happy Holidays!