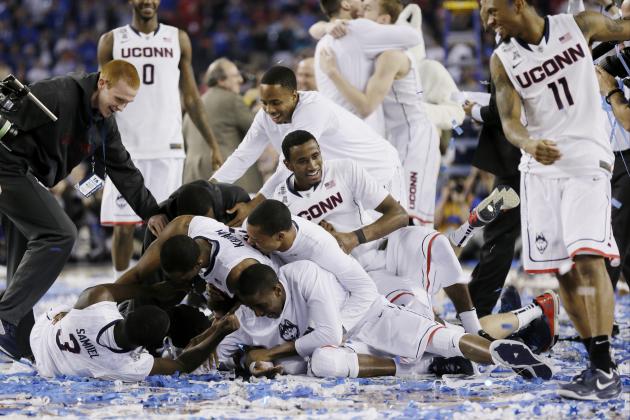 The winners of the NCAA championship tournament don't really get to call themselves kings. However, the Connecticut Huskies must be feeling pretty royal right about now. After all, not only did they win the 2014 tournament, it's their fourth time.
There were a lot of exciting games along the way – especially the ones that saw favorited teams get upset by underdogs. However, none of the matches could be more exciting than the actual championship game.
NCAA Championship Game
Neither the University of Connecticut Huskies nor the University of Kentucky Wildcats were especially favorited at the beginning of March Madness. The Huskies were seeded seventh, the Wildcats eighth. They weren't outliers, but they weren't favorites.
Going in to the game itself, UConn was a slight underdog. That worked out really well for them – they dominated the play from minute one, never trailing the Wildcats.
Usually a game in which one team so dominates can get boring – anyone remember the Super Bowl? However, Kentucky made the match thrilling for both good and bad reasons:
They drew to within one point with just minutes remaining in the game.
They missed 11 free throws.
Kentucky shooter Aaron Harrison, missed a three-pointer that could have put the Wildcats ahead.
Now, free throws should almost be free points. Granted it's not easy to make a basket from way back at the free throw line. However, players have time to prepare themselves, and no one is trying to stop them.
UConn made all 10 of their free throw attempts.
Three-pointers are a trickier proposition. The player is shooting from far, from a tough angle and while opponents are trying to stop him. But then, that's why they're worth three points, and Harrison is usually a big-moment shooter.
Oh, well, when a team dominates the way the Huskies did for the entire game, they probably should walk away with the win.
March Madness Brackets
Maybe billionaire Warren Buffet had a premonition about how topsy-turvy this year's March Madness would play out when he offered $1 billion for a perfect bracket. A perfect bracket, having chosen correctly among 63 progressive games, is already a near-impossibility.
This year's upsets made the bracket impossible. In fact, the 2014 tournament saw the most upsets of any championship race bar one, 1999's tourney. The first round alone saw eight upsets – or lower-seeded teams winning – in 32 matches. Five upsets in the Sweet 16 games in round two… 50 percent of the Elite Eight games were upsets… And UConn's win heralded the first time a seventh-seeded team won the championship.
As for Warren Buffet's little contest, it only took 25 games for everyone to be eliminated.
Oh, well, you win some, you lose some. And this year, the UConn Huskies won enough – all of them to be kings of the NCAA.
I think they deserve that title.