It's really quite simple, if you have never had the pleasure of indulging in chicken and waffles (if you're in LA try Roscoe's) then you're really missing out…well not on calories, but for sure on flavor!  So you can imagine how pumped we were to stumble upon this way to cut the cals on this all-time favorite.  I promise if you make these for the tailgate or even for the breakfast pre-party, you will be everyone's favorite!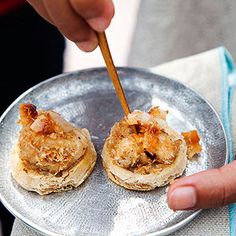 Ingredients:
½ cup maple syrup
¼ cup light coconut milk
1 tsp. vanilla extract
1 cup unsweetened coconut flakes
1 tsp. sugar
¾ tsp. kosher salt
½ tsp. ground ginger
¼ tsp. cayenne pepper
3 egg whites, beaten
1 nonstick cooking spray
2 boneless, skinless chicken breasts (about 1 pound), cut into 24 pieces
24 frozen whole-grain mini waffles (we recommend Van's), toasted
Preparation:
1)   Preheat the oven to 300 degrees.
2)   In a small saucepan, combine maple syrup and coconut milk.  Bring to a simmer over medium heat.
3)   Continue to cook, stirring until reduced by a third (about 5 minutes).
4)   Stir in vanilla extract and set aside
5)   Spread coconut on a rimmed baking sheet and bake until golden (about 4-6  minutes).
6)   Transfer to a shallow dish and stir in sugar, salt, ginger and cayenne.
7)   Place egg whites in another shallow dish.
8)   Spray another baking sheet with cooking spray.
9)   Working in batches, dip chicken in egg whites, allowing excess to drip off, then roll in coconut mixture, coating completely.
10) Place chicken on prepared backing sheet and bake until cooked through (about 6 minutes).
11)  Top waffles with chicken and serve with coconut syrup on the side.
12) Enjoy!
Nutritional Info (per piece):  78 calories, 5g protein, 8g carbs, 3g fat, 1g fiber, 110mg sodium
*makes 24