So it's the New Year, time for resolutions right? Well in case you're on our same page, here's one more not so low-cal tailgate treat.  I mean technically food resolutions should start post football season.  This chile relleno grilled cheese is so good!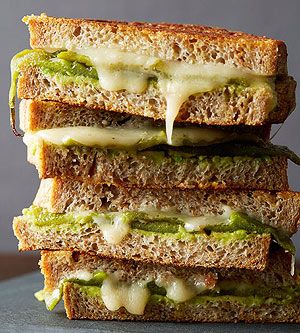 Ingredients:
4 poblano peppers
1 avocado
2 tsp. fresh lime juice
1/8 tsp. salt
8 slices whole-wheat bread
3 ounces shredded Monterey Jack cheese
2 large eggs, lightly beaten
2 tbsp. nonfat milk
1/2 tsp. chili powder
1 tbsp. unsalted butter
2 tsp. canola oil
Preparation:
1) Place an oven rack in the upper third of the oven and preheat the broiler to high.
2) Place poblanos on a rimmed baking sheet lined with aluminum foil and broil, turning occasionally, until blistered and charred on all sides (about 10 minutes).
3) Transfer to bowl, cover and set aside to cool.
4) Meanwhile, mash avocado in a small bowl with lime juice and salt.
5) Spread avocado mixture on four slices of bread.  Divide Monterey Jack cheese among remaining slices.
6) When peppers are cool enough to handle, peel off the charred skin, remove stems and seeds and cut in half.
7) Layer pepper halves over cheese and top with avocado-smeared bread.
8) Whisk together eggs, milk and chili powder in a shallow dish.  Dip two sandwiches into egg mixture, coating the tops and bottoms but not the sides.
9) Melt 1 1/2 tsp. butter and 1 tsp. oil in a large heavy skillet over medium heat; swirl to coat.  Lay the two sandwiches in the skillet and cook until golden on the bottom (3-5 minutes).
10) Carefully flip and reduce heat to medium low.  Continue cooking until second side is golden and cheese is melted (3-5 minutes).
11) Dip remaning sandwiches in egg mixture and repeat the cooking process over medium-low heat.
12) Enjoy!!
Nutritional Info: 391 cals, 18 g protein, 33 g carbs, 21 g fat, 6 g fiber, 439 mg sodium.  Serving size is one sandwich.