I had a request on Twitter for a yummy dip, so when I saw Trisha Yearwood's Charleston Cheese Dip, I wanted to give it a try.  Her recipe is yummy but I made a couple of tweaks that are more my style 🙂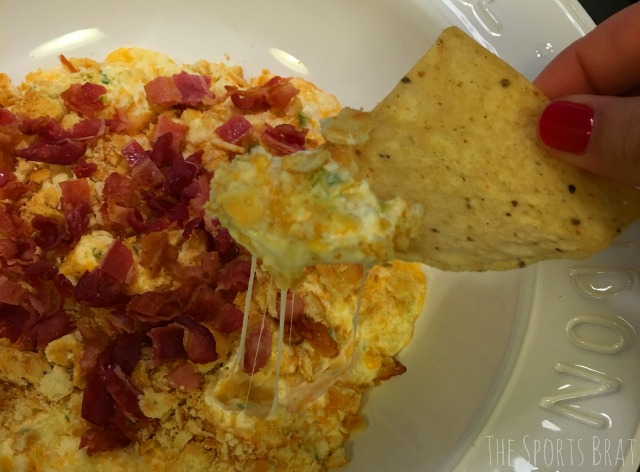 Ingredients:
½ cup light mayonnaise
One 8-ounce package regular cream cheese, softened
1 cup grated sharp Cheddar cheese
½ cup grated Monterey Jack cheese
1 dash cayenne pepper
8 Ritz crackers
8 slices bacon, cooked and crumbled
Tortilla Chips for serving
Preparation:
Preheat the oven to 350 degrees F.
In a medium bowl, mix the mayonnaise, cream cheese, Cheddar cheese, Monterey Jack cheese and cayenne pepper.
Transfer the mixture to a shallow baking dish and op the mixture with the cracker crumbs .
Bake until heated through (about 15 minutes).
Remove the pan from the oven and top with the bacon.
Serve immediately with corn chips.
Enjoy!