Calvin Johnson: Detroit Lion…best receiver in the NFL…329-yard performance…second-best receiving game in NFL history…and a yoga entusiast?!  You better believe it!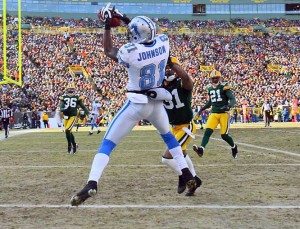 The media has been buzzing about the Detroit Lions' Calvin Johnson lately. His recent 14 catches for 329 yards- the second-most receiving yards ever in a single game- during the game against the Dallas Cowboys has got fans pumped and excited for what is to come. In only 100 games, Johnson has managed to achieve the status of the second all-time leading receiver. How does he do it? Perhaps yoga has something to do with it.
Johnson started doing yoga three or four years ago with Drew Stanton, the former Lions quarterback, whose wife was a yoga instructor. He started off doing Bikram yoga, which proved to demonstrate immediate benefits. During Bikram sessions, the room is heated to about 100 degrees. Bikram yoga is said to help with weight loss, arthritis, blood pressure, back pain, diabetes, complexion, depression, stress management, circulation, and breathing problems.  Johnson claims that practicing yoga has helped him to loosen his hips and hamstrings.
The practice of yoga has become nearly as commonplace in the West as in its origins of the far East. The latest "Yoga in America" study, as reported on yogajournal.com, shows that 20.4 million Americans practice yoga and spend over $10 billion per year on classes, products, and yoga-based vacations. As you might imagine, over 80% of this demographic are women. The most popular reasons listed for practicing yoga are flexibility, conditioning, stress relief, and to improve overall health and physical fitness. Anxiety relief, improved sense of balance and brain function, and improved sexual functions are additional reasons that people have listed for practicing yoga.
So if the health benefits of yoga are so prevalent, why don't more men partake in the practice? Perhaps Johnson's endorsement will have an impact on men's opinions of yoga. If it's not too girly or boring for the NFL's best wide receiver, than perhaps they ought to give it a try!
Contributed by Allison Cohn