We don't know about you, but we thought the mustache went out in the 70s! Now there are all these cute little beer cozies and makeup mirrors sporting random handlebars. Apparently the mustache, like 80s neon, is making a BACK.
Have you noticed guys particularly not shaving somewhere around November? It's not just to keep their faces warm. A lot of them are participating in Movember, a movement to raise funds and promote awareness about men's health.
Some guys go all Grizzly Adams, but the point is to grow at least a respectable 'stache. It's not easy to rock a 'stache, but the following five athletes do it best!
Number 5: Seth Jones, Nashville Predators
Despite his tender age – a scant 19! – this Texas-born cutie decided to grow a 'stache for his rookie year as a Nashville Predator. I'm not going to lie to you – in the beginning it looked a bit like a chocolate milk mustache. However, by the end of the month he'd managed quite a tidy little cutie on his upper lip.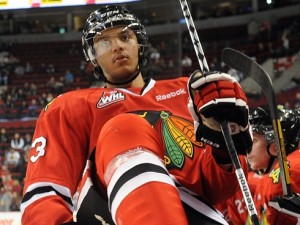 Number 4:  Jay Cutler, Chicago Bears
When Jay played for the Denver Broncos, he was pretty baby-faced. I'm not sure he could have pulled off any kind of facial hair. Then there was his cover photo on Michigan Avenue – he could easily have been on the cover of GQ for metrosexual style. Time has been good to Jay, though, and he now sports the maturity to pull off a mustache. He told ESPN that his trial run mustache hadn't looked good, but Jay Cutler looking scruffy adds new depth to his hotness.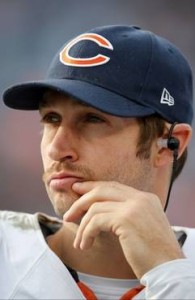 Number 3: Nick Baumgartner, Team USA Snowboarding
Nick is a good ol' boy from the Midwest who races trucks and misses his son something terrible when he's away. He's away a lot lately because he's making a run to snowboard in Sochi. He also joined the Movember movement by growing a truly impressive chevron 'stache that would have made '70s-era Burt Reynolds proud. I gotta say, it's a good look for this good ol' boy – though he'll probably want to shave it to pick up speed in Sochi!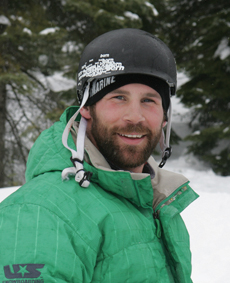 Number 2: Christian Ponder, Minnesota Vikings
Ok, Christian has shown up to training camp in June looking ready for Movember.  He shaved just prior to November, though, to make his facial hair Movember-legit. In fact, at the beginning of the month his cheeks looked so smooth you almost forgot he could grow facial hair! But Christian must have some Italian in him because it seems like his five o'clock shadow shows up somewhere around noon. That's ok because the scruff suits him! Love the smile, too!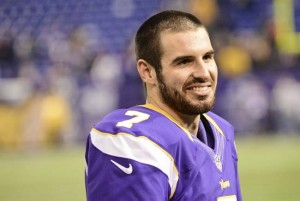 Ryan O'Reilly, Colorado Avalanche
Hockey players have taken Movember to heart. Watching NHL games in November, you'd swear it was the playoffs when they stop shaving due to superstition. They can get really creative, too – the Jaromir Jagr handlebars of 2011 are legendary.
Ryan O'Reilly, like Jay Cutler, starts out with a fresh face that doesn't look like he can sprout so much as a shadow. (Or maybe I'm blinded by his blue eyes – it's a possibility!) But he's also been known to go Grizzly Adams just for the heck of it. Actually, doesn't he look like Brad Pitt in "Legends of the Fall?"
For Movember, though, he shaved clean and grew in a cute little 'stache.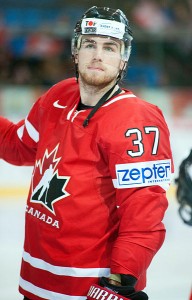 Here at The Sports Brat we give credit where credit is due so we'd also like to give an honorary mention to Aaron Rodgers…well done!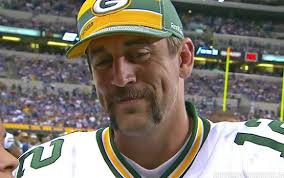 Contributed by Nadia Archuleta