As you may have seen, I have a new obsession when it comes to working out. In all honesty, ever since the epic arm break of 2015, I just haven't had the discipline to get back into top shape. Then I moved, went through some personal struggles and that all left me pretty out of shape.
(Tank is available in store!)
I stumbled upon Body Bar by walking Stan in a different part of my new neighborhood. I first fell in love several years ago with Pilates and even kept it up when I moved back to NYC. So I was really excited to see what Body Bar had to offer.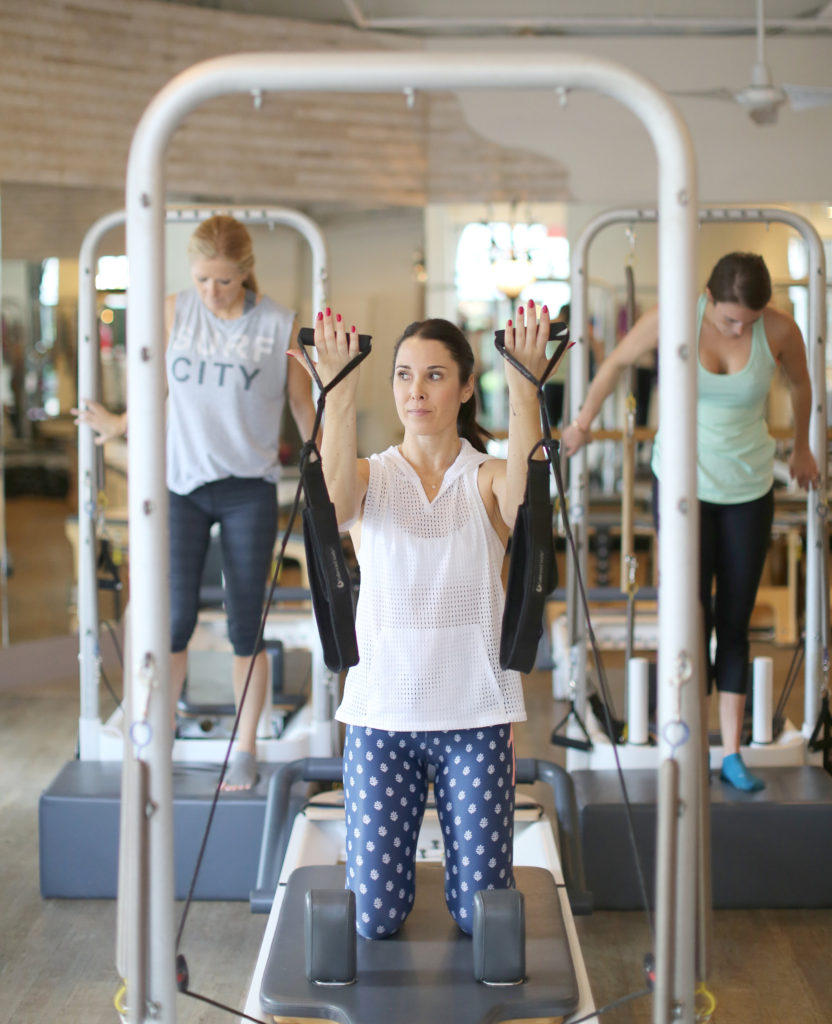 (Outfit: Tank top, pants both purchased at bandier). Speaking of Bandier…I have an announcement at the bottom!
The first class I ever took was their classic Reformer class with Kimberly. I felt pretty good through the workout but I knew some of those muscles hadn't been worked in some time so I was not surprised that I was SO sore the following day.
One of the best parts about blogging and hosting "The Sports Brat" is that I get to try all the yummy stadium and tailgate foods at every game. I also get to recreate killer recipes at home. Needless to say, I need to have balance of working out to off set the major calories game day can offer.
(Outfit: Top sold out but there are tons of cool ones, Pants)
As you know I played soccer pretty competitively and even after I "retired" I kept up running but what I've learned over the years is that if you do strength training correctly, you can torch way more calories and tone a lot quicker than just being a cardio junkie.
What's more important is finding an outlet to get you moving. In a time where all of our time is so precious and scarce, I have really learned that taking the time to care for yourself is very important. Working out is absolutely part of my self care. I don't always want to do it but I have to say, the Body Bar app helps keep me accountable. Once I sign up, I get dinged if I don't go, so it gets me out of bed on those lazy days.
It's also been such a fun way for me to meet new people. I'm new to Dallas and when I moved here I only knew a couple of people so finding a community at Body Bar has been equally as important.
(Backpack: Balsa)
Ok so clearly you get that I love the place. I highly recommend you all come join me for a class! The studio is so clean and just has a cool vibe. Not to mention, they have a little juice bar with my favorite Tribal juices for a post-workout treat.
I also happened to snag some of my favorite workout gear there. Look, there are plenty of places you can work out but if you're looking to tone and tighten I highly recommend Body Bar. Please use THESPORTSBRAT when you sign up and if it's your first time, you get a sweet discount!
Well I'm literally off to class now, hope to see you soon! Please come say hi 🙂 AND my big announcement is that I will be hosting a sweat and shop event on 10/8 at Bandier in Highland Park Village with Body Bar!! Starts at 9 am so mark your calendars and check back for more deets!