Yep, that's right ladies…yesterday was a day for the books.  There were 90 touchdowns yesterday in a slew of insane finishes and some of them were even played on snow-covered fields!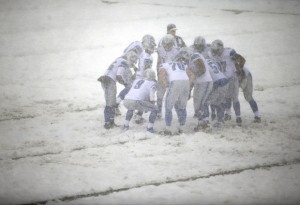 First, the New Orleans Saints set the NFL single-day record for touchdowns when the Saints scored three times in the first half against the Panthers.  Drew Brees connected with Jimmy Graham for a 5-yard TD, making it 88 and beating the previous record of 87.  Combine that with a grip of high-scoring games and an All-Star Peyton Manning throwing for 4 TDs in Denver's win over Tennessee and we were set to break records!  The Saints and Panthers combined for 2 more TDs in the second half, setting the day's total at 90.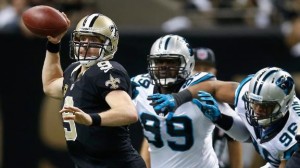 The finishes were insane yesterday.  Philly scored four TDs in the 4th quarter to beat Detroit and the Vikings and Ravens combined for 5 TDs in the final two minutes of the game, with Baltimore finally coming out on top.  The Dolphins and Steelers combined for 62 points that Miami won.  Cincinnati and Indy combined for 10 TDs in the Bengals' victory.
Lastly, Denver Bronco kicker, Matt Prater set the NFL record with a 64-yard field goal.  Hello altitude!
Well that was a heck of a day!  If that isn't some excitement to get you tuned in, we don't know what is!