Us gals at The Sports Brat already released our Holiday Gift Guide, but we have one addition that's a homemade and DIY delight.  We are talking about…brace yourselves…bacon jam.  Yup, that's right, we said bacon jam…what's not to love?  Well if you happen to loathe the treat, we're willing to guarantee your man and his pals love it (plus it contains bourbon and maple syrup, YUM).  Thanks to the DIY queen, Martha Stewart, we have an adorable hostess gift idea/anyone gift idea/appetizer idea for the games this weekend.  If you don't have a food processor (or patience) borrow one because this treat is worth it!  Check it: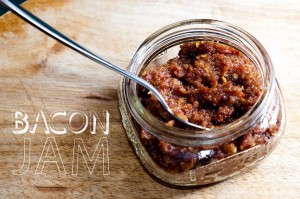 Ingredients:
1 ½ lbs. sliced bacon, cut crosswise into 1-inch pieces
2 cups finely chopped shallots
4 small cloves of garlic, chopped
1 tsp. chili powder
½ tsp. ground ginger
½ tsp. ground mustard
½ cup bourbon
¼ cup maple syrup
1/3 cup sherry vinegar
1/3 cup packed light-brown sugar
Preparation:
1)   Spread half of bacon in a single layer in a large skillet and cook over medium heat, stirring frequently, until browned (about 20 mins).
2)   Transfer to paper towels to drain.
3)   Remove fat, clean pan and repeat with remaining bacon, keeping brown bits and 1 tbsp. fat in the pan.
4)   Add shallots and garlic to pan and cook over medium heat, stirring, until translucent (about 5 mins).
5)   Add chili powder, ginger and mustard and cook, stirring about 1 minute.
6)   Increase heat to high; add bourbon and maple syrup.  Bring to a boil, scrapping up browned bits.
7)   Add vinegar and brown sugar and return to a boil.
8)   Add bacon; reduce heat to low.  Simmer, stirring occasionally, until liquid reduces to a thick glaze (about 10 mins).
9)   Transfer mixture to a food processor and pulse until it has a consistency of a chunky jam.
10) Refrigerate in an airtight container for a least 1 hour before serving.  (Can store this way for up to 2 weeks).
Now you can serve this however you want, on crostinis, with pita chips, or you can gift it.  We recommend an adorable mason jar or ceramic ramekin (pictured below).