When I woke up this morning I had two thoughts:
1)   Yes! The final games before the Conference Championships are on
2)   The Golden Globes are on so I'm gonna have to record Girls.
Girls aside, I got to thinking…the NFL, and really most sports seasons, are very similar to award season.  If we first take a look at sports like the NFL, there are first regular season games.  These games combine to make up an entire season.  However, the post-season is where the real attention is, because if a team does well in the post-season, they better their chances of making it and even potentially winning the Super Bowl.   The Super Bowl is the culmination of the best football from the season and obviously a victor is crowned.  So here is where I see the parallel to award season.
Award season is comprised of several events.  There is the Screen Actor's Guild, Emmy's, Golden Globes, Grammy's, People's Choice Awards and the Oscars.  There are several more but you get my point.  There are tons of award shows that are on the same level and with different categories and voting panels, really anyone can win.  But performance across these award help to forecast who wins at the Oscars.  So let's look at this year's example, we know 12 Years a Slave is getting huge Oscar buzz, so if they continue to take home hardware from the other events, we can almost expect them to win at the Oscars as well.  Now there's always room for a Roberto Benigni moment, but really we know the strongest performers as we make our way to the Oscars through the other shows.
I'd like to take the comparison even further.  Today, in Denver, for example, at Mile High Stadium there are thousands of people getting ready, tailgating, taking pictures, giving interviews, chatting.  Then when the game is about to start, they will all file into the stadium for the main event.  And depending on what happens, Broncos fans may continue the party and head downtown to celebrate or burry their sorrows depending on the outcome.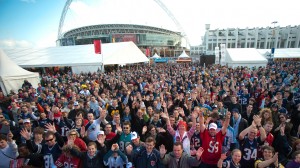 NFL tailgate
This is not unlike the award shows in Hollywood.  You see, these stars show up to the venue and walk the red carpet, giving interviews, chatting, waving while fans are around cheering and trying to snap pictures.  Then when the event is about to begin, they also all file into the venue to watch the main event.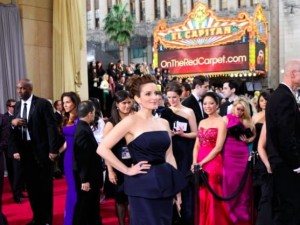 Oscars Red Carpet
Now its pretty well-known that NFL Super Bowl winners go to Disney World….
And as you may know Hilary Swank took her Oscar to Astro Burner in West Hollywood when she won…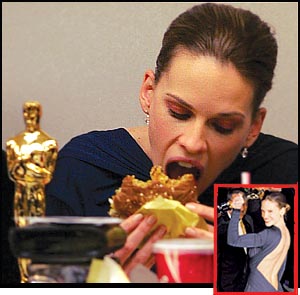 Hilary Swank at Astro Burger
So it's safe to assume that both "players" celebrate after the big win.  There are absolutely after parties for both events where the winners will gloat and the unfortunate non-winners (losers is so harsh) can sulk.
While the dress code and subject matter differ between these two events, I really do see more similarities between award season and football season.   Both have musical performances, draw a large crowd to the venue and on broadcast, they get the same amount of press coverage and they will both be talked about at the water cooler.  Not to mention, winning a Super Bowl does wonders to an NFL career, just as an Oscar does for an Entertainer or Filmmaker's career. Lastly, I know you've been invited to an Oscar party just as often as you've been invited to a Super Bowl party.  Funny huh?!
So next time you're bored at a game, just think of it in terms of award season and vice versa.  It can make the other more interesting depending on your preference.  Thankfully, you have an entire month between the marquee events so you'll never have to choose; Super Bowl XLVIII kicks off February 2nd at MetLife Stadium in New Jersey at 6:30EST on FOX and the Oscars are on March 2nd at 7EST on ABC.