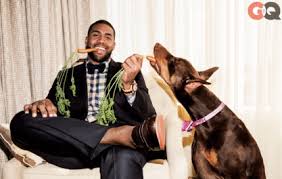 Last night marked a couple of interesting games and eventual outcomes in Monday Night Football.  Rather than dwell on who won or lost, let's take a look a one particular player from the Houston vs. San Diego game.   Arian Foster missed the entire preseason for the Houston Texans and he struggled a little in his first game back.  He ran for 57 yards on 18 carries and had 6 catches for 33 yards.  While these stats may be unimpressive or mean absolutely nothing to you, I want to point out how cool Arian is both on and off the field.
In a recent GQ article, the running back was dubbed the "NFL's Unstoppable Vegan Philosopher."  Now that's a title you don't hear often in the league.  Here are GQ's 10 reasons Arian Foster is their favorite every-down back right now:
Because he scores.  A lot.  He didn't come within nine yards of breaking the NFL's single season rushing record, like Adrian Peterson.  He doesn't break off ninety-yard sprints, like Jamaal Charles.  But he did lead the NFL in touchdowns last season-his third straight with at least a dozen.
Because he came into the league undrafted and made himself into a three-time Pro-Bowler.
Because he majored in philosophy at the University of Tennessee, and one of his favorite authors is astrophysicist Neil deGrasse Tyson.
Because he's probably the only guy in the NFL with both Queen and Patsy Cline on his iPod.
Because he just named his second child Khyro, which is unusual but also pretty badass.
Because Foster is cool with gay marriage.  "I'm an advocate of freedom," he tells GQ.  "If two people choose to partake in a relationship, you should allow them to partake in the symbolization of it."
Because he's one of the NFL's best-dressed players without ever being one of it's most overdressed.  His style: "low-end to high-end, Marshalls to Louis Vuitton."
Because he's a vegan.  Okay, "mostly vegan," he says, "supplemented with the occasional chicken or fish dish."
Because he spent the off-season appearing in Ivan Reitman's new movie set during the NFL draft, with Kevin Costner, Sean Combs, and Jennifer Garner.
Because we dig his philosophy on life: "Everyone should smile.  Life really isn't that serious.  We make it hard.  The sun rises.  The sun sets.  We just tend to complicate the process."
While last night was a tough game for every player on that field (so sloppy!) the Texans did come out with a win, so cheers to them and to Foster.  Keep an eye on him next weekend when they take on the Tennessee Titans Sunday, September 15th.