I spent Saturday at Saratoga Race Track aka "Toga Town." I grew up in Del Mar where our track sits right across the street from the Pacific Ocean and boasts the slogan "where the surf meets the turf." I have been going to the races since I was a baby so I'm no stranger to the track. But ever since my parents raved about Saratoga, I added it to my sports bucket list.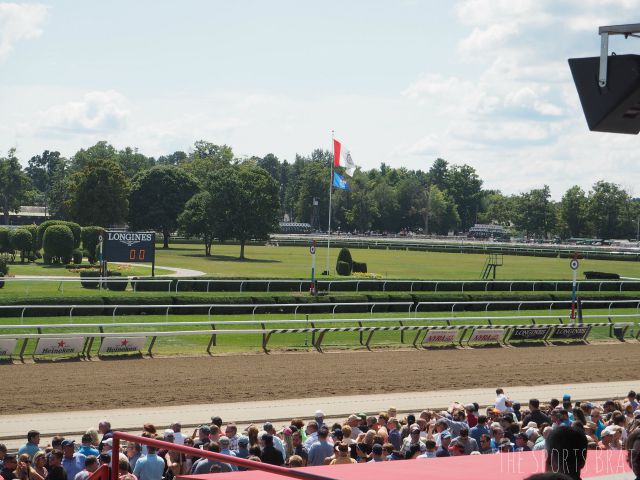 While I consider myself pretty decent at the track, I found myself relying on my dad for a lot of racing advice/information. I was able to win a little (and by a little I mean $10) so I figured I would throw together a little racing 101 and share the basics with you all.
1. Types of races
On any given day at the track there are several different kinds of races that can occur.
Maiden: A race for horses that have not yet won a race.
Claiming: A race where all of the horses are for sale.
Allowance: A step up from a claiming race, these horses are not for sale and generally the purse is much higher. The allowance name comes from the fact that the races will have set conditions and weights to carry.
Stakes: The top horses race in stakes races.   They have the highest purses and carry the most prestige for winning. The Kentucky Derby is a stakes race and Saturday happened to be the Alabama Stakes race at Saratoga.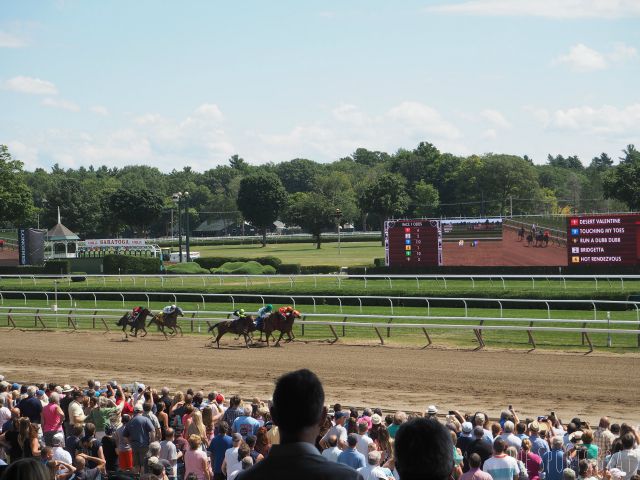 2. Types of bets
Win: Your horse must finish 1st.
Place: Your horse must finish 1st or 2nd.
Show: Your horse must finish 1st, 2nd or 3rd.
Exacta: Your horses must finish 1st and 2nd in the exact order you bet.
Trifecta: Your horses must finish in 1st, 2nd and 3rd in the exact order that you bet.
Superfecta: Your horses must finish 1st, 2nd, 3rd and 4th in the exact order you bet.
Daily Double: Your horses must win in two consecutive races.
Pick 3/4/6: Your horse must win in 3/4/6 consecutive races.
*There are many other variations but these are the basics. And here's exactly what to say when you place your bet if you want, let's say an exacta.
"Hi, Saratoga, 3rd race, $2 exacta on 4 and 9. Thank you."
**make sure to always check your ticket for accuracy.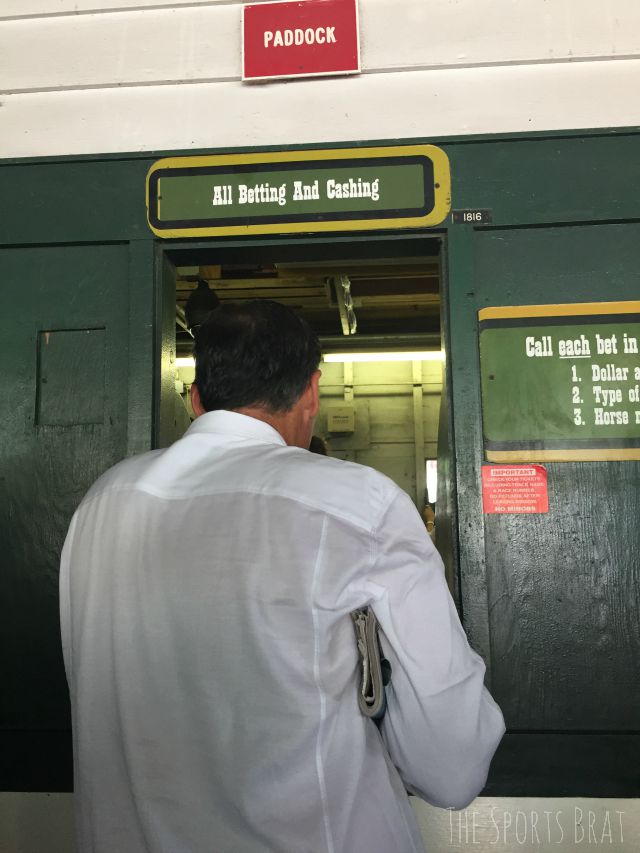 My Dad placing our bets.
3. Things to look at while picking a horse
Track: Some horses are turf horses and some are dirt horses. And some horses prefer a wet track to a dry track. You must take the track conditions into consideration.
Distance: You should look at how the horse does at different distances.
Layoffs: A layoff means a horse hasn't raced in 45 days. If the horse's last race was coming off a layoff its likely he will improve in this race.
Odds: Check the morning odds. Most horses that win are less than 20-1. Horses with high morning line odds rarely win.
Speed: Check the speed of the horse in the past races, but you have to check the race type. For example a horse may post in the 70s for most of the races and then put up a 90. That 90 most likely came against better competition. Horses will often run to their competition, so check who he's against in this race as closely as the races where he put up high-speed finishes.
Workouts: Workouts are an extremely important gauge of the horse's ability. If horses are similar check who's workouts currently are going best.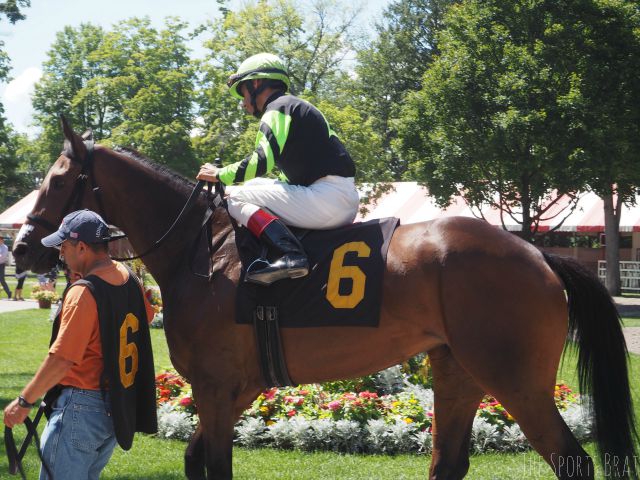 4. Jockey info
It's believed that a jockey contributes about 10% to the horse's performance on any given day. The jockey cannot make a horse run faster, but it can give the horse a bad ride.   Paying close attention to win percentage, past performance on specific horses and jockey changes can help you when placing bets.
Saturday was a special day because I saw Hall of Fame jockey, John Velazquez, take home his 800th win in the very first race of the day!
5. What to wear to the track
Now you know I'm a fashion junky (in addition to my love for sports) so I want to be clear that each track and event can be different. For example, you can dress super casual (like I did) on Saturday at Saratoga, but if you're in a box or going to the paddock then you can and should dress up a bit.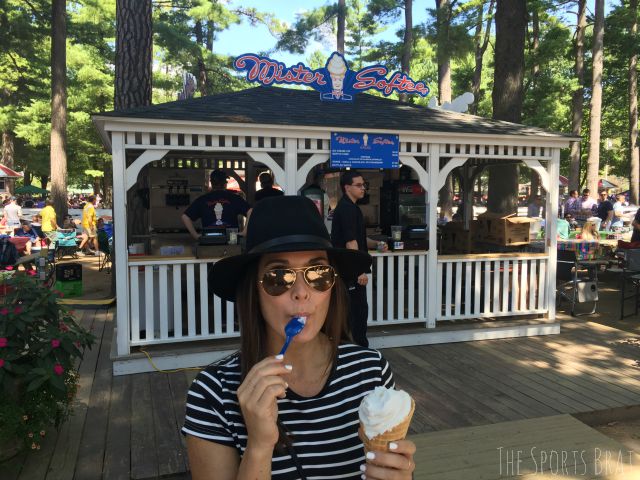 Opening day at any track is generally a day to dress up. I suggest a wedge or comfortable heel as you generally walk a bit at these races. You may head to the paddock to look at the horses before the race, and then walk to place your bet, then to your seat to watch the race. It's part of the dress code to wear a hat to the Kentucky Derby and to Opening Day, but a hat on any day is a perfect look and you'll be thankful for the shade!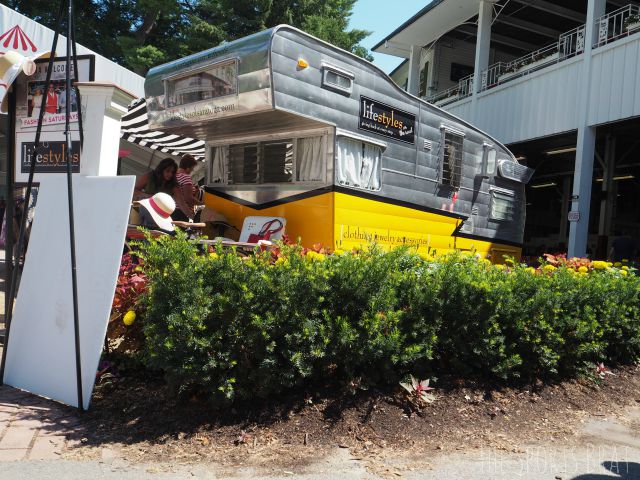 Saratoga had tons of places to shop if you weren't satisfied with what you picked! Loved this little shop.
I hope this was helpful, not get to the track and put your new skills to use!