Say, what's behind that mask?
Have you ever seen a hockey goalie in action? I mean, really working it on ice, stopping the puck. They drop to their knees then hop back up again. They snatch the puck out of the air with that big lobster-glove they wear. They bat it away with their stick. My personal favorite is when they whip a leg out and land in the splits. Impressive!
Hockey goalies are quick-eyed and athletic. However, if you see them on ice, they're all pads and eyes staring from behind a painted mask. The days of those Mike Meyers hockey masks are gone, thank goodness, but it's still really hard to see what they're hiding.
Well, turns out in some cases that mask is protecting some valuable, cute real estate!
Puckish Smile
Actually, I think Marc-Andre Fleury of the Pittsburgh Penguins slightly resembles Jonathon Rhys Meyers in his role as Dracula. Check out those pointy eyebrows – they're kind of devilish. When he lifts his helmet and he's smiling his personal smile, don't you want in on the joke?
Marc-Andre – what a great name to whisper! – is actually a real sweetie. His goalie mask is less fearsome than most, featuring the cartoon penguin on ice skates that serves as Pittsburgh's mascot. Also, since his last name translates as "flower" – yes, a guy named "Flower" is playing hockey – and he happens to be a French-speaking Quebecois, he's included a fleur-de-lys in the design. The backplate of his mask also features the initials EFGT, an honor to his grandparents in memoriam. Marc-Andre, no wonder you're smiling puckishly – there's a whole lot going on behind your goalie mask!
Shaggy Charm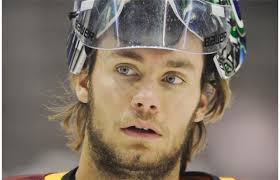 Shaggy on Scooby Doo was always almost-cute, right? That's 'cause they didn't have Eddie Läck modeling for the cartoon. The Vancouver Cannucks goalie is all shaggy blonde hair and scruffy beard, Don Johnson-style. 'Course, when he does shave, he's got that manly cleft chin Don Johnson had, too. But he's still just too-cute.
Like  Marc-Andre, Eddie has a nickname, "The Stork." Apparently just because he's a tall boy in the Swedish style – six-foot-five! – and long-legged… ok, I lost where I was going with that. Anyway, Eddie may be a lanky foreigner, but he's mastered the art of Twitter. When the Caunnucks extended his contract by two years, his Tweet read, "#happyhappyhappy."
Back to the shaggy reference, he's even got a dog, though much smaller than Scooby Doo. And when he smiles into the camera, it doesn't matter if he's wearing funky Euro-glasses, a random Chicago Bulls gag-hat or holding a plate of Swedish meatballs (seriously), the charm just comes through. Happy, happy, happy.
Smoldering Hotness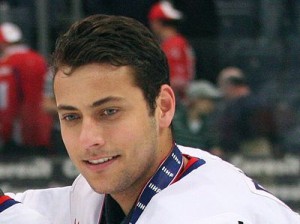 There's just something about brunettes with crystal blue eyes. Winnipeg Jets goalie Ondrej Pavelec – no idea how to pronounce that – has got a stare seemingly into his own vista. Word on the street is he's a bit of a loner, so who knows what's really going on behind those eyes, especially when the secret smile tugs at his lips.
Ondrej's actually a good friend it seems. His childhood best friend, Michael Frolik, got traded to the Jets over the summer. Apparently as lads back in the Czech Republic, the boys used to dream about playing in the NHL, but barely allowed themselves to imagine playing on the same team. Now they're best buds, with Ondrej opening up his home to Michael.
There's just something about a blue-eyed brunette with an open heart – and a sexy Czech accent. Ondrej Pavelec, what a hottie!
So, what are those goalies hiding behind their fearsome – or flower-adorned – masks? Sometimes the answer is a puckish smile, sometimes shaggy charm. And sometimes it's just plain smoldering hotness. Wait until next time a goalie slides his mask up to the top of his head at a jaunty angle – there just may be a cutie there!
Contributed by Nadia Archuleta